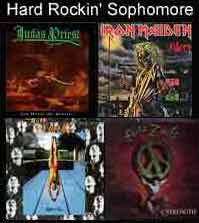 by antiGUY
Hard Rockin' Sophomores Part I
Welcome to this special "retro" edition of "Sophomore". From time to time we will endeavor to take a look back at notable "sophomore" releases. This go around we will look at some of hard rocks past sophomore triumphs. Before we begin, the reader may question, how these titles were selected? Well, since I am saddled with the task of writing this article, I dug back into my personal CD collection and selected some of my favorite hard rock sophomore CD's to include here. The initial list came to over 20 CD's but space is limited so I selected 4 at random. These are all CD's that were released over ten years ago but I still find myself listening to on a regular basis. In some cases, these were the pinnacle of the band's careers (In my opinion). Now that we have dispensed with the formalities, let's get to the heart of the matter and look at the four titles that make up this special edition of "Sophomore".
Def Leppard – High 'n' Dry
Yes Def Leppard! Before they turned into MTV's poster child of 80's pop-rock, Def Leppard was a kick ass hard rock band. I know it's hard to believe but it is true. While their debut album did feature a cool collection of songs it was their sophomore effort "High 'N' Dry" that really showed what they were capable of. From Pete Willis' and Steve Clark's screamin' guitar leads to Joe Eliot's rough edged vocals the album had a raw vibe and a great collection of songs that really solidified the band's credentials in hard rock. The follow up "Pyromania" had it's harder edged moments but lacked the raw intensity that prevailed through "High 'n' Dry" on tracks like "High 'N' Dry (Saturday Night)", "No, No, No" and "Another Hit And Run" but the band's melodic underpinning really developed here on songs like "Mirror, Mirror (Look Into My Eyes)", "Lady Strange", "Let It Go" "Got Me Runnin'" and "Bringin On The Heart Break". Listen to samples from "High 'N' Dry" and Purchase it online

Enuff Z'nuff – Strength
If you ask most Enuff Z'nuff fans what their favorite of the group's ten albums is, the most common answer would be their sophomore release "Strength". While the album failed to score a hit commercially due to some infighting at the band's label that resulted in lackluster promotion efforts, this album really showed the musical genius of Donnie Vie and Chip Z'nuff. Rolling Stone and other music outlets heaped praise upon this album when it came out and it won the group the undying loyalty of their fans. The dark and somber tone that prevails throughout the album really set the tone for the grunge explosion that was to come. But the real genius of Enuff Z'nuff was their pop sensibilities and their ability to rock hard but also produce heartfelt ballads that have often been compared to the Beatles. Listening to the band's self-titled debut you get the impression that they were following the label's lead but on "Strength" they broke away and produced the music they wanted to share with the world. From the raunchy rockers like "Heaven and Hell", "Hollywood Ya", "World is a Gutter" and "In Crowd" to the beautifully somber orchestra backdropped "Strength" to the acoustic country meets the Beatles "Time to Let You Go" and the remarkable piano ballads "Good Bye" and "The Way Home" mixed with the melodic mid tempo numbers like "Blue Island" and "Baby Loves You" showed one of the most diverse rock albums to hit the scene in years. With "Strength" Enuff Z'nuff won the hearts and ears of fellow musicians, journalist, even Howard Stern and those fans lucky enough to discover the group. This album also touched off the comparison between them and The Beatles that would forever mark their career. "Strength" is one of the most enduring albums of the early 90's and hopefully one day it may be re-released and a wider audience can discover it's brilliance.Listen to samples from "Strength" and Purchase it online
Iron Maiden – Killers
In 1980 Iron Maiden burst forth into the metal scene and nothing has been the same since. Their brand of intense metal creative with a rather progressive feel would set the backdrop for the "New Wave of British Heavy Metal" and influence countless number of metalheads to follow. After releasing what many considered one of the greatest metal debut's of all time, few expected the band to live up to the hype and bypass the work on their debut. The nay Sayers were silenced with "Killers" was released in 1981. The mix of Paul Di'Anno's vocals, Adrian Smith and Dave Murray duel guitars, Clive Burr's explosive drumming and Steve Harris' unbelievable bass lines Iron Maiden returned with their patented metal orchestra sound. But the real genius was found in Harris's songwriting as Killers contained an unusual number of songs which would go on to become metal classic including "Murders in the Rue Morgue", "Killers", "Twilight Zone", "Purgatory", "Wrathchild" and "Prodigal Son". While Bruce Dickinson would step into the lead vocalist slot with the group's next album, the core Maiden sound was firmly established with "Killers" a must have album for any metal fan. Listen to samples from "Killers" and Purchase it online
Judas Priest – Sad Wings of Destiny
Judas Priest' role as one of the seminal metal bands in music history began not with their debut album "Rock a Rolla" which was more acid rock than the brand of metal that would make the group legends, no it started with "Sad Wings of Destiny" the album in which Judas Priest would find their musical calling and help touch off the "new wave of British Heavy Metal". The epic "Victim of Changes" opened the album and metal has been the same. Judas Priest took metal away from the heavy blues influence it had previously had and took it in a more progressive direction and practically invented the screaming vocal style that would dominate the genre for the next decade and a half. Anyone wishing to explore the roots of heavy metal should most certainly add "Sad Wings of Destiny" to your list of must have albums. Listen to samples from "Sad Wings of Destiny" and Purchase it online

Part II of Hard Rockin' Sophomores is coming soon and will include:
Metallica – Ride the Lightning
W.A.S.P. – Last In Line
Megadeth - Peace Sells But Who's Buying
Plus more!