Static-X interview
by Debbie Seagle


Static-X took the metal world by storm in 1999 with their debut album – "Wisconsin Death Trip" now they are poised to make their loud presence known once again with their sophomore release – "Machine". Rocknworld.com's Debbie Seagle recently caught up with Static-X bass player Tony Campos to discuss the past, present and future of Static-X.

(Debbie Seagle for) Rocknworld: Let's talk a little bit about who and what Static – X is. I've heard the word "trance-core" used in describing your music. Can you explain what that is, or if there is a better word for describing the music of Static – X?
Tony Campos: I think our manager came up with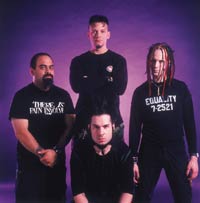 "trance-core."
RNW: What exactly, is that the whole industrial, goth, death-metal kind of a fusion?
TC: Yeah, I guess it was his best interpretation of it. Me, I've always, from day one, I kind of as a joke started calling it "evil disco." It kind of stuck.
RNW: That is a good explanation. I like "evil disco." With the loops and the things you are using now, I can see that. That's a pretty cool summation.
TC: Yeah, I think that encompasses it all a little bit better, and you know, it reflects the band's sense of humor too.
RNW: I like the band's sense of humor. Interesting the way the three, or four of you now, have come together and its kind of felt in your music. Now, Wayne (lead vocals) and Ken (drummer) are from the mid west, and you are from California, right?
TC: A-huh.
RNW: You are the home grown California boy, since I'm sitting here in California.
TC: I envy you.
RNW: Do you? You were in New Orleans yesterday, right? According to your tour schedule. Where are you today?
TC: Texas.
RNW: Bet its hot.
TC: YEAH.
RNW: I won't tell you how it is here then, alright?
TC: I heard. I just called home a couple of days ago and I heard its pretty nice.
RNW: Its pretty nice . . . but you're still doing a cool thing. I think your new guitarist (Tripp) is from New York, right?
TC: Jersey.
RNW: Okay, a Jersey boy.
TC: Close enough.
RNW: Close enough, but people from Jersey would not appreciate you saying that and vice versa! Anyway, what was the common factor between all of you that brought you all together as a band, since you came from different places?
TC: There's like certain bands, certain music that we all have a common ground on. You know, like Ministry, KISS.
RNW: Aw, are you all KISS guys? Were you all little boys running around, banging your heads and listening to KISS albums?
TC: Well, for me, KISS wasn't that much of an influence until later on, when I actually started jamming with Ken and Wayne. When I started listening to music, KISS had already taken off their make-up, they were doing "Lick It Up," and all that crap. And, I went underground. I listened to all the speed metal thrash, then later on death metal, so I went underground. When I saw that stuff I was like, uuuugggg!
RNW: Its funny, because probably 99% of the musicians I interview list KISS as an influence.
TC: Gene Simmons in particular, when I finally saw them play, on that reunion tour I finally saw the show and particularly Gene's performance. I was just like, wow, now I get it.
RNW: Yeah, I used to think that Simmons was a really simplistic bass player, but last couple of times I covered them, I did not get that impression. I was surprised at his performance.
TC: Just his stage performance and his stage presence in particular, really had an impact on me, as far as being a performer.
RNW: Oh yeah, they wrote the book.
TC: Yeah, I was like, yeah, that's how you do it.
RNW: So, when are the costumes and the fire coming for Static – X coming?
TC: Its funny, cause we do put on the KISS make up on Halloween.
RNW: Do you?
TC: Every Halloween show we've played we've put on the KISS make up.
RNW: Cool, I didn't know that. So you signed the record deal with Warner Brothers back in 1998. And you began to record your debut album, "Wisconsin Death Trip," within about three months. Besides talent and persistence, what kind of connections do you feel like a band, or your band, needed in that competitive LA atmosphere that brought you to the place you are at now?
TC: For us it was just a matter of playing constantly, playing in front of everyone we could and building a fan base.
RNW: Do you have a Street Team?
TC: Yeah, we do now, but before we were signed it was just us. Just putting out a mailing list at the shows, having people fill it out and just mailing the flyers to the fans. We were telling them hey, we're playing here, we're playing there you know? Letting them know what was going on. We did it all ourselves.
RNW: How did you come to the attention of Warner Brothers?
TC: Our Manager, Eddie Gould, he had some sort of development deal with Warner Brothers at the time. And when we started working with him, we were one of the first bands that he approached Warner Brothers with.
RNW: That was a lucky break for you, huh?
TC: Yeah!