Rob Zombie
by antiGUY
Rob Zombie – The Sinister Urge
Label: Geffen
Rating:





Tracks:
Sinners Inc.
Demon Speeding
Dead Girl Superstar
Never Gonna Stop (the red, red kroovy)
Iron Head
(go to) California
Feel So Numb
Transylvanian Transmissions Pt. 1
Bring Her Down (to Crippletown)
Scum of the Earth
House of 1000 Corpses

If Alex and his "droogs" from "A Clockwork Orange" were to review this CD there is a good chance that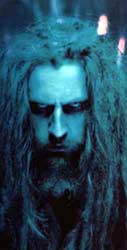 they'd find it to be "real horror show". After a long three year wait Rob Zombie returns with a new album steeped in the macabre he is so well known for. Let's face it no one else can pull off the marriage between horror and music as well as Rob Zombie. OK, Alice Cooper is the undisputed King, but Rob's music seems more relevant in today's music scene and "The Sinister Urge" brings him one step closer to claiming the crown. In fact, "House of 1000 Corpses" sounds closer to an Alice Cooper classic than anything on Cooper's latest album.
Those who were turned on by "Hellbilly Deluxe" will find a lot to love here, Rob's ghoulish vision of a mix of music and horror that began so long ago with White Zombie has crystallized with the compositions here. It's one part trailer park, one part Ed Wood and two parts Zombie. Rob Zombie can do things others couldn't even dream about, like when he pulls a bit of "80's bad boy rock" flavor out of the past and gives it a heavy dose of modern industrial with tracks like "Demon Speeding"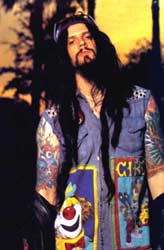 and "Dead Girl Superstar". The latter features a chorus that sounds like something we might have heard from "Dr Feelgood" era Motley Crue. But it works for Zombie. Aside from his band of madmen; guitarist Riggs, drummer Tempesta and bassist Blasko, Rob found a lot of willing accomplices to help bring his vision to fruition. "The Sinister Urge" sports an impressive roster of "guest" appearances including Ozzy Osbourne, Slayer's Kerry King, A Perfect Circle's Josh Freese, former Motley Crue drummer Tommy Lee, Beastie Boys' Mix Master Mike and Limp Bizkit's DJ Lethal among others.
Sure he could have pulled it off without a little help from his friends but what fun is that? The most visible outside contribution came from Ozzy Osbourne. It was Ozzy's counter vocals that proved to be the perfect ingredient for "Iron Head".
The songs are heavy enough but they still have more hooks than a walk-in closet coupled with driving beats that are downright infectious. You can't help but bang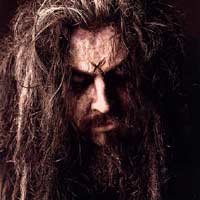 your head to a whiplash frenzy while listening. So in the name of safety the reader is advised not to crank this CD while driving unless they want to be behind the wheel of a moving projectile ready to wreck havoc on their fellow motorist. Oh what they hell, turn it up, blow your speakers out and scare the hell out of those who witness you as you're under the command of "The Sinister Urge"!
So rest assured "droogies" Rob Zombie is back and right in the nick of time to save 2001 from the doldrums!
Want more?
Listen to samples from the CD and Purchase "The Sinister Urge"online
Visit the Official Rob Zombie Website for all kinds of sinister stuff

Photos and artwork courtesy Rob Zombie and Geffen Records - All Rights Reserved by copyright holders.