by antiGUY
RNW: Speaking of heavy, you guys are signed to Road Runner in the U.S. They are primarily known as a Nu-metal imprint. Your sound and musical direction really stick out from the rest of the bands on their roster. What made you decide to go with them?
Mike: It was purely a matter of … we kind of knew this when we were putting our … deal together. There are sort of two ways you can go at it. You can go with the small company that's gonna work it's ass off to try and make you break or you can go with the great big company that doesn't really have to do anything. They can just nudge everybody out of the way to make you huge but they might not. They have thousands of acts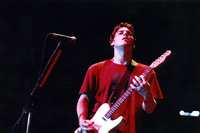 on their roster. Who knows if you are going to get the focus and priority you deserve? You don't know that. So you can go with the little label that will work with everything they have and it might not be enough or you could go with the big label that has all the power but could decide not to use it for you. You know what I mean; it's either one way or the other. We felt a lot of enthusiasm coming from Road Runner. They were really into it. You know to be honest with you, the big labels they were interested, they had their pocket books out but we didn't feel the sincerity that we got from Road Runner. They were genuinely interested in making us break America. They wanted to see it happen. Where as with the big guys like RCA, if Elvis keeps selling records, they don't care. They don't care, what difference does it make really?
RNW: Yeah they are not known for artist development.
Mike: No, not really. Like they sign you, they put you on the road, they put out your record, you have six weeks. If it doesn't start to go after six weeks you should really start typing your resume because you're gonna have to get a job. That is really pathetic because I understand on one side of things it's a business and businesses run on money. However, what everybody at these labels does not understand is when they sit on a band and hinder their growth. What they are doing is they are not only taking that commodity, that group but there are people's lives, people's careers are getting flushed. You know what I mean?
RNW: Yeah, definitely.
Mike: There is way more to it than just dollars and cents. Which the big labels tend to pay more attention to the bottom line. The bottom line isn't really what you're thinking when you pick your guitar up for the first time or you play your first gig or anything like that, decide to get into this business or what ever it is. It's not really much of business because I've never seen a business run like the music industry. (laughs) .. unbelievable.
RNW: Now that Road Runner has sold a minority interest to Universal has anything changed over there?
Mike: Well the way they do it is pretty much as much in our favor as it can possibly get. By that I mean, it just seems like everything is landing in our laps right now. I like to thank God for it daily, you know. Like Island controls 49% of corporation and Road Runner retains 51%. It's essentially the same company with a whole bunch more muscle, whole bunch more marketing, a whole bunch more money, you know what I mean? It's kind of interesting; it's like a great big heavy weight independent. Which is what we like.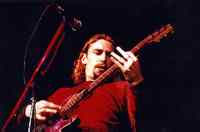 RNW: Ok now onto the new album... You guys basically recorded, released and promoted your first couple of releases yourself. With that in mind, did you approach the writing and recording of this album any differently?
Mike: We had less to deal with. You have people taking care of the business, people taking care of the details. So we could focus more on making a good album than getting caught up in the details. That is how it has been to this point. Being your own boss is good but bad. It's good to have full control over your business; however, you also have to baby-sit it everyday, every hour of every day, which we are continuing to do at a slightly lower level. … We are able to focus more on the recording and the making of the album with the label helping us out with money and everything else. Having a bigger team working for you cuts off a lot of things because the peripheral details that you were taking care of before is now being taken care of by someone who is HIRED to take care of them! Then we can be left to make our music.
RNW: How was it working with Rick Parashar?
Mike: Great. He really did what a producer should do and that is get us to make the best music we can make. And that was exactly what he did, he inspired us and helped us along so we were producing our best stuff. He made the best Nickelback come out.
RNW: Were you guys expecting the single "How You Remind Me" to become such a success so early?
Mike: We felt pretty strongly that it was going to be our first single and felt pretty confident that it would do well. But everybody feels confident when they make a record and everybody's label feels confident when they give it to them, you know. Every label says the same thing "We're gonna make this sucker go gold fella's, hang on! It will be a hell of a ride" You know what I mean? If the label didn't have that in mind, what's the point? Everybody is trying to do the same thing but very rarely does that optimism actually turn into something, where the expectations are met and that's what kind of where we are at now. Just yesterday we got the news that we were officially No.1 on rock radio in America and Canada.
RNW: Very cool!
Mike (in a joking tone): So we have control over North America at this point.
RNW: laughs
Mike: ..we are one step to our ultimate goal of world domination! So we're quite happy with this. Even in our wildest dreams I don't think we saw this. Optimism and positive thinking are all good but this is crazy!
RNW: It pushed "The State" gold didn't it?
Mike: "The State", if it isn't gold now it will be very very shortly.
RNW: I heard Road Runner is expecting to ship the new album gold, which is very cool.
Mike: Yeah, very crazy s*** man!
RNW: I want to get into the songs a little bit.
Mike: Sure
RNW: I'll give you the title and if you could give us a little background on the songs. Their meanings or any story behind them, let's start with "Never Again"?
Mike: That is a song quite tightly directed at the issue of domestic violence. A lot of our songs are sort of loosely based on a theme but this is not like that at all, this is very very tied to the issue. There is really no other way to interpret it other than what you hear. It's basically just the story of an abused, battered wife.
RNW: Heavy stuff…. "How You Remind Me"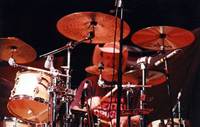 Mike: "How You Remind Me"? That was something that Chad kind of used the material that he got from an ex-girlfriend. That's where that all began and it's basically about having your shortcomings pointed out by your significant other. I think that's where he is kind of going there.
RNW: I think we can all relate to that.
Mike: Yeah. You know a lot of these coming up are going to be a little more loose and little more kind of interpretational so hang onto your hats here!
RNW: "Woke Up This Morning?"
Mike: Loose and interpretational! (laughs) It's about a variety of things but I would be hard pressed to nail it down to one. I say just listen to it and see what you get.
RNW: "Too Bad" ?
Mike: "Too Bad" is something that Chad came up with about his relationship with our Dad. Our Dad had to leave real early on in our lives and it was hard. Everybody needs that father figure around and we didn't have one. So it was pretty tough.
RNW: "Just For" ?
Mike: That is interesting because that again is about a girlfriend situation and that was kind of somebody getting too close to a girlfriend. I don't know if it was Chad in particular or if it was somebody that he knew but that's what that song was written about.
RNW: "Hollywood" ?
Mike: "Hollywood" that is loose and interpretational! I would say listen to that one and draw what you can.
RNW: Well "Money Bought" I remember hearing you guys play that live. What's the gist of that one?
Mike: That one is basically just about people who basically have everything handed to them but are still screw-ups. They get everything and they think they are better than everybody else but they're in many ways quite beneath people who have a lot less.
RNW: How about "Where Do I Hide" ?
Mike: That I wouldn't say I don't know but I would say if you listened to our last record your know that it is sort of a variety of themes happening at all times. And this is another song where this is happening.
RNW: It's not another magic mushroom inspired song is it?
Mike: I don't know about that, it's kind of the 5 second attention span, changing topics rapidly.


Continue