Orgy - Vapor Transmission
by Buster Cherry

Hey, call me a sellout, a traitor, or whatever the hell you want to call me, but Orgy has won me over with the bands second musical offering "Vapor Transmission". I initially passed this band over because of all the hype and the hoopla surrounding what I thought of as a record company "band manufacturing" job, designed to sell the s*** out of records to 13 year old girls who subscribe to tiger beat magazine and talk about how "hot" they think their favorite band member is. Now I'm finding that Orgy has a very large and loyal, worldwide following of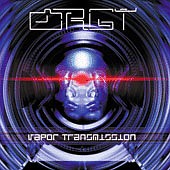 fans in a wide-ranging age group, who are into the bands eclectic mix of futuristic imagery, and electronic tinged alternative metal. "Electronic tinged alternative metal?" That's a pretty futuristic sounding description of the bands music itself, isn't it?

The band exploded onto the scene in 1997 with their debut album "Candyass", on which the band garnered a certified hit with their cover of British New wave band from the eighties, New Order's "Blue Monday". On top of that, Orgy was hand picked by Korn for the opening slot on Korn's Family Values Tour, and was subsequently the first signing to Korn's very own Elementree Records label. Orgy guitarist Ryan Shuck coincidentally co-wrote Korn's "Blind" with Jonathan Davis. There's no denying Shuck, and the rest of Orgy's formidable songwriting and playing on their sophomore effort. Orgy's new album is a musical revelation, even if it is in the form of something far off the beaten musical path. It's good to welcome any new music into our lives that has what it takes to stir us up inside.

I'm almost tempted to call "Vapor Transmission" a Rock Opera, but with my informal training in music terminology and my refusal to dissect and petty-analyze musical genres, I'll play it safe and call "Vapor Transmission" what I know it is, an incredible "concept" album. Once you're able to look past the make-up and the impeccable hair-do's of the members of Orgy and finally get to flipping "Vapor Transmission" onto your CD player, you will be pleasantly surprised to find incredible music that would be equally at home blaring out of the wall of speakers at any rave, or pumping your fist in the air hearing the band perform these songs live. There'll be inevitable comparisons of the similar vocal style of vocalist Jay Gordon to those of Marilyn Manson and David Bowie for years to come, especially to Manson's "Mechanical Animals", and David Bowie's "Scary Monsters". Orgy could have gotten away with calling this album "Mechanical, Futuristic Monsters".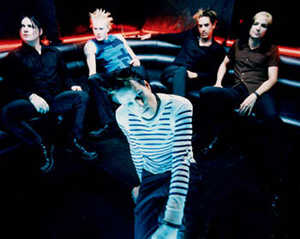 What's so bad about having influences as great as those two anyway? Everybody has to learn from somebody, and those are two of the greatest. Orgy has enough originality in their sound to make the listener sit up and take notice. There's Jay's vocals, guitar-synthesist Amir Derakh's swirling sound, drummer Bobby Hewitt sounds like he's pounding the drumbeats on a railroad tie with a sledgehammer, and guitarist Shuck and bassist Paige Haley provide some pretty heavy rhythmic backbone to complete the Orgy sound. The reason this isn't Rock Opera is because the songs aren't telling the stories of different characters that make up the bigger overall picture. But, with song titles like "The Odyssey", "Opticon", and "Re-Creation" I'd say the concept here is definitely a futuristic one.


Vapor Transmission Tracks
1. Vapor Transmission
2. Suckerface
3. The Odyssey
4. Opticon
5. Fiction (Dreams in Digital)
6. Eva
7. 107
8. Dramatica
9. Eyes
10. Saving Faces
11. Re-Creation
12. Chasing Sirens
13. Where's Gerrold
The Band
Want more?
Purchase Vapor Transmission and the debut CD online!
Visit the Official Site at OrgyMusic.com
Artwork and photo taken from the official Orgy web site. All Rights Reserved by the copyright owner