Las Vegas- The Mob Museum


"Youse guys are gonna get cement shoes and be sleepin' with the fishes!" It's easy to chuckle at some of the scenes from old gangster movies, but in real life the proclivities of mobsters were no laughing matter. That's something you soon discover when you visit the Mob Museum in Las Vegas where exhibits contain things like one of Al Capone's pistols and a wide variety of other guns and miscellaneous items that were used to hurt and intimidate (hammer, baseball bat, ice pick, brass knuckles, dynamite…)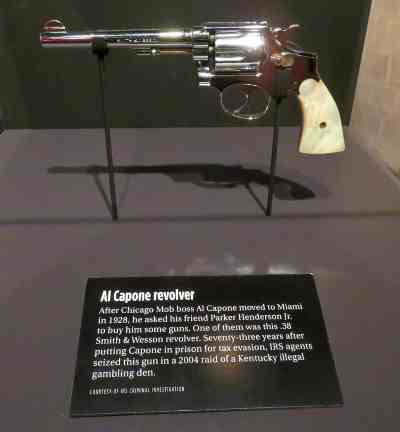 Al Capone's pistol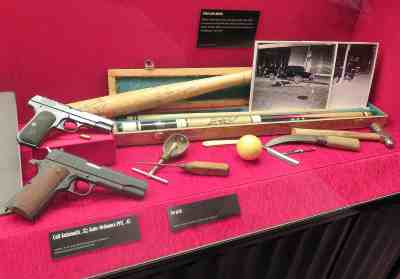 Weapons
Also known as the National Museum of Organized Crime & Law Enforcement, the Mob Museum is located in a historic building that was once home to a federal courthouse where some of the famed mob-investigating Kefauver hearings took place, and the courtroom where this happened has been preserved and can be visited by museum attendees. It is really something to realize that mobsters actually walked the halls of the very building that now tells their story.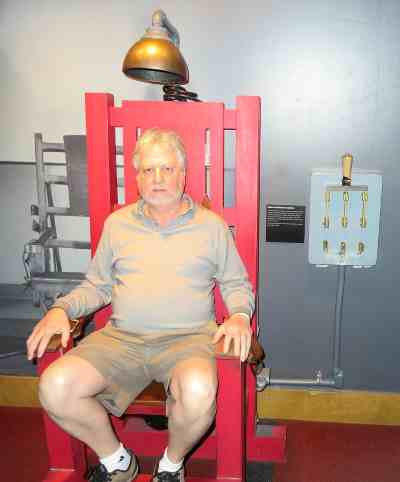 Electric chair
The Mob Museum is large and exhibits are spread over three floors. Meant to be experienced in a certain order, the path that leads visitors through the museum comes first to a small theater where the film "Mob 101" is screened. As the title indicates, the film is a primer on organized crime and it details how the mob got into the bootlegging business during Prohibition and how they branched out into gambling, prostitution, loan sharking and more after Prohibition ended. All of this comes to vivid life throughout the rest of the museum, highlighted by things like a portion of the wall against which seven members of the Bugs Moran gang were assassinated on Feb. 14, 1929. Familiarly known as the St. Valentine's Day Massacre, the hits were supposedly ordered by Al Capone, and the wall, moved to the museum from Chicago, very clearly shows bullet holes. Not coincidentally, the Mob Museum opened on Feb. 14, 2012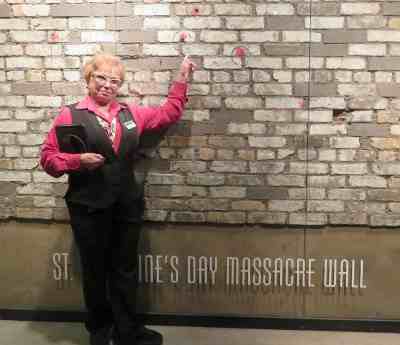 St. Valentine's Day Massacre Wall
Just about everything else you'd care to know about mob history is ensconced in the museum and there are exhibits that chronicle the mob's history in Las Vegas, especially prevalent during the era when Frank Sinatra, Dean Martin and the rest of the "Rat Pack" were top dogs in the city. Ominously, part of this exhibit includes a chair from Nevada's at-the-time active gas chamber. As informative as the exhibits are, there are also lots of things placed throughout the museum that add a big dose of fun to the learning. Some of these things make for great photo opportunities; for example you can pose in a replica electric chair, get a photo of yourself participating in a "line-up" and take a selfie with cartoon crime buster Dick Tracy.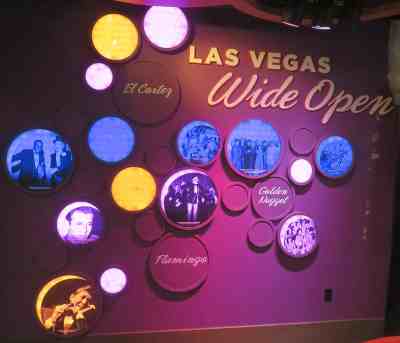 As you might expect, the path through the Mob Museum ends in the gift shop, and there you'll find many unique souvenirs as well as a selection of T-shirts and the like. To sum it up, if someone asks you if you want to go to the Mob Museum, consider it an offer not to be refused! For more information visit: https://themobmuseum.org

.

---
...end