Dublin By Bicycle: It's Electric!


Beautiful churches and countless buildings showing off their Victorian and Georgian architecture. Historic spots: The Vikings landed here, James Joyce hung out over here and rock stars U2 roamed right over there. Few cities have as much to see in such a relatively compact area as Dublin, Ireland does, and with walking tours, hop-on/hop-off bus explorations and even "splash" (land and water) tours being readily available, there's no lack of ways to get out and have an adventure. Some sight-seers however choose to see the city in a manner that's a bit more electric.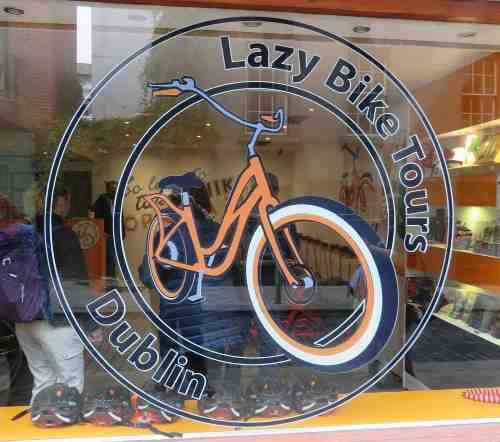 Bicycles are a popular way to get around for residents of Dublin and visitors too can enjoy a sense of freewheeling fun by partaking in a cycling tour given by Lazy Bike Tours. Don't let the name fool you; the knowledgeable folks at Dublin's centrally-located Lazy Bike Tours don't cut any corners in ensuring that participants have a blast while on a two-wheeled sight-seeing excursion to see city highlights. The "lazy" is merely a reference to the fact that guided tours are given at a leisurely pace and that thanks to the bicycles being powered by electricity, a minimum of effort is required to propel them.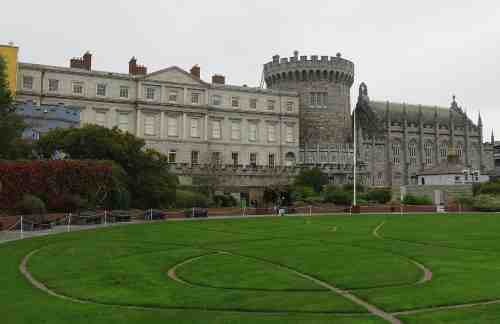 Dublin Castle
Lazy Bike Tours actually give participants a choice of taking the tour on an electric bike or, for those who prefer, a standard bike. Not to be confused with a motor bike, the electric bikes employed by Lazy Bike Tours are easy to handle; a couple of go-rounds on the pedals will cause the electric motor to kick in and take on the majority of the burden of propelling the bike. The motors have limiters on them so they will only send you zipping through the city at a safe and comfortable speed, and hand brakes are easily put into action when needed. After taking a few minutes to get familiar with your bike and getting decked out in a safety vest and bike helmet you're all ready to go.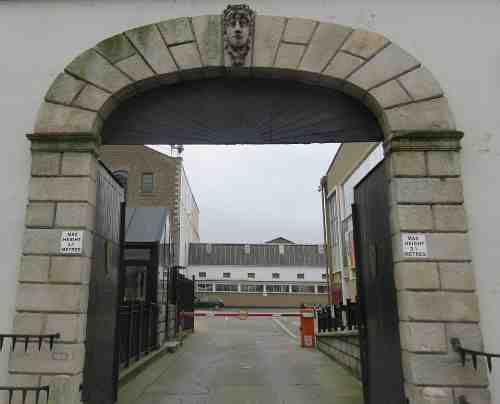 St. James's Gate
Many of the Lazy Bike Tours are led by the company's managing director, Hugh Flood. Before you take off Hugh or another guide will give a brief rundown of where the tour is headed, and also ask riders if there's anything in the area that they would specifically like to see. In that sense it's possible to customize your tour to an extent; if Hugh can reasonably fit your special request into the tour route, he will do so. Regardless of the route taken, riders will be afforded countless photo opportunities as stops are made at places like Dublin Castle, St. Patrick's Cathedral, St. James's Gate, which is the original western entrance to the once walled city during the Middle Ages, and places relevant to the city's culture in more current days, like the rows of red brick houses that were constructed by the Guinness Brewery company, originally to house their workers who could not otherwise find housing.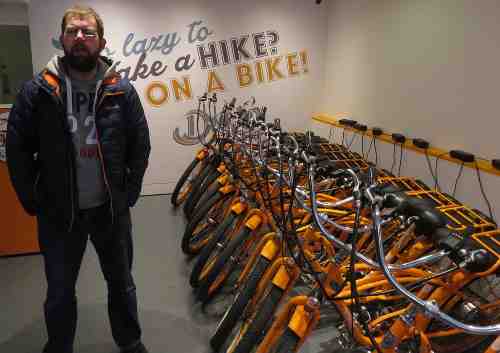 Hugh of Lazy Bike Tours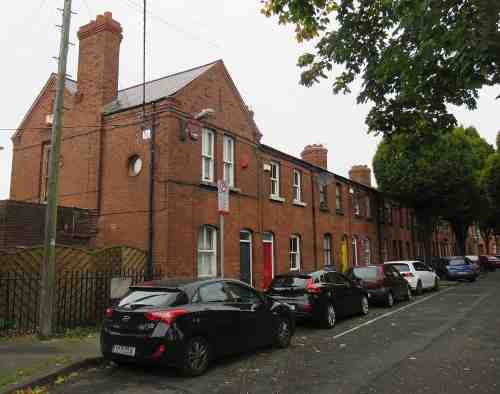 Guinness homes
Dublin has something of historical significance literally anywhere you look and you'll learn about some of these on your tour. Some of these places feature sculptures or other types of artwork, or perhaps just a placard. Others places, like the area where the Vikings founded Dublin, are somewhat intangible but are brought to life with the narrative given by the tour guide. Questions are welcomed and generally answered to satisfaction, whether you want to know the story behind the Molly Malone statue or why there are bullet holes in other public artworks.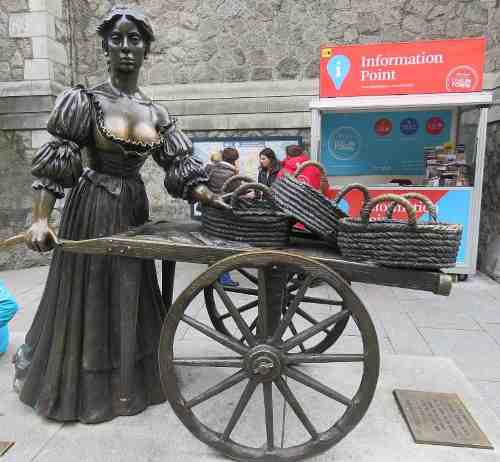 Molly Malone statue
So you can actually accomplish quite a bit in Dublin while being "lazy." Lazy Bike Tours can be found in the city's popular Temple Bar district, so riders can if they choose stay in the area after the tour to enjoy shopping, dining, or any number of the city's famous pubs. Tours run about two hours long and generally begin at 10am, 12:30pm and 3pm. Bookings can be made here
For information on other fun things to do while in Ireland go here

.

---
...end