Travel News, Trips & Tips


If you're hungry or thirsty you'll love this edition of Travel News, Trips & Tips; it's all about food and drink!

Eating Prague's Beer Tour
World famous Czech beer is the star of the latest adventure from food tour specialists Eating Prague Tours, one of the Eating Europe Tours that focuses on "real food, real people and real neighborhoods." Called the Brews and Views tour, the beer tour was created in conjunction with Evan Rail, the beer expert who is a Prague resident and regular contributor to The New York Times, The Wall Street Journal and Beer Advocate magazine. Tour stops include the beer garden at Letna Park and new pub Pipa where they have 160 beers in bottles. Beer lovers will sample Gambrinus, heavy dark lager, pilsner and craft beers along the way as they learn about the 1000-year-old history of Czech beer. Each sample will be paired with a snack that brings out the beer's unique characteristics and there'll be plenty of eye candy too as the tour navigates the especially-scenic city. Tours are three and a half hours long and run Tuesday through Saturday. http://www.eatingpraguetours.com/brews-and-views/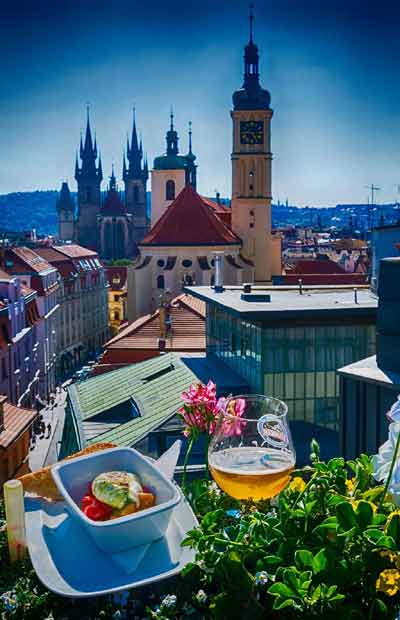 Sunset Key's Rum Ration
In the old days British sailors used to get a daily ration of rum, partially in an effort to fight scurvy. At Sunset Key Cottages, a luxury resort situated on its own island just off the coast of Florida's Key West, guests get a daily allotment of rum just for fun. And the fun will be ramped-up in August, since that's the time that National Rum Month is celebrated. Every day at 4:30 in the afternoon, the bartenders at Sunset Key call for "up spirits" and offer guests their daily issue of the resort's locally-distilled and custom-branded rum at no charge. Partakers can sample a light or dark rum or indulge in the rum cocktail of the day, which may be a flavored mojito, rum runner, Havana daiquiri, hurricane, Dark & Stormy, Key lime colada or Planter's Punch. Afterwards, the beach, the pool, the spa and all the other delights of Sunset Key will be waiting. http://www.sunsetkeycottages.com/
Tiny Restaurants in the Big Apple
Bigger isn't always better, and that's especially true when it comes to a place to have a great meal. Three of the smallest but hippest places in New York City to take a big appetite to are:
dinnertable - So named because the place is so intimate it's like having a comfy dinner at your best friend's home, dinnertable is a speakeasy-style restaurant located behind East Village hotspot The Garret East. Seating just 19 people, the tiny spot has a sophisticated but unpretentious menu featuring funky Italian dishes and exceptional Italian wines from small producers. http://www.dinnertable.nyc/
The Eddy - Located on East 6th Street, The Eddy has a 32-seat dining room and space for 11 at the bar. Whether you order a la carte or try the five-course tasting menu you'll be treated to classic American dishes prepared with an unpredictable twist and using exclusively seasonal and local ingredients. Co-owner Jason Soloway oversees a sophisticated wine list and there are seasonal cocktails too. http://www.theeddynyc.com/
Wallflower - The menu at this 30-seater in the West Village is inspired by French country cuisine but expect your French classic to be modernized, and delights like shrimp & grits, jerk-spiced quail and caramelized bread pudding are also on the menu. Wash it all down with something from the cocktail list which was created by cocktail maestro Xavier Herit. http://www.wallflowernyc.com/
Marmara Park Avenue
This is the place to go if you want luxurious extended stay accommodations in New York City. On offer are fully-furnished one or two bedroom lofts, studio lofts and even the penthouse. And you certainly won't go hungry here; a full-service breakfast menu offers goodies like fresh-squeezed juices, homemade buttermilk pancakes with caramelized banana chutney and other breakfast favorites. Cocktails and light bites are served at the hotel's OneOneFour Bar & Lounge, or you can make lunch yourself in your room's fully-equipped kitchen. Fitness center, subterranean pool, authentic Turkish hammam and massage treatment are also available. Discounted rates are available for stays lasting five or more days. http://park.marmaranyc.com/

.

---
...end