Swaziland Part 1: Culture and Attractions


If you think the country called Swaziland sounds intriguing, wait until you get there! Officially known as the Kingdom of Swaziland, the small nation in southern Africa, bordered only by Mozambique and South Africa, offers visitors countless adventures in both rural and urban settings. We'll explore a bunch of fun things to do in Swaziland in this three-part series that chronicles Road Trip's recent visit; in Part 2 we'll take in some game parks and in Part 3 we'll tell you about great places to stay and eat. Right now though, let's hit some attractions that offer an insight into Swazi culture.

Mantenga Cultural Village
As Mantenga's name implies, here's a chance to get a serious glimpse at Swazi culture and tradition. There's nothing stuffy about this living museum though, and if you arrive at the right time you'll even have a chance to learn a traditional Swazi dance! Giving two performances a day, a large troupe of female singers and male drummers put on a show featuring the ladies singing in harmony while the guys beat out a tribal rhythm, all while wearing traditional Swazi outfits. Towards the end of the show the drummers ham it up a little and cheer for the girls who are trying to outdo each other with demonstrations of high-kicking, sometimes reaching such heights that they accidentally kick sand into their own eyes. The songs are sung in Siswati, the national language of Swaziland, and the performance ends with a jaw-dropping rendition of some Swazi gospel songs. And for some final fun, the performers pull a few "volunteers" from the audience and show them a few traditional dance moves. After the tribal dance show, a guided tour of the village begins. Designed as a typical Swazi village of the 1850s, the village has "beehive" huts and kraals for cattle, and tour takers will learn how each hut was designed with slight differences depending on who lived there, and see a hut where the village sangoma (healer or medicine man) conducted his business. Tour participants will also hear local lore, like how the mountain looming near the village is called Execution Rock, because back in the day (remember, this was more than 150-years ago) those found guilty of a serious crime were forced to leap from the top of the peak to their deaths. Mantenga Cultural Village also has a waterfall that can be hiked to and a nice restaurant that serves lunch.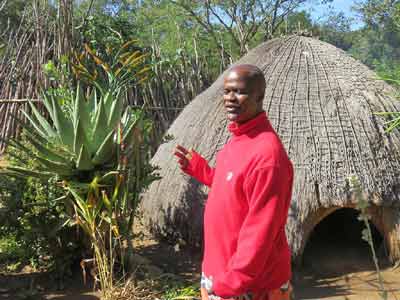 Mantenga Cultural Village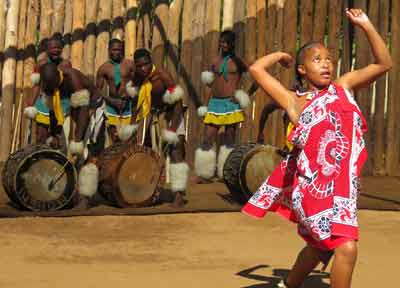 Mantenga Cultural Village
Swaziland National Museum
Here's another great way to get a glimpse into Swazi culture, both modern and ancient. The museum's centerpiece displays feature mannequins clad in traditional garb; one display features men and a separate display shows Swazi maidens dressed for the country's famed "umhlanga" or "reed dance." There are displays of ancient tools and stoneware and examples of handmade toys along with a selection of traditional musical instruments and a large feature dedicated to cattle, which retain an important role in the lives of many Swazis. There's a display of Swazi currency, a room dedicated to wildlife, and even a couple of tribal drums that you can play if you wish. There's also a small selection of paintings and sculptures made in the modern day that show how Swazi art is evolving yet retaining a traditional flavor.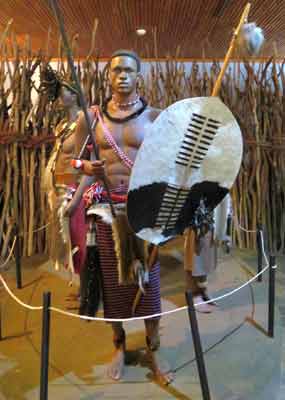 Swaziland National Museum
King Sobhuza II Memorial Park
Located near the Swaziland National Museum, this park houses a memorial to King Sobhuza II, the beloved leader who led Swaziland to independence from the British in 1968 and who was the father of the nation's current king, Mswati III. There's a nice statue of the king, a giant torch that's lit on special occasions and a museum chronicling the monarch's life that includes three vehicles once used as part of his motorcade, including a stunning 1968 Cadillac Fleetwood and a couple of Buicks from the '50s. The king's mausoleum is also here but it is off-limits to visitors and a Swazi soldier stands guard to ensure this.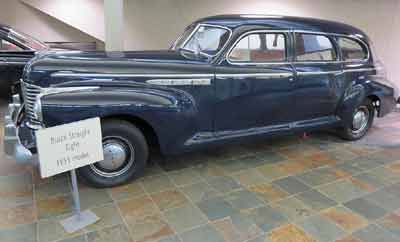 King Sobhuza II Memorial Park
Ngwenya Glass
One of Swaziland's most renowned attractions, Ngwenya Glass is where craftsmen turn recycled glass into works of art like replicas of Africa's famous Big Five animals and useful household items like jugs, wine glasses and carafes. Browsing the large showroom here is an absolute delight, especially after you've watched the glassware being manufactured; the factory portion of Ngwenya Glass is set up with an overhead viewing area where you can see hot globs of glass coming out of the furnace, having color added and ultimately being fashioned into the items mentioned above. You can also see the area where workers use giant platform grinders and sanders to smooth out the rough edges on larger items. The complex also includes a small restaurant.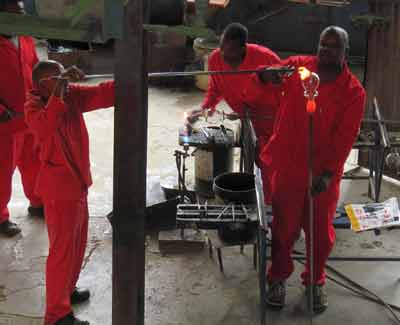 Ngwenya Glass
Swazi Candles
Swazi Candles offers visitors a chance to see wax being colored and shaped into attractive candles, perhaps the most popular of which are done in the shapes of African animals, and a very large and varied selection of these are for sale. But the shop also has lots of non-animal decorative candles including Christmas-themed as well as an offering of artisanal soaps, some infused with exotic elements like papaya. The store also features a very nice selection of colorful woven basketry items, and quite often the woman who makes these is on hand demonstrating her craft. Other buildings in the Swazi Candles complex feature other handmade or hand-decorated items, and ladies in particular will really enjoy the clothing and other items on offer at Baobab Batik. An on-site restaurant offers good food (and large portions!) and you can eat outside in the warm Swaziland air if you choose.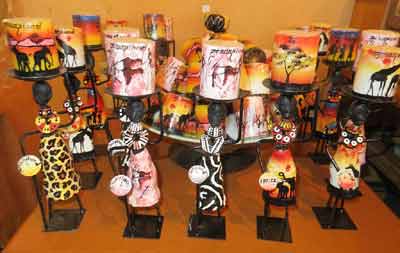 Swazi Candles
Manzini Market
Like many other things that you'll see and want to investigate as you explore Swaziland, Manzini Market is not a typical tourist attraction. This large facility located right in the heart of Swaziland's largest city is where locals come not just for fresh fruits and veggies, but also for things like cooking pots and utensils made on the spot, haircuts, cloth and sewing items, shoe repair and shoemaking, phone and electronics repair, and basically anything needed for everyday living. Of special interest to visitors will be the stalls selling herbs and various other plant-based compounds that are for healing; these are traditional Swazi "pharmacies" where people can obtain the items prescribed by the sangoma mentioned earlier. And while most of Manzini Market is geared to locals, there's also a significant area with the tourist in mind that sells all kinds of Swazi craftworks and souvenirs.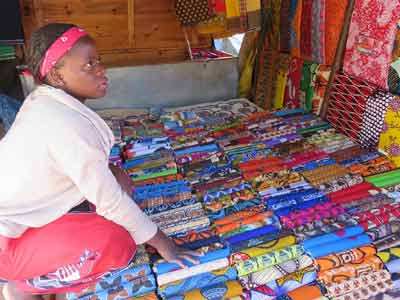 Manzini Market
This is just a taste of what Swaziland has to offer along the lines of cultural attractions. Of course the best way to indulge in Swazi culture is to stop and talk to people, most of whom speak English and who are overwhelmingly willing to chat about Swaziland and their daily lives, so your exploration of this amazing country can start with that man or woman right next to you!
For more information that'll help you plan your visit to Swaziland go to www.thekingdomofswaziland.com

.

---
...end