Odysea Aquarium Making A Splash In Scottsdale, AZ


There's a brand new place to have fun in Scottsdale and rockin' lobsters, cool catfish and swinging starfish are coming from all over to check the place out, as are creatures of the human persuasion. At 200,000 square feet, the just-opened, two-level OdySea Aquarium is the largest in the Southwest. The aquarium's tanks hold more than 2 million gallons of water and there are about 30,000 animals in residence, representing some 500 species. You'll get your first glimpse of them immediately upon entry as there are nine large globes suspended from the ceiling in the lobby and each is busy with fish going about their business. Another attraction in the lobby that's not to be missed, believe it or not, are the restrooms. Both the men's and the women's restrooms have a very unique feature; large windows that look into OdySea Aquarium's shark tank! The windows are installed by the wash basins so sharks will be swimming by just a foot or so away while you scrub up!

A sharktacular view from the men's room
An escalator leads to the upper floor where the full adventure begins with a display called "Rivers of the World" and among the attractions here are tanks filled with critters like paddlefish, fresh water turtles, cute little baby Siamese crocodiles and a gigantic 60-pound catfish. Moving through a veritable warren of tanks and displays, visitors will come across everything from species from the Amazon (piranha!) to whimsical otters that seem to know that they're delighting their audience.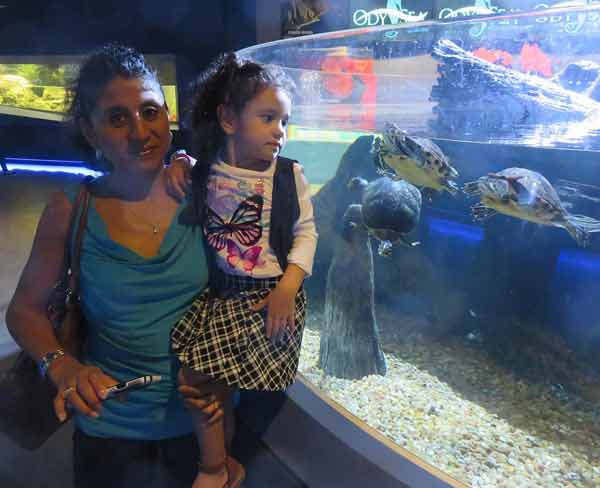 Toddlers love turtles
There's so much to do and see at OdySea Aquarium that visitors should plan on spending at least two hours to take in things like the "Tide Touch Pool" where you can gently touch sea stars, hermit crabs, sea snails and such, and "Penguin Point" where a bunch of the little waddlers swim and splash about. There's a 10-minute 3D film that spotlights whales and sharks, and spoiler alert, when the film is over the screen rises to reveal a window to a giant fish tank that's perfect for photo opportunities.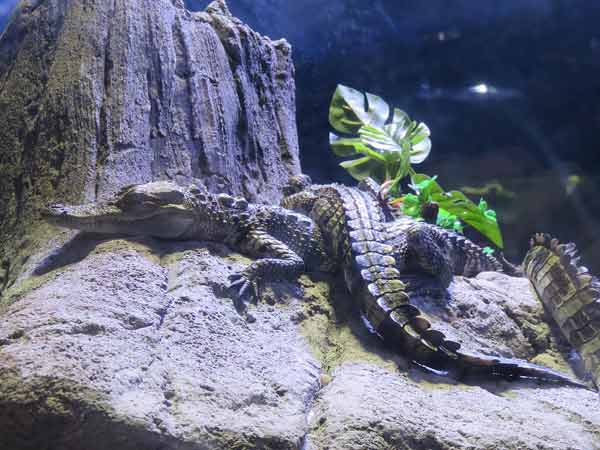 Sleepy baby crocodiles
Just about everywhere you look at OdySea Aquarium there is something jaw-dropping, and two of the attraction's most-prominent features are an escalator ride back to the ground level that actually takes you underneath a tank so the inhabitants are not only on both sides of you; they're also over your head! And that makes for spectacular viewing, especially when something like an eagle ray cruises by! The other amazing adventure comes courtesy of a presentation called "Living Sea," this is a theater where the seats are installed on a large turntable, and the audience stays seated while the turntable rotates so that different tanks can be viewed, giving glimpses into the lives of sea turtles, sea lions, those ever-present sharks and more.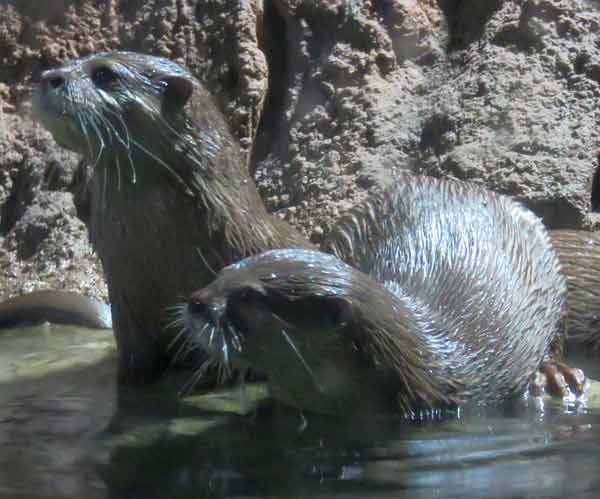 Curious otters
There are jellyfish to see, a martini glass-shaped aquarium with tropical fish in amazing colors, a Great Barrier Reef display, and tons more. Did we mention sharks? For the adventurous, an underwater excursion called SeaTREK can be purchased; this is where participants don a special high tech helmet that allows them to walk underwater and interact with various species (no sharks allowed!) No special skill or certification is needed to do this and most folks over nine-years-old are eligible to participate; reservations required.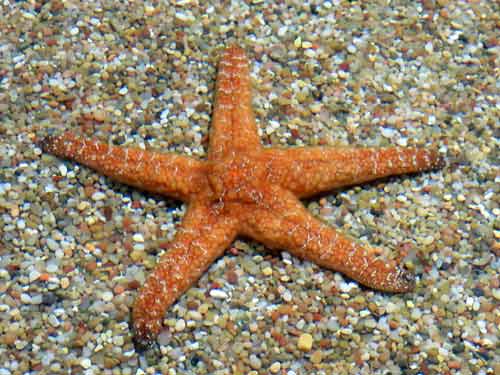 The star of the Tide Touch Pool
There's a huge gift shop on hand and, for the hungry, the Lighthouse Café where one of the walls is decorated with about 40 posters from water-themed films. OdySea Aquarium is the newest addition to the OdySea in the Desert entertainment complex that also includes Butterfly Wonderland and OdySea Mirror Maze.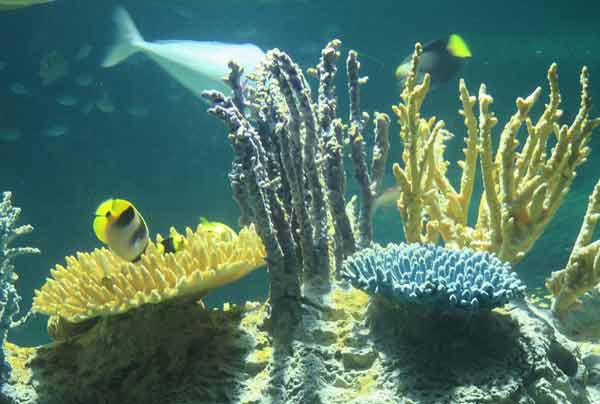 Tropical fish display
For more information on OdySea Aquarium go here. For ideas on other fun things to do in Scottsdale go here

.

---
...end