Swaziland's Bushfire Music Festival Part 2


The Bushfire Music Festival, one of Africa's most-revered music events, took place at House on Fire in Swaziland May 27-29. Having turned 10-years-old this year, the festival was bigger and better than ever as it celebrated the best of African art and culture and presented dozens of performers from Swaziland, numerous other African countries and many nations beyond. Fans spent the festival's first two days enjoying shows by the likes of Bombshelter Beast, Bholoja, Mafikizolo, Blitz the Ambassador, George Worthmore, Toby2Shoes and many others, and the festival closed-out in grand style on the third day.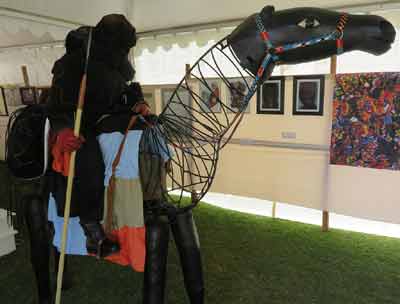 Art installation
The huge open area adjacent to the art gallery and shops of the House on Fire complex was the site of Bushfire's Main Stage, and fans flocked there on closing day to see a stellar line-up of performers. The day began with a late-morning show by Swaziland's own Fanaza, a group fronted by singer and guitarist Fanaza Tsabedze but that also includes dancers that performed in a traditional Swazi style and in traditional outfits. Fitting for a festival that celebrates Swazi and African culture, Fanaza put on a show that featured non-stop excitement. Up next was Jesse Clegg, a South Africa-based pop star with quite the musical pedigree; his father is Johnny Clegg of Savuka and Juluka fame. Clegg wowed the crowd with a lengthy set of career-spanning hits and cuts from his new release Things Unseen.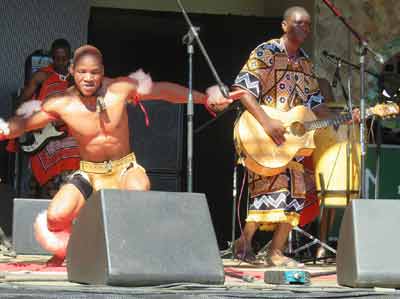 Fanaza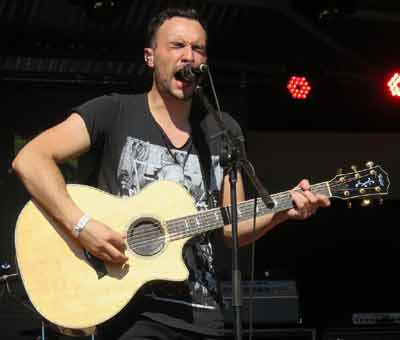 Jesse Clegg
The Main Stage continued to rock right through to festival's end as South African band the Rudimentals put on a raucous show featuring ska and reggae music with a little rap thrown in. Malian group Songhoy Blues appeared; unlike many Malian bands their music is not based in sadness. The group does utilize traditional Malian sounds in their music but it is fully blended with Western music and presented in a buoyant and joyful manner, suitable to dance to as singer Aliou Toure demonstrated throughout the show. The big finish for the Main Stage came courtesy of Oliver Mtukudzi, a performer from Zimbabwe who is extremely popular in southern Africa.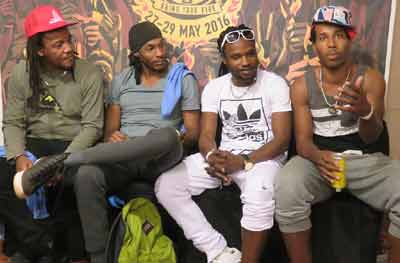 The Rudimentals backstage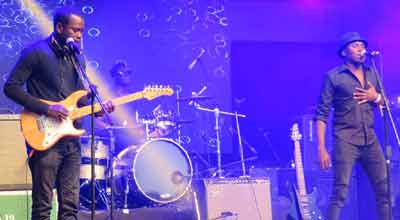 Songhoy Blues
The Main Stage action was not all that was going on as Bushfire wrapped-up; festival goers chowed down on good eats ranging from fresh fruit to Chinese food, specialty dishes from Mozambique to burgers and chips, and all things in between. Many wandered the festival grounds with a cold drink in hand, taking in various art displays or watching artisans at work and having fun at photo booths, with stilt-walkers or in numerous drinking-and-partying areas. Indoors in the House on Fire Amphitheatre, singer Maya Kamaty and her band, from the island nation of Reunion, put on a show heightened by a colorful and nearly psychedelic light show. Meanwhile in the rustic Bushfire venue known as The Barn, Dutch performer Roos Galjaard, a longtime resident of Africa, played acoustic guitar and sang about her travels throughout the continent.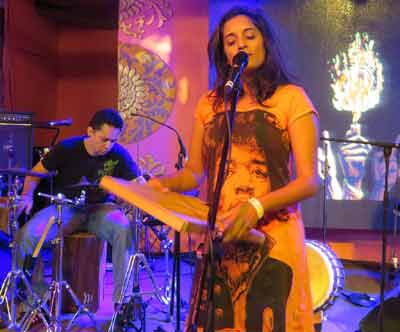 Maya Kamaty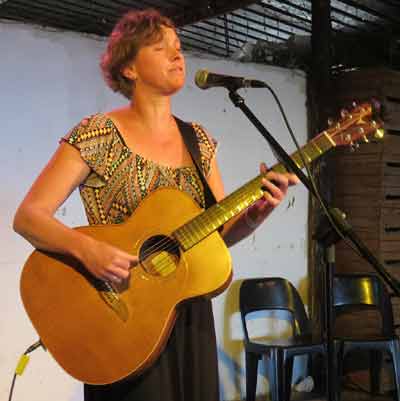 Roos Galjaard
It's safe to say that everyone had an excellent time at this year's milestone edition of Bushfire; a pretty good indicator was all the smiling faces as the event came to a close, and the many that were already voicing plans for next year as they headed to their vehicles.
The program for the 2017 Bushfire Music Festival will be announced here
For information on all the other fun things to do in Swaziland go here

.

---
...end