Swaziland's Bushfire Music Festival Part 1


Already renowned as one of the best music festivals in Africa, Swaziland's Bushfire Music Festival celebrated its 10th anniversary this year with three days of art, food and drink, camaraderie and of course music. The annual event takes place at House on Fire, a venue for all things artistic that's situated about half an hour's drive outside of Mbabane and Manzini, Swaziland's main cities. With a stellar line-up that included performers like Mali's Songhoy Blues, South African pop star Jesse Clegg and Zimbabwean favorite Oliver Mtukudzi, the festival drew a huge crowd that came from all over Africa, Europe and North America.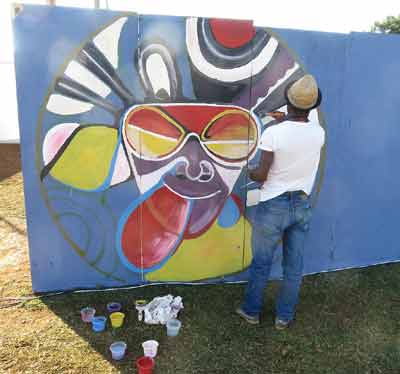 Muralist at work
Opening around dinner time on Friday, May 27, the festival that invites people to "bring your fire" got started as four stages provided music until late in the night, with DJ entertainment continuing the fun until after 2:00 AM. A large percentage of the crowd camped out in adjacent facilities, so they were ready to do it all again on Saturday when Swaziland's own Correctional Services Choir got things going on the Main Stage. The group is a large ensemble and predominantly female, singing in SiSwati (the language of Swaziland) and creating magnificent harmonies, and they finished their set with a take on "Wimoweh," otherwise known as "The Lion Sleeps Tonight."

Correctional Services Choir members backstage
Most of the groups performing on the Main Stage had a significant visual presence, even if, in the case of Austrian duo Living Room, the visuals came through an improvised surprise. Living Room consists of bass clarinetist Christoph Pepe Auer and Manu Delago, who plays a percussion instrument called the "hang." Their music is jazzy and sublime and took on an even dreamier aspect when the pair called to the stage audience members who were brandishing a giant, fluttering representation of what appeared to be a Phoenix or a Firebird. The occurrence was just one of many spontaneous, artistic happenings that took place around the festival grounds.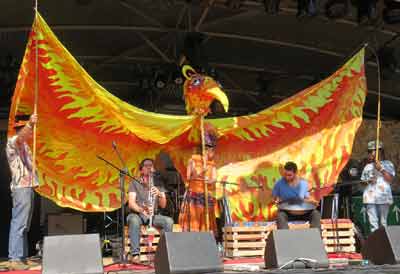 Living Room
Musicians from Swaziland always account for a big part of the fun at Bushfire and some of the homegrown stars appearing on Saturday included acoustic guitarist and singer Sibusiso Nkambule who played the smaller stage in the rustic setting of "The Barn." Nkambule's songs, also sung in SiSwati, dripped with emotion and also grooved nicely thanks to a sideman playing a homemade marimba and a thumb piano made out of the shell of an old acoustic guitar. On the Main Stage, Swazi superstar Bholoja had an enormous stage presence and got the audience to interact through call-and-response moments throughout his set. Among the other acts playing on Saturday were South African groups Nomadic Orchestra and Native Young, Mozambique's Ghorwane, Nigeria's Ice Prince, American blues artist George Worthmore and a host of deejays.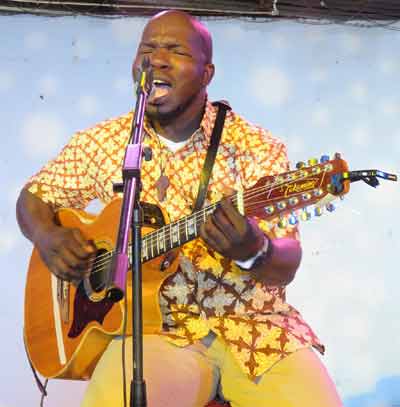 Sibusiso Nkambule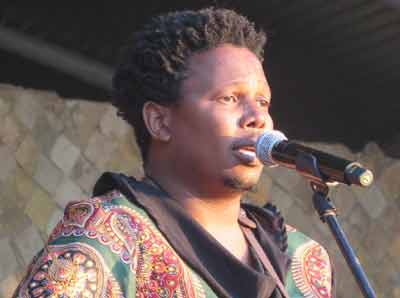 Bholoja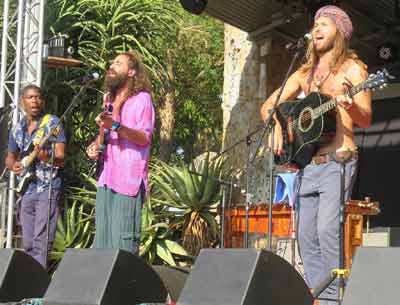 Native Young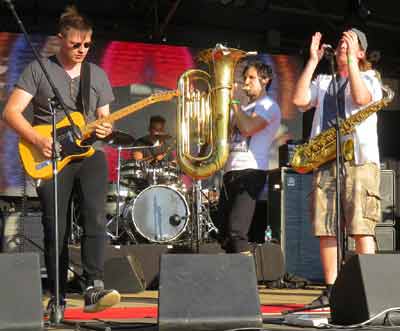 Nomadic Orchestra
Bushfire attendees had lots to do between shows or even while listening to a Main Stage performance while away from the stage; quirky and fine art items were on display and for sale inside the House on Fire art gallery, artists painted and created murals outdoors as fans watched, creative face painters roamed the festival and there were dozens of craft vendors on hand, some demonstrating on the spot how their wares are made. Of course festival-goers get hungry, and Bushfire had them covered with a wide variety of foods for sale, ranging from African specialty foods to simple munchies like corndogs. Swaziland's favorite beer is called Sibebe and among all of the liquid refreshments available it was the briskest seller.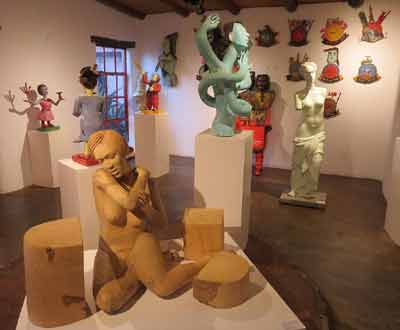 House on Fire art gallery
Part 2 of our coverage of Swaziland's Bushfire Music Festival will recap the fun of the event's closing day.
The program for the 2017 Bushfire Music Festival will be announced here
For information on all the other fun things to do in Swaziland go here

.

---
...end