Castles, Coal and a Cuppa: Big Fun in Mid Wales!


Most visitors to Wales are going to begin their adventure in Cardiff, the country's bustling seaside capital city. And since there's so much to do in Cardiff, some might spend all of their time there. But there's also plenty to do outside of town and in Mid Wales, the central part of the nation that's easily accessible on a day trip from Cardiff, where besides the beautiful scenery there's a little something for everyone awaiting. Among the many attractions are castles galore, a village that'll cause bookworms to sigh with joy and an historic coal mine. And yes ladies and gents, when tea time rolls around, there's a place with a reputation for being the finest in the land! Let's start our tour of Mid Wales though with an amazing castle!

Caerphilly Castle, Caerphilly

Almost every village, town and city in Wales has a castle or the remains of one but few are as spectacular as this must-see centerpiece of Caerphilly. Situated on 30-acres of land complete with "water defenses," Caerphilly Castle was virtually impregnable against siege and, as castles in general go, is unrivaled by any other in Europe. After you take the tour, walk the sidewalks that circumvent the grounds; some of the best angles for photos are there.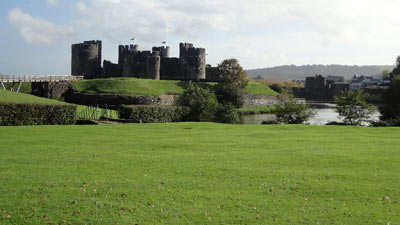 Caerphilly Castle
Llancaiach Fawr Manor, Nelson
Talk about stepping back in time! This is a living history museum where you can see what life was like back in 1645. Well, life for some anyway; certainly not everyone lived in a Tudor manor like this one. You'll be shown around by "servants" who stay in character, acting as if it were 350-years ago. Take special note of what's hanging from the ceiling when you tour the manor's kitchen; that would have been your supper back in the day. Here you have to rap on the door to gain admittance; that's because they're going to make you swear you're not a spy before you get in!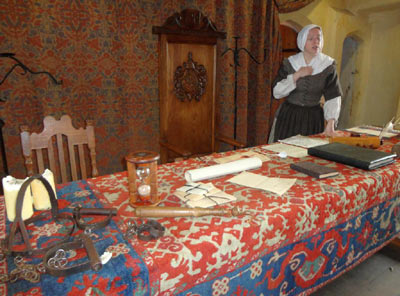 A fair maiden at Llancaiach Fawr
Brecon
This village is very scenic and you'll enjoy a stroll along the canal or a visit to Brecon Cathedral. But Brecon is really known as a market town and the fresh fruits and vegetables you'll find on sale just beg to be sampled. Find vendors on High Street along with quirky shopping options and quaint inns. If you're overnighting the Peterstone Court Hotel is just a few miles outside of town; it's housed in a lovely Georgian-style country house and has an excellent restaurant.

Market day in Brecon
Penderyn Distillery, Penderyn
All this sightseeing making you thirsty? Then here's a place for you. At Penderyn, the only distillery in Wales, they make numerous whiskies including the Gold Award-winning Madeira Single Malt. Also distilled here are a vodka called Five, Brecon Special Reserve Gin and a Welsh cream liqueur called Merlyn. After taking the distillery tour you'll have a chance to sample, and of course there are plenty of bottles on hand to purchase for later use!
Hay on Wye
This village actually sits right on the border between Wales and England and book lovers drive into town from all over the UK to browse the town's nearly 40 bookstores. They love their books so much here that they even jokingly (or not!) have a ban on Kindle e-readers! Always a fun time to be had in Hay but should your visit coincide with the Hay Festival (late May/early June) be prepared to go nuts.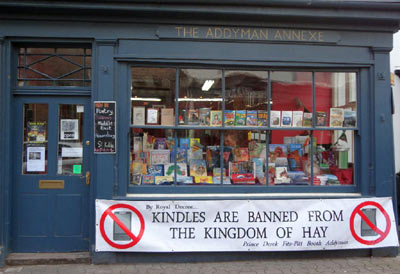 Hay on Wye
The Big Pit, Blaenafon
Only closing in 1980, the Big Pit was a working coal mine for 120-years. The underground tour here is led by a real miner who thoroughly explains how things were once done 300-feet underground. Among the amazing things you'll see here are the "stalls" where the horses that were used to pull coal cars were kept; most of the horses eventually went blind from never seeing the light of day. You'll dress in miner's garb for the underground tour; aboveground there's also plenty to see at this site including an old locomotive and cages housing canaries (their forebears were used in the mine to detect dangerous levels of poisonous gas.)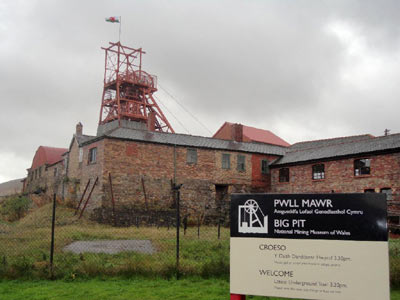 The Big Pit
The Angel Hotel, Abergavenny
Okay, you've got to be hungry by now. The Angel Hotel is famous for having the best afternoon tea anywhere in the UK outside of London. Your tea service will include a three-tiered selection of finger sandwiches and goodies of all sorts, and save a little room because there's a scone and cream coming to finish the nosh off. If you partake in "high tea" you'll also get a glass of champagne. Reservations are required. The Angel Hotel also has a fine restaurant; if you have tea though you'll likely not be visiting it!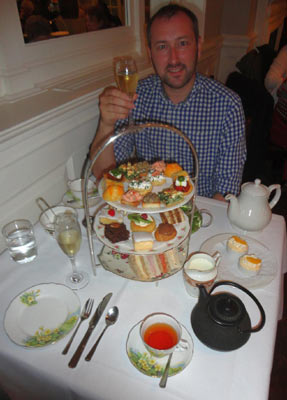 A gentleman enjoys tea at the Angel Hotel, Abergavenny
It seems everywhere you look as you travel about Mid Wales there's something to see or explore. Among these are Tretower Castle in Tretower, a 13th-century circular keep, and Talgarth Mill in Talgarth where they grind flour the old- fashioned way, using mill stones that are turned by flowing water. Get a taste of the finished product via the treats they make at the adjacent The Bakers' Table.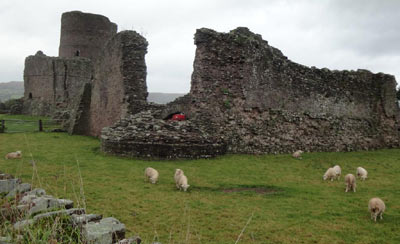 Tretower Castle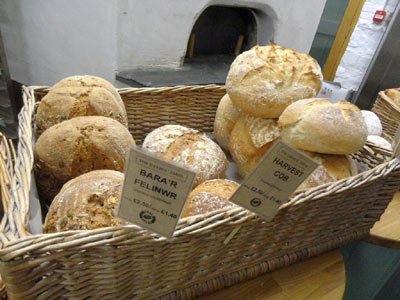 Goodies for sale at the Bakers' Table at Talgarth Mill
For even more ideas on fun things to do in and around Mid Wales, go to www.visitwales.com

.

---
...end