Road Trip Revisited: Star Clippers


Tropical drinks, warm sand and surf and the lilt of calypso and reggae music. Sure sounds good, especially right now while most of the country is in the deep freeze. The delights of the Caribbean are easy to reach and best explored aboard a small cruise ship like the tall ships operated by Star Clippers, who currently have multiple Caribbean sailings on offer through March. Road Trip had just a ton of fun sailing the islands with Star Clippers, so much so that we couldn't resist sharing the voyage with you one more time. Bon voyage!

Tall Ship 'Star Clipper' Part One: St. Maarten, Nevis, Dominica

The calendar will tell you that this time of year is known as fall or autumn but for fun-loving adventurers the season is known as Caribbean, mon! It's starting to get chilly in North America but down in the islands the only thing getting frosty is a fruity rum cocktail with your name on it. And that libation will be served under a palm tree on a beach with sugary white sand while reggae and soca music wafts through the air. Or maybe aboard the coolest vessel plying the Caribbean, the Star Clipper.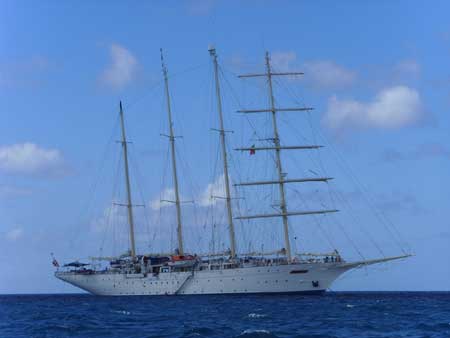 Star Clipper with her sails down
Star Clipper is a tall ship, a multi-masted clipper that sails under the power of the wind; also often referred to as a mega-yacht, she's big enough to hold 85 cabins (and a whole lot of fun!) Nearly the complete opposite of the cruising experience you get aboard the huge liners, there's no jostling for a place in the buffet line aboard Star Clipper, no one hustling to sell you art or jewelry, and no juddering of massive engines to shake you awake at night. Star Clipper does have engines but she rarely uses them; generally they're only employed when leaving a pier. Otherwise it's all peace and quiet with just the gentle flapping of sails to serenade passengers. And speaking of sails, passengers can also learn a little bit about how they work; there are plenty of hands-on opportunities to help with the rigging. The authentic sailing adventure is a big part of a voyage aboard Star Clipper but her small size also allows her to go places that the big ships can't, like Iles de Saintes, a rarely-visited territory of Guadeloupe. One of the ship's most popular Caribbean itineraries begins in St. Maarten and includes calls in Nevis, Dominica, Antigua, St. Barts and the aforementioned Iles de Saintes and Guadeloupe.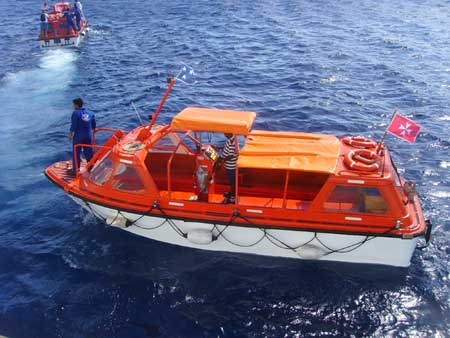 Star Clipper tender ships
Embarkation is in Philipsburg, St. Maarten, on the Dutch side of the island that also has a French side known as St. Martin. The ride from the airport to where Star Clipper is moored is a fun one; the ship arranges for a shuttle to bring you to the pier and the route goes through the heart of Philipsburg where you'll see the bustling little city at work and play. After you leave the downtown area you'll get a magnificent view of the harbor and the warm Caribbean beyond, a sort of preview of what's in store in the coming days. Tours of the entire island can be arranged on board for the day the cruise ends should you have an outgoing flight that allows you the time, but tonight is for getting to know the Star Clipper. On most cruise ships you'd be lucky to even meet the cruise director but on Star Clipper you'll meet the entire crew, including the Captain, in your first couple of hours on board. Being able to put a name to the faces is a nice thing; after all you'll be seeing these folks a lot! On the first day of this particular itinerary Star Clipper doesn't sail until shortly before dinner time so passengers have plenty of time to chat each other up while sipping cocktails, enjoying the sunset and just generally getting to know their way around. This is also the best time to visit the ship's library where sign-ups for the week's shore excursions (organized tours) are handled. The most exciting part of the evening comes when the ship's sound system plays a dramatic instrumental by Greek composer Vangelis. When the music is heard the crew is hoisting the sails and Star Clipper is leaving port, bound for untold adventure in some distant land. In this case, the enchanting island of Nevis.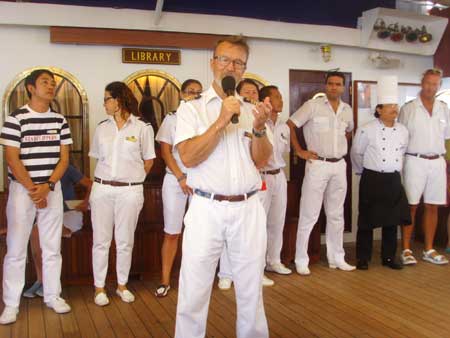 Meet the Captain and his crew
As is the case in many of the ports Star Clipper visits, her tender boats are used to get passengers ashore in Charlestown, Nevis (pronounced nee-vis.) Some passengers choose to just hang out in Charlestown but most want to see a bit more of the island and one of the most popular shore excursions is the "Flavors of Nevis" tour. The Flavors tour visits several historic properties that were once sugar plantations where you'll see things like the remains of a 300-year-old windmill, cozy inns housed in restored 18th-century buildings and even the place at Montpelier Plantation where the renowned British flag officer Lord Nelson of the Royal Navy famously married Fanny Nisbet.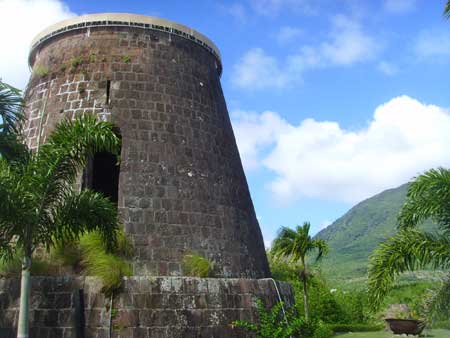 Old sugar mill on Nevis

The tour also stops at the lush Nevis Botanical Gardens where the Caribbean climate keeps things, including lots and lots of orchids, in bloom all year. Also at the ready are cold rum drinks; each stop finishes with a chance to taste the venue's signature cocktail.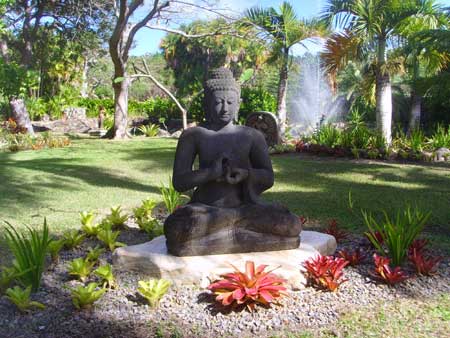 Botanical Gardens
And no matter where you are on the island the verdant Mount Nevis is smiling at you in the distance and posing for snapshots as a genial host should. The tour ends in time for a return to the ship just as the snack table is being set for happy hour and more rum and fun in the sun, or maybe just a quick nap on deck before the sound of Vangelis rouses you with the allure of tomorrow's destination, Dominica.
Most of the ports that Star Clipper calls on have at least three different shore excursions on offer. There's a little something for everyone in Dominica where passengers can sign up to go river tubing (Dominica is the land of 365 rivers), hike the Syndicate Nature Trail in the Northern Forest Reserve to see exotic animals like the Sisserou and Jaco Parrot (the island's national birds) or indulge in the ever-popular Creole Cooking Experience where you'll get to taste authentic Caribbean cuisine.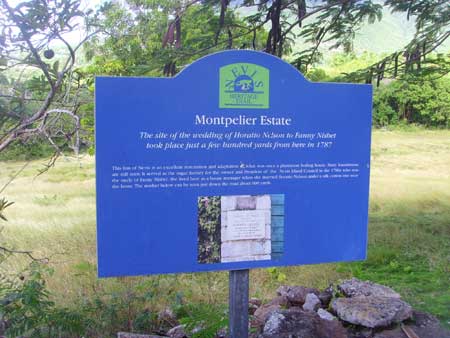 On the Nevis Heritage Trail
Just kicking it in the port city of Cabrits is not too shabby either; here the mountains meet the sea majestically, making the harbor area a perfect spot for daydreaming and watching sailboats come and go. Sometimes Star Clipper even crosses paths with her big sister Royal Clipper here; watching her sail off into the horizon is nothing short of spectacular. But then again, that's an adjective that applies to just about everything on this week-long adventure.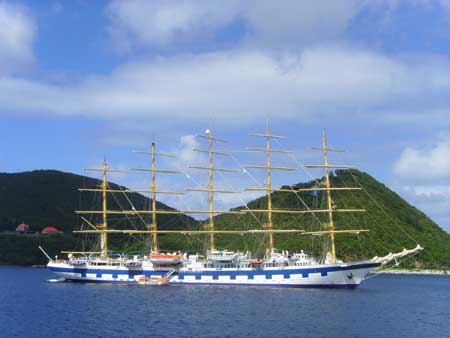 The Royal Clipper in Domenica

Sail Into Sunshine Aboard Tall Ship Star Clipper, Part 2: St. Barts



Normally when Star Clipper sails into a port she's the center of attention. But in the harbor at Gustavia, St. Barts she has a little eye candy competition as luxury yachts, albeit motorized ones, ring the city's marina. It's not unusual either to see huge yachts anchored offshore; when I arrived in St. Barts the palatial ship belonging to Roman Abramovitz, replete with helicopter and worth about a billion dollars, was anchored not far from the Star Clipper. It's no surprise that the owner of the British football team Chelsea FC was on island; St. Barts after all has a reputation for being a favorite destination for the wealthy and well-heeled. Fortunately the beautiful island also is very welcoming to those of us who have wallets that are a little bit smaller.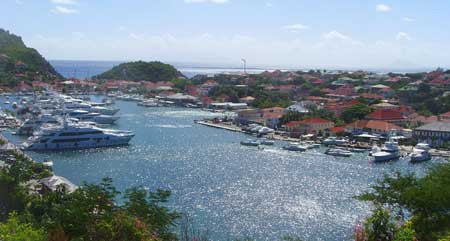 Gustavia marina
St. Barts is not touristy at all; you won't find vendors hawking trinkets at the marina or anywhere else on the island. There is however a well-staffed visitor information office right by where the Star Clipper tenders drop off passengers (tenders run every half hour here) and also a taxi stand where drivers can be hired to give you an island tour. St. Barts is very mountainous and the road out of Gustavia climbs rapidly; before you leave the city your driver will stop at an overlook where there's a great view of the endless Caribbean and the harbor far below.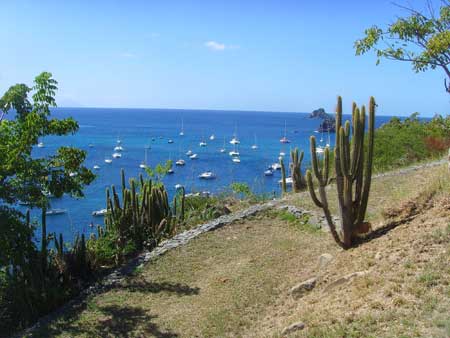 Scenic St. Barts
The road out of town also runs right alongside Gustavia's airport, famous for its single short runway where one end is carved out of the mountainside and the other ends in the water. Needless to say no jetliners fly here, small planes only, and if you're really lucky you'll get to witness a rather breathtaking spectacle as one of the flights lands. That's a prized shot for many photographers and if you'd like to try and capture the feat yourself you can always hang around at one of the small eateries across the street until the next plane comes in.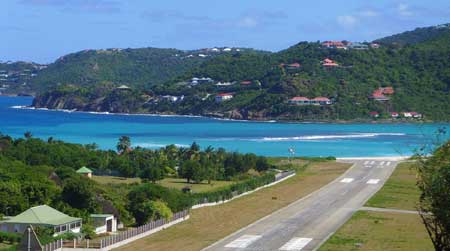 The famously short runway at Gustavia's airport
There's also an interesting cemetery across from the airport; the graveyard is very historic in that only longtime islanders have been buried there but most visitors will find that what makes the place unique is the eye-popping proliferation of colorful plastic (and some live) flowers that adorn the crypts and markers.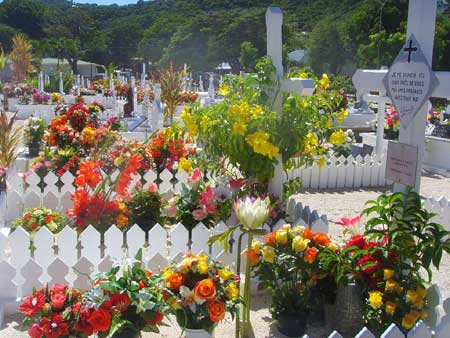 Cemetery in Gustavia
Once leaving Gustavia a tour will take you up into the green mountains where vast swathes of land are unpopulated and more or less untouched, and just when you think the scene can't get any more stunning you'll come to a place where you can see for miles out into the blue Caribbean. There are literally hundreds of such vistas along your route; if you want to get a photo just ask your driver to stop and he will accommodate so long as there's a suitable place to pull over. Of course the road goes down to the shoreline as well; you can stop and take a dip at any number of beaches like the small Gouveneur Beach where the incredibly debris-free sand is deep, warm and beckoning.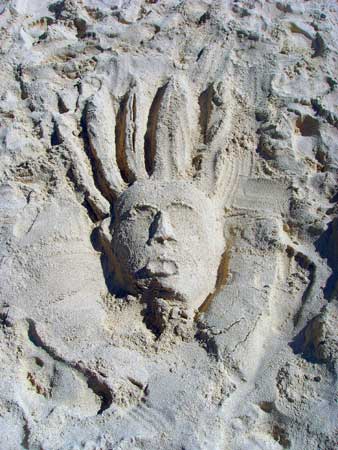 Sand art at Gouveneur Beach
If you're a fan of American reality TV you might want to stop for a drink and a look around at the Tom Beach Hotel, the place where the ladies of The Real Housewives of New York did some serious partying. In the unlikely event that you run into a construction zone along the way make sure to get a snapshot of the mobile stop light that's controlling the flow of traffic; it's the only one on the island. Most of these tours do not have a strict route to adhere to and the drivers aren't going to rattle off a bunch of facts that you may not be interested in; just give them an idea of what you want to see and learn about though and you'll have an unforgettable journey. Whether you're interested in flora and fauna, local architecture, the salt or fishing industries or the coolest resorts there's something for you. There's a nice museum in Gustavia too.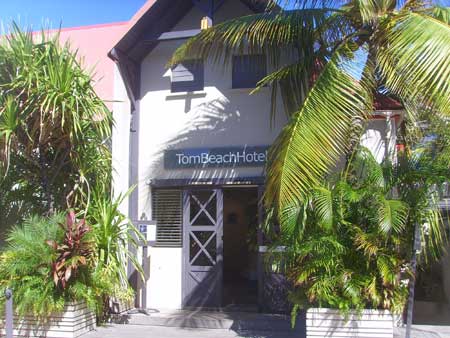 Tom Beach Hotel
When you return to the marina area of Gustavia there's a small upscale shopping area where there also are restaurants. St. Barts is very French and you can enjoy a full-on fancy French meal if you'd like but for the less adventurous palate there's a place where you can get mini-hamburgers of the Windy City Slider sort. Whether you eat here or not make sure to take a stroll along the row of slips; the variety of yachts is really something to see and you never know who you might meet.
Back on the Star Clipper one-man-band Tamas is showing off his accordion skills during happy hour, (later he'll be spinning disco tunes) a delicious dinner is being prepared, and the crew and passengers are thinking about the next island. Up next, the third and final part of our tall ship adventure finds us sailing to Guadeloupe, Iles de Saintes and Antigua.
For more information on St. Barts visit www.saintbarth-tourisme.com


Tall Ship Star Clipper Part 3: Antigua, Iles de Saintes and Guadeloupe

Let's wrap up our Caribbean adventure aboard Star Clipper with stops in Antigua, the rarely-visited Iles de Saintes and Guadeloupe. This particular itinerary is so packed with exciting destinations relatively close to each other that no "at sea" days are experienced; passengers will arrive in a different port every day. That means it's a good idea to look at the daily newsletter that'll be delivered to your cabin so you can keep up with what's going on shipboard and when it's happening. There'll be a couple of opportunities for the daring to climb high up into the ship's rigging (with a safety harness attached) to a "crow's nest" observation platform; this unique activity is limited in number of participants and must be booked in advance. The newsletter will also be a handy reference if you want to take part in things like morning gymnastics and workouts, water gym activities or attend one of the many "story time" sessions led by various crew members. No appointment is needed to get behind the wheel of the Star Clipper and steer her for a bit though; amazingly the ship has an open bridge policy and (with a few exceptions) passengers are welcome to add "sea Captain" to their resume at any time. As to meal times and after dinner entertainment; you'll get the hang of that pretty quick. All of this while you're fantasizing about the next island and the next adventure!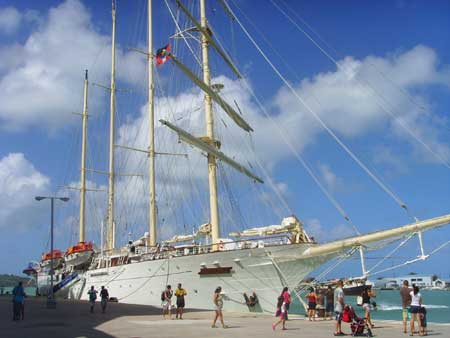 Star Clipper in Antigua
Shore excursions in Antigua, Guadeloupe and Iles de Saintes are quite varied. In Antigua passengers can take a snorkeling excursion, go on a canopy tour (zip lines) or participate in a yacht race (tons of fun!) For those who've done these things already or those that just want to see more of the island there's a three-hour jeep tour that goes through mountains clad in lush greenery, to Betty's Hope (former sugar plantation) and to a scenic overlook of Falmouth Harbor. The jeep tour also includes samplings of sugarcane and the delicious nectar that's made from it, rum. There is also a mini-mall of sorts near where the excursion begins that's well stocked with souvenirs of all sorts and inexpensive bottles of Antiguan beer.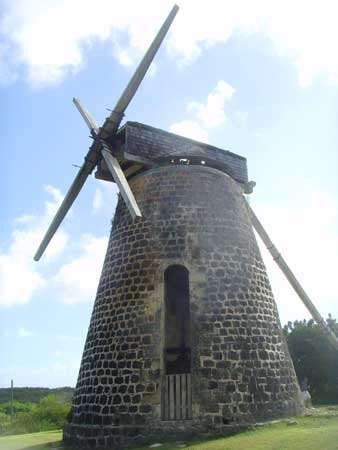 Sugar mill at Betty's Hope, Antigua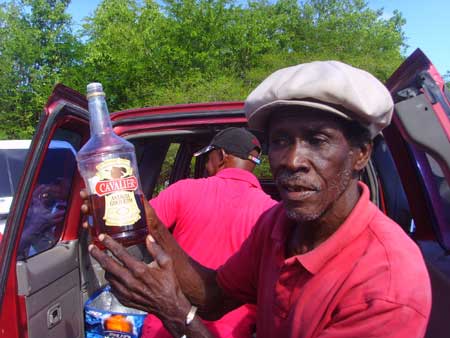 The rum man, Antigua
There are multiple choices for shore excursions on Guadeloupe as well but one of the most popular (be aware this one will sell out) adventures is a boat ride out to tiny Caret Island for a picnic lunch. The boat will stop at a reef for some snorkeling before reaching the islet; there excursion-goers will need to hop into the warm water and wade ashore, a precaution to keep the boat from running aground.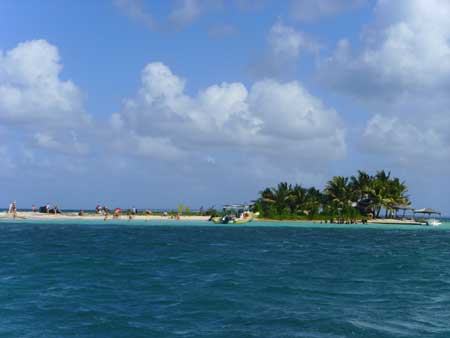 Caret Island. Guadeloupe
Once everyone is ashore the crew will start serving rum (and plenty of it) while preparing a lunch that includes freshly chopped coconut, chicken, sweet potatoes and other delights all sourced in Guadeloupe. Beachcombers will find lots of shells and coral pieces here as well. Lastly, the boat will cruise into a cove where mangroves grow and here you may see some local wildlife amongst the flora.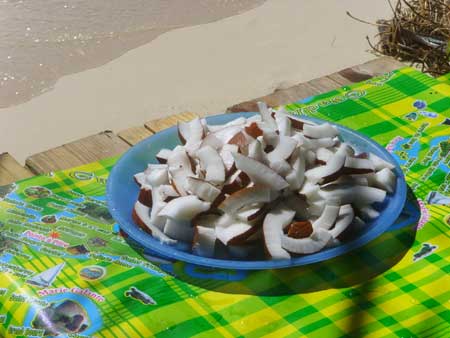 Fresh coconut on Caret Island, Guadeloupe
At Iles de Saintes, a multi-island possession of Guadeloupe, Star Clipper will tender at the sleepy fishing village of Le Bourg on the island of Terre de Haut. There are a few places in Le Bourg geared to tourists but you won't find pesky souvenir hawkers or dozens of souvenir stands here. The village is very small and it is quite pleasant to stroll among the homes and shops as the locals go about their business. There are lots of photo opportunities in Le Bourg ranging from a monument to the fishing industry to fishermen themselves to friendly produce vendors. If you'd like to go beyond the village there are places where you can rent bicycles or, more popularly, one of the island's ubiquitous scooters.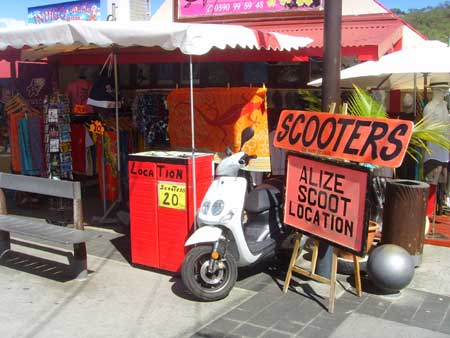 Scooters for rent on Iles de Saintes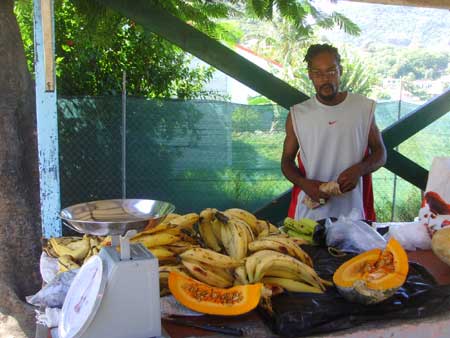 Fruit vendor, Iles de Saintes
Alas, all good things come to an end and before you know it your week-long Star Clipper sailing will conclude as she once again moors in St. Maarten. As previously mentioned, there's a post-cruise shore excursion you can take there should you have the time before your flight leaves. If not, you'll certainly be a happy camper (sailor!) as you head to the airport. And your journey home will give you plenty of time to dream about the next time.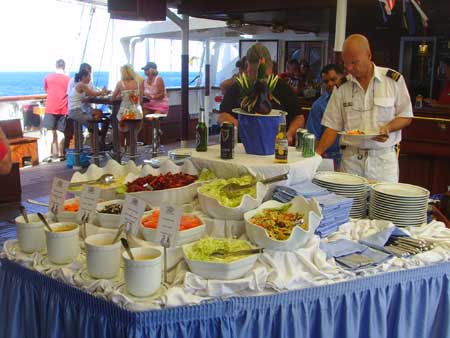 Happy hour aboard the Star Clipper
The Star Clipper is one of three tall ships operated by cruise line Star Clippers; the others are Star Clipper's twin sister Star Flyer and the larger Royal Clipper. Between them they offer sailings in the Caribbean, the Mediterranean, Costa Rica, Panama, North Africa and Spain and even ocean crossings. Cruises can be booked with a travel agent or directly at www.starclippers.com


.

---
...end