Kentucky's Bluegrass Country- Don't Miss These Five Attractions


Not too many places can tout the fact that they're home to a famous outhouse. But such a thing can be found deep in the heart of Kentucky's Bluegrass Region, where they also know a little something about fried chicken and bourbon. And (gulp!) what about The Severed Head? Yes, Bluegrass country can be quirky too. But before we delve into that, let's visit one of America's most-beloved folk heroes.

Daniel Boone Gravesite
Lots of stories have been told about Daniel Boone, including many that are completely made up. But one thing's for sure; he blazed a trail through the Cumberland Gap so that settlers would finally have a way to reach Kentucky. There are Boone-related sites throughout the state but perhaps none more meaningful that his final resting place in the Frankfort Cemetery in Frankfort. Boone's wife is buried with him at a scenic spot that's high on a hill overlooking the city and the country beyond and that is a great place for contemplation. There's also a historical marker that tells a little bit about Boone here.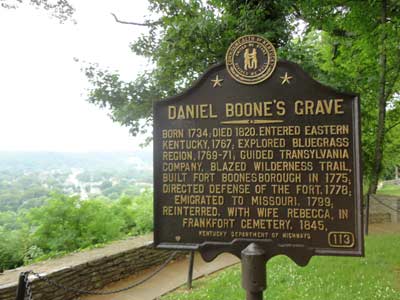 Daniel Boone's grave historic marker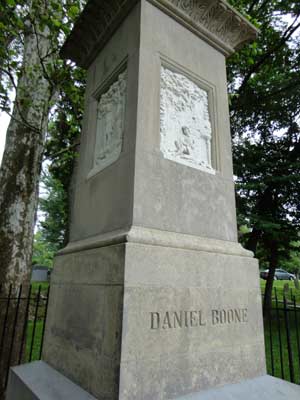 Daniel Boone's gravesite
Woodford Reserve Distillery
This is one of those "when in Rome" things; a visit to Kentucky's Bluegrass Region definitely calls for a taste of bourbon. Woodford Reserve Distillery, near Versailles, is where they make small batches of Kentucky straight bourbon whiskey and where tours are available seven days a week with the exception of major holidays. Tours begin at the distillery's visitor's center where participants board a shuttle to the actual distillery. You'll see the ingredients used in the distilling process, the huge stills, the barrel room, and most impressively, the huge vats of mash bubbling away. Tour participants 21 or older get to sample a shot of bourbon at the end of the tour. The distillery is the oldest working bourbon distillery in the U.S. and a National Historic Landmark.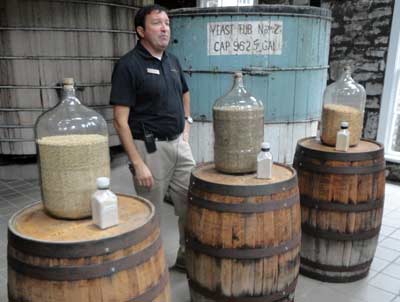 Woodford Reserve Distillery tour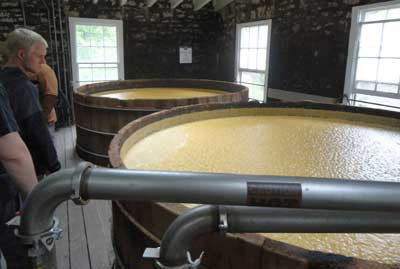 Vats of mash at Woodford Reserve Distillery
Claudia Sanders Dinner House
Everybody knows Colonel Sanders, the late founder of Kentucky Fried Chicken, but do you know who Claudia Sanders is? Claudia was the Colonel's wife, and the Claudia Sanders Dinner House (originally called The Colonel's Lady) is another restaurant they founded.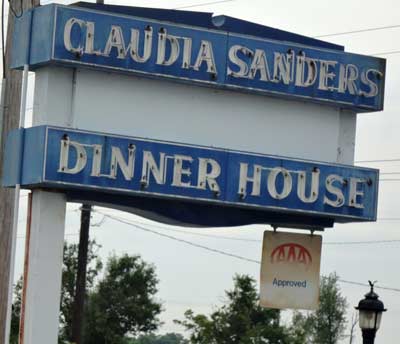 The locals in Shelbyville know that this is the place to go for a hearty meal featuring Kentucky favorites including fried chicken. The chicken here is not prepared with KFC's 11 secret herbs and spices but it is finger-lickin' good nevertheless. A few pieces of Colonel Sanders memorabilia are on display here.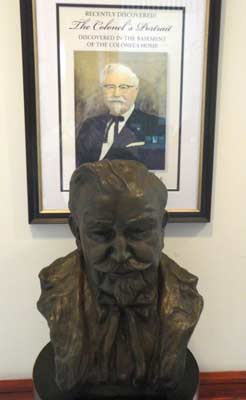 Colonel Sanders memorabilia at the Claudia Sanders Dinner House
The Severed Head
Don't freak out; The Severed Head Trading Post is merely an antiques and collectibles shop in Perryville, a small town where quirky businesses are part of a revitalization effort. Stop in here for Civil War collectibles and more, and make sure to check out the place's real treasure, owner Terry Goode. Goode is a bit of a local historian so you can ask him about the exploits of hatchet-wielding Temperance Movement figure Carrie Nation, a native Kentuckian who went to school in Perryville, or the Civil War Battle of Chaplin Hills that was fought just west of town in 1862.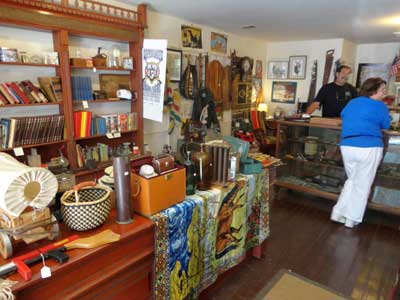 Severed Head Trading Post
Penn's Store
Penn's Store is a tiny, family-owned and historic general store in equally tiny Gravel Switch. A visit to the store provides a combination of Kentucky homespun charm and modern day quirkiness; yes you can buy a Coke and a candy bar and other essentials here but once again the treasure comes in the form of the proprietor, Jeanne Lane. Lane has led a storied life that includes a significant stint as a songwriter and she decided to utilize her contacts in the music business to promote the store's opening of a much-needed facility --- a privy. The store has never had a restroom, so when an outhouse was constructed in 1992, Lane threw a big party where country singer Billy Edd Wheeler came and performed his famous outhouse song "Ode to the Little Brown Shack" on the Penn's outdoor stage, and he just happened to bring superstar Chet Atkins along with him. And just like that, the most famous outhouse in Kentucky! Penn's also occasionally hosts the whimsical "outhouse races."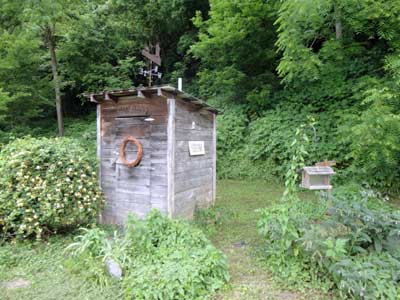 The outhouse at Penn's Store
For more information on these and many other attractions in the Kentucky Bluegrass Region, visit www.kentuckytourism.com

.

---
...end