Jefferson City, Missouri - It's a Gas!

I don't know quite how to tell you this so I'm just going to blurt it out. You're going to prison! No, this has nothing to do with those unpaid parking tickets or that jaywalking incident. As a matter of fact you'll likely enjoy your trip to the historic Missouri State Penitentiary in Jefferson City and, while you'll want to spend some time, you don't have to stay.
The Missouri State Penitentiary (MSP), decommissioned in 2004, is one of the main tourist attractions in Jefferson City. The infamous outlaw Pretty Boy Floyd was imprisoned there as were colorfully-named convicts Stagger Lee, Shoo-Fly, "Firebug" Johnson and 12-strike loser Dutch Charlie. James Earl Ray, the assassin of Martin Luther King, Jr., ended up in MSP and famous pugilist Sonny Liston began his professional boxing career after he was paroled from the joint where he was serving time on two robbery beefs. To give you an idea of how much history MSP has, consider this: the prison was in operation for 100-years before Alcatraz took on its first inmate. Various tours of MSP are available including those focusing on history or eerie ghost, twilight and paranormal tours. If you're fortunate enough to take a tour with former MSP guard Bill Green you'll hear stories that'll chill you to the bone. To begin the tour, the affable Green may show you his collection of prison-made shivs and shanks, many of which were confiscated only after they had already proven lethal to some unfortunate soul. MSP was so notorious for violence that, standing in the now calm and weedy exercise yard, Green utters a shocking advisement. "Point to any spot and I'll tell you whose blood was spilt there." One of Green's favorite prison locales is the gas chamber where one woman and 39 men were put to death. Nowadays the small building is more innocuous than it is macabre; a marker with photos of the executed is the only indicator of what went on there. Otherwise, the chamber itself (made from parts of a World War I submarine) can be entered and those who choose can have their photo taken sitting in the death seat. Indeed when travelers these days visit Jefferson City and say that their visit was a gas they're indicating something quite the opposite of what the phrase meant to MSP inmates. www.missouripentours.com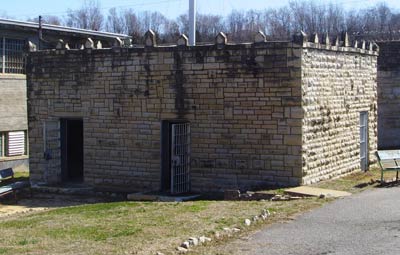 The gas chamber building at Missouri State Penitentiary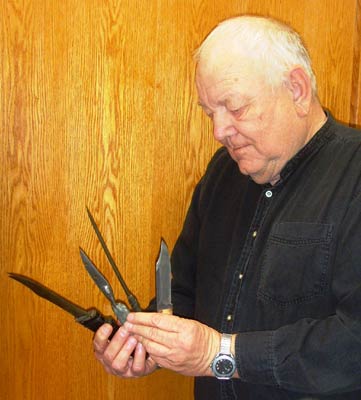 Bill Green with lethal prison shanks

In the gas chamber
The prison tour will no doubt awaken your appetite; nearby is the cleverly-named eatery and micro brewery Prison Brews where they have tons of last meal-worthy items on the menu. But the restaurant's real draw is their homemade hooch, beers that carry names like Go to Jail Ale, Hard Time IPA and Prison Town Brown. As is the case with most micro breweries, Prison Brews has a sampler paddle that'll let you taste them all.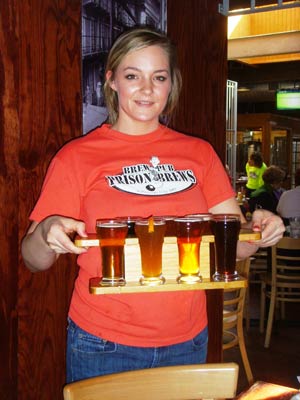 The suds sampler at Prison Brews
A less daunting but just as interesting building to see in Jefferson City is the Missouri State Capitol. Constructed in the Roman Renaissance style and modeled after the U.S. Capitol in Washington, D.C., the building's exterior walls, rotunda and stairways are made of Carthage marble with the huge front doors being cast of bronze. There's a lot more here than just eye candy for architecture buffs though; a must-see is the "Social History of Missouri" mural by native Missourian artist Thomas Hart Benton and baseball fans will want to seek out the bust of Stan Musial, the slugging St. Louis Cardinal star who's often referred to lovingly as Stan the Man. Guided tours are available most days (573) 751-2854. Adjacent to the capitol grounds is the city's monument to Lewis & Clark; the famed explorers camped nearby in 1804 as their expedition made its way westward. Known as the Corps of Discovery monument and located in the Katy Trailhead Plaza, the tribute features sculptures depicting Lewis, Clark, Clark's slave, an interpreter and somewhat whimsically, Seaman, a Newfoundland dog that belonged to Lewis. Obviously a vital member of the expedition, Seaman is depicted with a duck that he apparently caught for the crew's supper.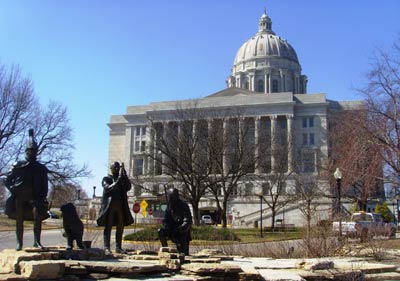 Lewis & Clark monument at capitol building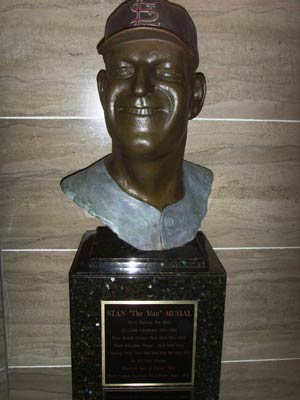 Bust of Stan Musial in capitol building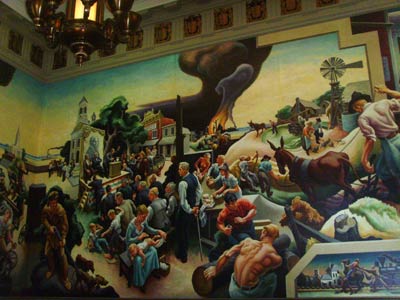 Thomas Hart Benton mural in capitol building
Music lovers and especially vinyl fanatics will want to stop at In the Groove Records (626 Jefferson St.) where the selection is huge and there are lots of records starting at $1. Jefferson City is a relatively small city but it does have its own music scene. Check out The Spot (222 E. High St., music Thurs.-Sat.) for live performances from acts like Squigglefish, acoustic act David Baker and rockabilly outfit Gasconade Hell Band. Otherwise be on the lookout for popular local acts Shaman's Harvest, 2 Car Pile-Up, Bluegrass Martins, Fail Inc., Dirt Leg Benders and the Bobby Showers Band. You might even catch the White Rabbits in town; members of the now Brooklyn-based band have roots in Jefferson City and nearby Columbia. Surely it'll be a gas.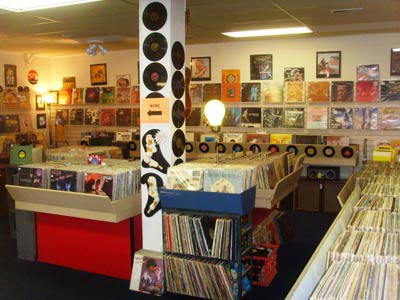 In the Groove Records

.

---
...end