In Tune with Columbia - Music a Mainstay in Fun-Loving Missouri City

Kansas City to the west and St. Louis to the east are the big dogs in Central Missouri but right at about the half way point between the two, on the state-traversing I-70, lies Columbia; a medium-size city that often outshines its larger neighbors when it comes to entertainment value.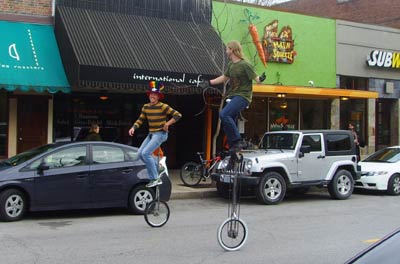 A perfect case in point is the True/False Film Fest, the prestigious and internationally-renowned documentary film festival that will be celebrating its 10th anniversary in 2013. If you've never been to True/False you can be forgiven for the mistaken idea that this might be a stuffy, ho-hum event. To the contrary, the always-bustling college town throws one of the best and most unique say-goodbye-to-winter parties in the entire country during True/False. You might say that True/False is like the first blossom of spring where all of Columbia and folks from all over the world come out to admire it.
Held over a long four-day weekend, usually in early March, True/False is first and foremost all about the documentaries. Festival-goers have a chance to view dozens of new docs in advance of their theatrical runs; films like Ai Weiwei: Never Sorry and Searching for Sugarman, very popular docs that only recently began showing widely, are just two of many titles that previewed at True/False in 2012. The approximately 40 titles shown in 2012 offered subject matter for all tastes running from whimsical (including lots of "shorts") to thought-provoking to tear-jerking. But here's where the real fun beyond the act of simply viewing a film comes from.
These movies are not shown in multiplexes. About a dozen venues in downtown Columbia, all within walking distance of one another, screen the films, and many of these places are not normally used for this purpose. So you may see a film in a majestic old theater or a funky little movie house, in a church auditorium or really anyplace where a screen and chairs can be set up comfortably. Nobody sees just one film so festival-goers mingle on the streets between venues (and in Columbia's cornucopia of good-eating and drinking establishments) and this is where you not only meet new friends but become part of the group True/False conversation that's busy creating buzz for the best films. Many principals of the films come to True/False too; they love it because this festival is purely for the films and not for deal-making, so you may find yourself rubbing elbows with someone like director Morgan Spurlock (Super Size Me, Where in the World is Osama bin Laden) who attended in 2012 in conjunction with his film Comic-Con Episode IV: A Fan's Hope.
There are side parties, meet-and-greets, a closing-night party and a colorful, offbeat parade. And music is everywhere. Buskers set up on street corners, in front of popular eateries and adjacent to where films are being shown and you can enjoy all of this even if you never see a single film.
But there's more music inside the film houses where performances occur before every showing. Columbia has a thriving local scene and here's a chance to hear the city's best as acts like Richard the Lionhearted, Jerusalem & the Starbaskets and the Believers get plenty of stage time. But just as the films of True/False are sourced from all over the world, so are the musical acts. A typical list of performers includes eclectic acts like Brooklyn's Pearl and the Beard, Maine-based act the Toughcats, St. Louis folkies Cassie Morgan and the Lonely Pine, Salt Lake City's Bramble and swingin' Kansas City blues act Grand Marquis.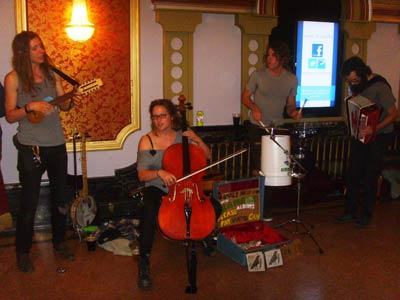 Bramble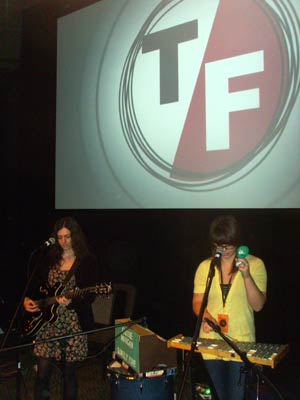 Cassie Morgan and the Lonely Pine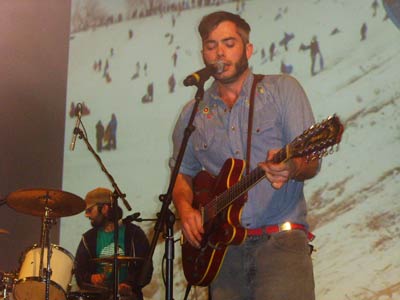 Grand Marquis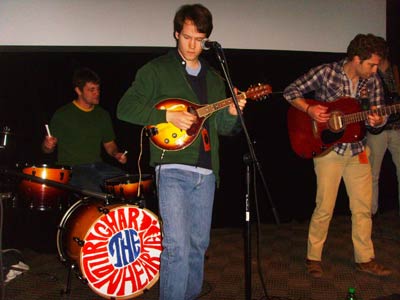 Richard the Lionhearted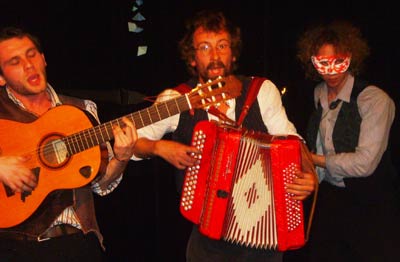 Probably the most talked-about act of 2012 was Les Trois Coups, a kooky and very entertaining band from France that made their first American appearance in Columbia. With a lead singer serving up manic faces to go along with lyrics sung entirely in French, a sax man wearing a mask and an extremely lively stage show, the band left their audiences bemused beyond belief even though relatively few understood what they were singing about. And such is the nature of the True/False experience; expect the unexpected as there's a fun surprise around every corner.
True/False 2013 takes place February 28 through March 3 and you can find additional info at www.truefalse.org If you can make it to Columbia sooner, like this September 21-22, you can enjoy more good music during the Roots 'n Blues 'n BBQ Festival where Al Green, John Mayall, Rodriguez (the subject of Searching for Sugarman,) Marty Stuart and Edward Sharpe and the Magnetic Zeros are scheduled to appear. Columbia is truly a fun-loving city and there's always something going on; for more info on what's to do in Columbia click over to www.visitcolumbiamo.com

.

---
...end