Remembering Johnny Cash: The Man in Black Would Have Been 80

"We got married in a fever/hotter than a pepper sprout!" It's likely that those lyrics from the Johnny Cash hit "Jackson" will go through your head when you visit the singer's gravesite in Hendersonville, Tennessee. Cash is laid to rest next to his wife June Carter Cash, with whom he sparred vocally on "Jackson" and with whom he now shares eternity. Cash's work is so much a part of the American musical lexicon that it's hard to believe that it is approaching a decade already that he's been gone. If Cash were still alive in 2012 he would be celebrating his 80th birthday on February 26, a milestone that the living will mark with all sorts of memorials all over the world. Perhaps there is no more intimate a way for an individual to remember Cash on this occasion (or any other) than to pay a visit to his gravesite where not only does Johnny lie next to June but also adjacent to family members and friends like Anita Carter, Mother Maybelle Carter, Reba Cash Hancock, Dale Maphis and Merle Kilgore. The gravestones and markings reflect how Cash and Carter lived their lives; they are humble, almost plain like the men and women who were the embodiment of the pair's music. Nor do visitors to the graves leave empty whisky bottles or other physical detritus behind; just love and respect and sometimes a song, maybe one of Cash's or maybe one of their own. That, no doubt, gives the Man in Black a smile as big as Tennessee.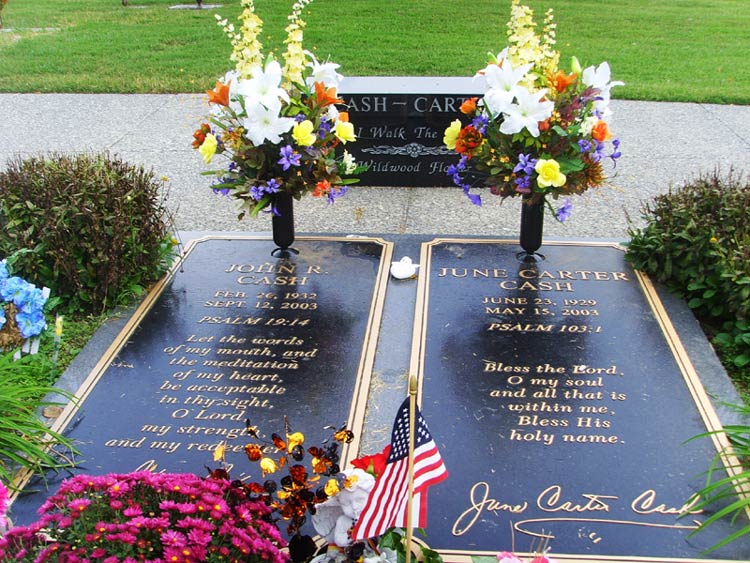 Johnny Cash's gravesite is located in the Nashville area at the Hendersonville Memory Gardens, 353 E. Main Street, Hendersonville, Tennessee.
more 1-800-462-8366

.

---
...end