Texas Top To Bottom, Part 1 - Way Up North: It's Amarillo!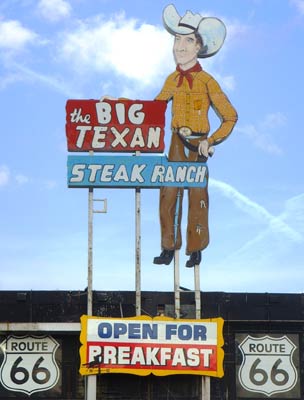 Are you hungry? I don't mean are you hungry like "oh, I could eat." I mean HUNGRY! You had better bring a Texas-size appetite when you come to Amarillo because it's almost obligatory that you take in a meal at the city's fabled Big Texan Steak Ranch. Now you've heard of these places that offer a challenge to their diners whereby if a certain amount of food is eaten by one person in a certain amount of time, the meal is free? Well the Big Texan is one such place. Here if you can finish a 72-ounce steak and all the trimmings (there are a lot of trimmings!) in 60-minutes you can just burp a polite thank you and walk out without paying. Obviously chowing-down on a piece of meat that large is not for everybody but part of the fun at the Big Texan is watching others try. People attempt to get the free meal every week (some of them succeed) and if you just happen to be there during one of the gobblefests you're in for quite a spectacle as the eater is seated at an elevated table, a stage if you will, so that everyone can watch. A digital clock ticks off the minutes and some eaters get frantic as the time starts to run out. The whole thing is set up to not only prevent cheating but also to allow the entire restaurant to cheer on the steak lover. Touristy? Yes. And the Big Texan has everything else to go along with that notion including kitschy signs along the highway, old time cowboy musicians, an in-house microbrewery, fudge parlor and, well you get the idea. It's not often that a restaurant becomes a major tourist attraction but the Big Texan has been around since the '60s and they've pretty much perfected by now a formula for serving up good food and good fun. Now that we're well fed, let's move on and see what else Amarillo has to offer. I guess if you eat that 72-ounce steak though that would be "mooove" on! www.bigtexan.com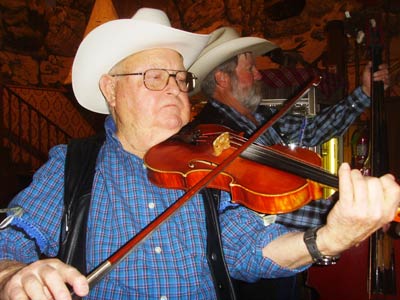 For a mid-size city Amarillo has a surprising number of very well appointed museums that let visitors get an idea of what has and what still does make this part of Texas tick. For the best overall experience visit the Panhandle-Plains Historical Museum in Amarillo-adjacent Canyon. The PPHM is the largest history museum in Texas and is overflowing with displays of everything from a recreation of an oil patch (the working area around an oil derrick) to vintage automobiles to a recreated Panhandle community to a huge display of the skeletal remains of dinosaurs. Fans of the Old West will love all the tools and memorabilia here including about 1000 firearms and all that goes along with them. Some things not to miss at the PPHM are the headdress and rifle of famed Comanche chief Quanah Parker, the oldest-known assembly line car to be found in the U.S. and a Georgia O'Keefe painting of the nearby Palo Duro Canyon. www.panhandleplains.org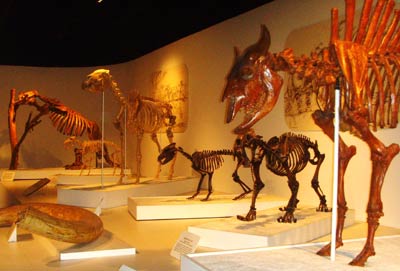 The Kwahadi Museum of the American Indian is a bit smaller but filled with interesting items relating to mostly western Indian tribes and, if you visit at the right time, you can take in a performance by area youth where Indian lore comes to life through music, song and dance. Sometimes the gift shops at museums are not very interesting but at the Kwahadi the gift shop is crammed full of (mostly) authentic pieces of art, jewelry and craftworks and you'll want to allot enough time for more than just a peek in here. Also, the staff knows the provenance of all of the items so you won't get a blank stare if you ask a question about something. www.kwahadi.com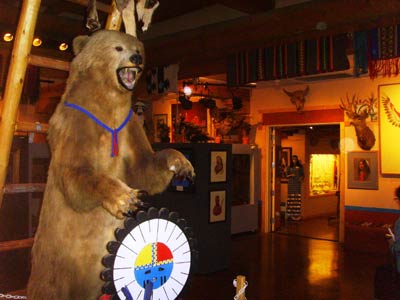 Horse lovers and fans of all things equestrian will want to gallop into the American Quarter Horse Hall of Fame & Museum where they have, well, that's pretty much self-explanatory. One of the most intriguing displays in the museum is actually down at hoof level; on the floor in the museum's grand entryway is a "family tree" that traces the lineage of the American quarter horse from the earliest-known examples through to today's champions. www.quarterhorsemuseum.com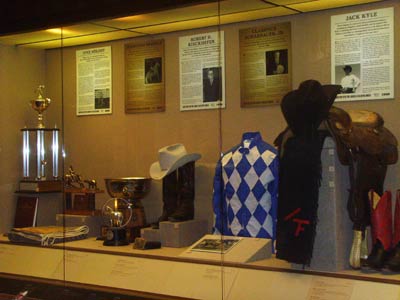 Historically many visitors to Amarillo have come through as they travel old Route 66 and no doubt many of them rumbled through town in some sort of RV. At the RV Museum, one of only a couple in the whole country, you can see all sorts of vintage RVs, trailers and tow-behind campers. If you think that sounds a little dry, you need to think again. The first thing you see when you enter the museum is the modified Flxible bus that was used in the Robin Williams movie RV; explore the bus to your heart's delight and make sure to get a picture sitting behind the wheel, maybe mugging like Williams if you can. Dozens more await and you can similarly step into many of the vehicles and marvel at how they are decked out with accoutrements of the era. There are also vintage autos and motorcycles, a recreation of an old time service station and an example of the quirky, circa 1946 tow-behind known as the Tear Drop Kit. The RV Museum is located on the property of RV dealer Sisemore Traveland and entry is free. www.rvmuseum.net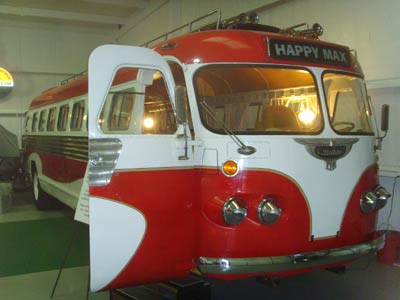 Amarillo is also home to one of the most-unique roadside attractions in the entire country: the "art installation" known as Cadillac Ranch. Sponsored and overseen by eccentric philanthropist Stanley Marsh III, Cadillac Ranch is a place where the bodies of 10 vintage Cadillacs are planted in the earth in a clearing in a cattle pasture, all in a neat row and all sitting at the same angle. There's a meaning behind that but it has basically been superseded by the fact that people have turned the installation into their own personal artworks by spray painting the vehicles. The cars have been tagged with every color and every sort of graffiti, all with the blessing of Marsh. So a visit to Cadillac Ranch is not only a photo opportunity but also a chance to make your own fleeting artistic statement. You need to walk about five minutes to get from the roadside (on I-40 just outside town) to the cars and it is traditional for visitors to do some painting so bring a can or so with you or there's a nearby Home Depot that has a good stock. There is no admission fee or anything else organized at Cadillac Ranch; just walk through the gate any day during daylight hours. And don't worry; you'll fit through the gate even if you come directly from devouring the 72-ounce Big Texan steak.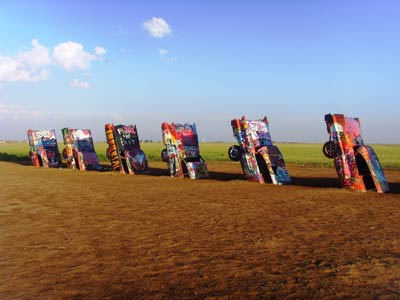 To plan your trip to Amarillo: www.visitamarillotx.com

.

---
...end