Goin' Mobile! - Fun on Alabama's Gulf Shore

It doesn't matter, really, if maybe you've been mispronouncing the name of Alabama's sparkling city on the Gulf of Mexico; the folks in "Mo-beel" will welcome you with a generous heap of southern hospitality anyway. And I know what you're thinking---does that welcome include any of the city's famous seafood specialties? Oh yes it does, so tie on your bib and get ready to enjoy the edible and other delights of Mobile!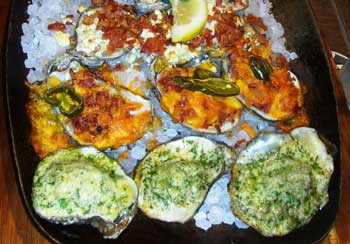 As you drive around Mobile you'll notice a proliferation of seafood joints; some are very fancy and some, especially those situated right on Mobile Bay, are humble. It's always a good idea to eat where the locals eat and many Mobilians will without hesitation recommend Wintzell's Oyster House as their favorite eatery. Wintzell's has been serving up oysters and other goodies since 1938 and they've grown to have five area locations (and more throughout Alabama) so you're never very far from one of their delicious meals. Wintzell's menu overflows with entrees featuring crab, shrimp, catfish, crawfish, flounder and other seafood but Wintzell's isn't called an oyster house for nothing and its almost mandatory to slurp down some of their savory mollusks. Wintzell's has a cute slogan, that they serve oysters "fried, stewed and nude (plain)," but most folks start with the sampler platter that presents oysters prepared five ways including grilled and the famous oysters Rockefeller. www.wintzellsoysterhouse.com Now you can explore Mobile without your belly interrupting you!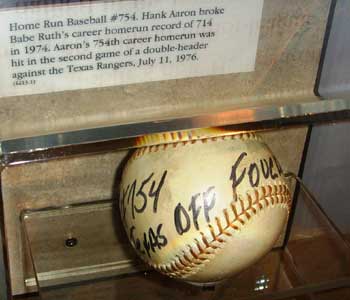 Two not-to-miss museums in Mobile are The Museum of Mobile (111 S. Royal St.) and the Mobile Carnival Museum (355 Government St.) You'll see items relating to Mobile's history, culture and heritage at The Museum of Mobile, all presented in a non-stuffy way and featuring surprises like a quirky foot-powered dental drill and the ball that native Mobilian Hank Aaron hit for his 754th career homerun. Music lovers, there's a small but informative exhibit featuring early Mobile jazz musicians for you. You may think of New Orleans when you think of Mardi Gras but Mobile claims the first observance of Mardi Gras in the New World took place right here in 1703. The history of the courts, krewes, organizations and societies that have carried on the tradition since are represented throughout the Mobile Carnival Museum where you'll find lots of colorful and flamboyant Mardi Gras gowns and costumes on display.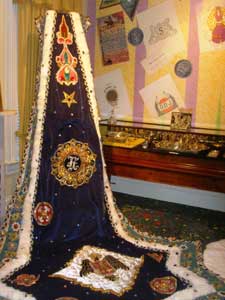 Some are outrageously gaudy and some are unbelievably beautiful; either way you can just imagine all the work that went into making the one-of-a-kind pieces. Almost as popular as the museum is the museum's gift shop where you can stock up on beads and other Mardi Gras related trinkets.
Since Mobile is situated on Mobile Bay, an inlet of the Gulf of Mexico, the city affords all kinds of opportunities to play on and in the water. With the great big bay beckoning visitors can be forgiven for not looking any further for water-oriented fun but Mobile is also located in bayou country. 5 Rivers Delta Safaris is the place to go if you want to explore the rivers, streams and bayous of the Mobile-Tensaw Delta.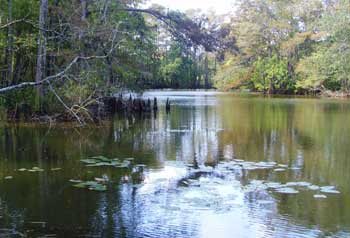 They'll set you up with a canoe or kayak rental so you can paddle as you please or, if you'd rather take a guided tour, book you a seat on one of their pontoon boats. You may count alligators, eagles, osprey, pelicans, turtles, nutria and beavers among the things you see as you navigate the cypress swamps and the pontoon tour motors through the historic area where the "ghost fleet" of World War II Liberty Ships was once moored. www.5rds.com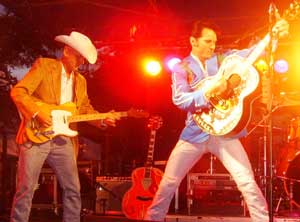 The big music blowout in Mobile is called BayFest and it takes place every October. Visit Mobile during the festival and you'll find stages set up all over a twelve block section of downtown, keeping the city moving and grooving with 3 evenings of shows from big name entertainers and homegrown musicians alike. Some of the acts that graced the stages in 2011 were country superstars Toby Keith and Blake Shelton, rockers Korn, Drowning Pool and 3 Doors Down, urban acts Ludacris and Wiz Khalifa and Jamaican dancehall king Shaggy. Oldies groups had a good representation too as Sugarfoot's Ohio Players funked-up the crowd while Duran Duran flashed the crowd back to the 80's with a hit-packed set of New Wave dance music. Long-running southern act Wet Willie made an appearance too; singer Jimmy Hall led the band, aided by the Hurricane Horns, through a set that included favorites "Dixie Rock and Dixie Roll" and the band's big hit "Keep on Smilin'". Part of the fun of BayFest is discovering the music of a performer you had not yet heard of and the festival has the Launching Pad Stage set up just for that reason; one of the most popular up-and-coming acts in 2011 was the Modern Eldorados, a swinging honky-tonk band led by Tyron Lyles, a singer with a personality and stage presence that mashes-up Johnny Cash and Elvis Presley. Some of the downtown merchants stay open during BayFest but there are plenty of eating, drinking and souvenir purchasing options set up temporarily right on the streets. BayFest is Alabama's largest music festival and in 2012 the fun happens October 5th-7th. www.bayfest.com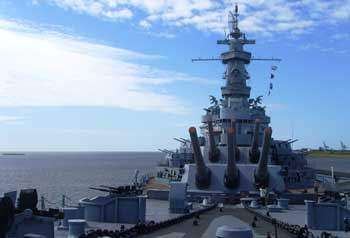 That's just about it for our whirlwind tour of Mobile but I've saved the "big guns," literally, for last. One of the most unique attractions in Mobile is the USS Alabama Battleship Memorial Park where you can spend hours rambling through the park's namesake vessel and then enjoy lots of other military displays. If you want to see the entire ship you'll need to allot a good chunk of time as there are several different self-guided tours to take. As you climb through hatches and from deck to deck you'll see everything from where the sailors slept and ate to places like the barber shop and the brig. You'll see the massive laundry area, radio rooms and surprisingly, even the malt shop where sailors could relax a little and enjoy some ice cream. And of course the USS Alabama is a battleship so you'll see the serious end of things too as all the cannons and machine guns, while incapable now of firing, remain in place. The USS Alabama is the centerpiece of this impressive military museum but also on hand to marvel at are the USS Drum submarine and dozens of Navy aircraft displayed afield as well as in a giant hangar where there's also a tribute to Alabama's Tuskegee Airmen. You can even take a ride in a flight simulator where your "plane" briefly comes under attack. You might say that wrapping up your visit to Mobile at the USS Alabama Battleship Memorial Park will insure that you really have a blast! www.ussalabama.com
To plan your visit: www.mobilebay.org

.

---
...end