Hungry for the Heartland? Have a Taste of Bloomington!

Located in southern Indiana just a short drive from Indianapolis, Bloomington is the perfect representation of America's heartland. This is the part of the country that inspired John Mellencamp, currently a Bloomington resident, to write classic celebrations of American life like "Pink Houses," "Jack & Diane" and "R.O.C.K. in the U.S.A." And the folks who live in Bloomington, home of such diverse entities as Indiana University, the Tibetan Mongolian Buddhist Cultural Center and indie record label/distribution house Secretly Canadian know exactly how to bring the community together---have a party! The annual Taste of Bloomington event, held every June, is like a huge backyard cookout where the whole city comes out to eat, meet their friends, eat, listen to music and yes, eat some more.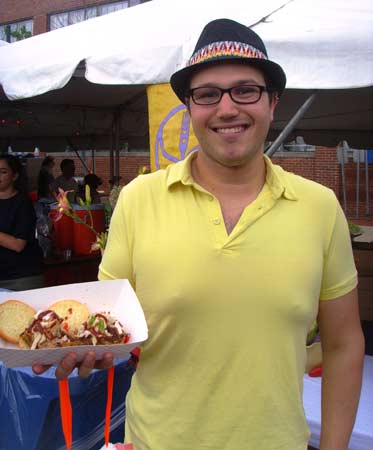 A Taste of Bloomington, true to its name, is a food-oriented festival. Dozens of the city's favorite eateries set up shop for the day at Showers Common, a nice open downtown space adjacent to Bloomington City Hall. The huge variety of meals and snacks on hand can pose a bit of a challenge even for those with the biggest appetites because you certainly can't sample it all. But A Taste of Bloomington has a rule---food items have to be priced at $3 or less---so it won't break the bank to try lots of things. So maybe start with a slice from B-Town Pizza; that's an easy eat-and-walk item that allows you to check out who else is in attendance. Fancy something a little exotic? Head to the MAC Mediterranean Cuisine stand for delicious Pakistani, Afghani or Greek food or maybe hop in line at Café Django's stand where they have a variety of Asian goodies awaiting. Definitely you'll want to grab a seat at one of the hundreds of picnic tables if you're going to dig into barbecue from Smokin' Jack's Rib Shack and don't forget the napkins. If you are a serious eater (I know you are) you'll want to spend all afternoon and evening at A Taste of Bloomington so you can squeeze in plenty of snacks too, like homemade cookies from Baked! of Bloomington and frozen delights provided by Bruster's Ice Cream. And for those who want to have an adult beverage there's plenty of beer and wine on hand and much of it is locally produced.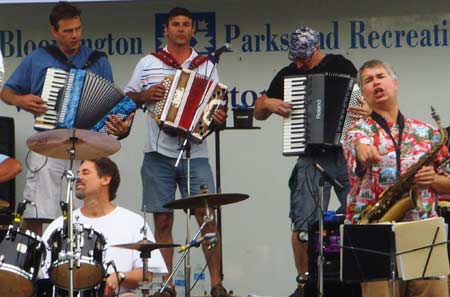 This really isn't a day to be concerned with calories but two stages of entertainment are going non-stop so there's always an opportunity to dance off some of the nibbles. In 2011 the main stage rocked to St. Lucian reggae group The Ark Band, Indianapolis' favorite party band Polka Boy, tribute act Hairbanger's Ball and Indiana homegrown act The Reverend Peyton's Big Damn Band. The "Hoosier Country 105" Stage in the meantime featured lots of local talent in the form of the White Lightning Boys, Sheila Stephen and Clayton Anderson along with rising Nashville star Josh Kelley. The city really does turn out for this event and festival goers tend to stay all evening. So for visitors A Taste of Bloomington is an excellent opportunity to meet the friendly locals. But of course, there's more to "taste" elsewhere!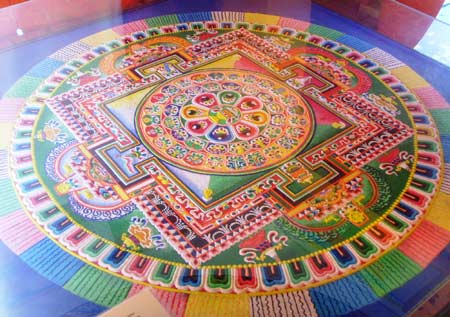 The Tibetan Mongolian Buddhist Cultural Center is a fun place to go to take in Buddhist teachings, learn about Tibetan and Mongolian culture, or just enjoy the serenity and touch of the exotic on offer. The TMBCC is affiliated with the Dalai Lama, who has taught here many times, and who maintains his own private quarters on the quiet wooded property. A self-guided walking tour with a dozen stops will take you to the property's highlights like the Mani Korlo where you can spin Buddhist prayer wheels, the Kalachakra stupa that houses a beautiful "medicine Buddha mandala" made of colored sand and the Kumbum Chamtse Ling Interfaith temple decorated with colorful Buddhist artwork and statuary. There are also many nature trails and one of them goes right by the TMBCC's very calming lotus pond. Those interested in serious study can rent an on-property retreat cottage by the day, week or month.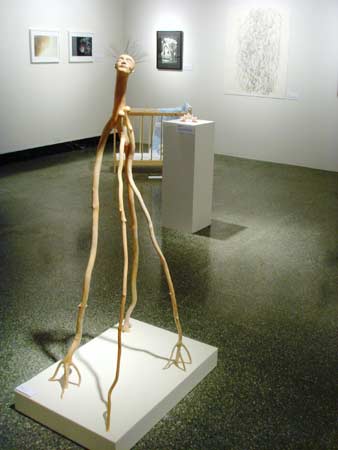 Bloomington's vibrant downtown area is completely navigable on foot and it is also adjacent to the Indiana University campus, offering easy access to places like the Lilly Library where you can see rare books and manuscripts of all types, including comics and quirky material that you wouldn't expect to find archived at a university. The Grunwald Gallery of Art is another fun stop where visiting exhibits include shows like the Kinsey Institute (sex research) 2011 Juried Art Show, a racy (and not for everyone!) display of modern art. Since the downtown is adjacent to campus it comes alive in the evening hours and this is where you'll find nightclubs like Max's Place, the Bluebird and the Bishop, all offering live music nightly featuring both local and national acts. Landlocked Music is the hippest record store in town and they're also located downtown; here you'll find lots and lots of new vinyl and if you want to pick up titles released by local labels like Secretly Canadian, Flannelgraph, Dead Oceans, Crossroads of America or Jagjaguwar then Landlocked is the store for you.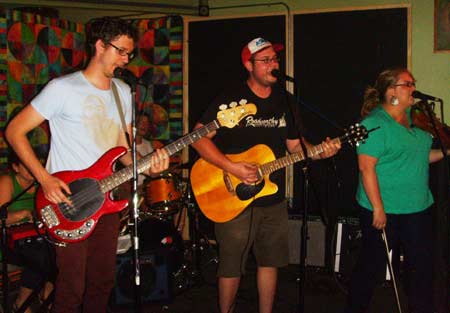 Before you leave Bloomington, how about one more taste? The Upland Brewing Company (yes, in downtown) makes a wide selection of craft beers and they are by far the favorite brews in the area. Have lunch at Upland and sample an ale or three any day but if you want to take a brewery tour then get there at 3:00 PM on Saturday or Sunday.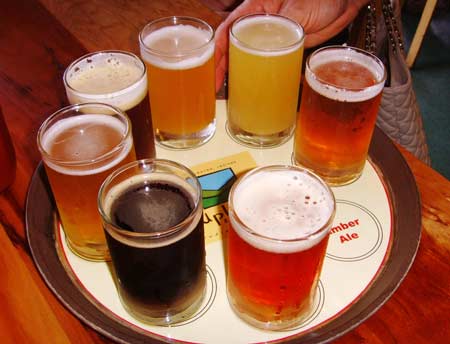 To plan your trip to Bloomington: www.visitbloomington.com

.

---
...end