Yukon Flashback

Looking back over the forty or so Road Trip pieces I've written over the last half decade makes me realize how fortunate I am to be able to travel the world in search of music and music-related fun and then recount my adventures for the readers of Antimusic.com. Picking out a favorite "oldie" on this occasion of Antimusic's lucky 13th anniversary wasn't easy but I think you'll like this one about the Dawson City Music Festival that I wrote in 2007. The festival takes place way up north in the Yukon in Canada where the scenery is nothing short of stunning, where the Klondike gold rush began and where, in summer, the sun never quite sets. It takes a good bit of travel to get there but the setting is like nothing you've experienced before---how many music festivals are there where you can spot grizzly bears just outside of town!?! The 2011 Dawson City Music Festival takes place July 15-17 and features a line-up that includes Owen Pallett, Timber Timbre, Yukon Blonde, Rich Aucoin, Stampeders, Tanya Tagaq, and coming all the way from Niger, Etran Finatawa. Enjoy!


The Yukon Heats Up (With the Dawson City Music Festival!)

Gold! There was a time when the whole world was hurrying to the northwestern part of Canada hoping to strike it rich by finding bags full of the Yukon's shiny metal. The rush is long over but gold is still mined in the province's mineral-rich Klondike, an area that every summer also yields a mother lode of another precious resource---music.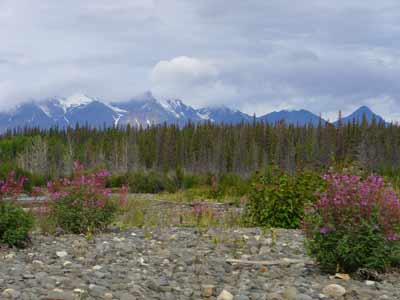 Dawson City is about a six-hour drive north from the Yukon's major population center and its capital, Whitehorse. The small town is also about the half-way mark on a massive road trip adventure that will eventually take you into Alaska for a moment then loop back down into Whitehorse. You could rush through this gorgeous area in a few days but if you allow a week or so you'll not only have time to enjoy the spectacular scenery but you'll be able to spend a couple of days in Dawson City. After gold was found on Bonanza Creek, Dawson City quickly grew and at one time was the largest city north of San Francisco and west of Winnipeg. Nowadays there are less than 2000 residents in town and you wouldn't expect there to be much going on in this place not too far removed from the Arctic Circle. Wrong! Dawson City is of course very proud of its history and if you want to learn about the gold mining days you can visit the Dawson City Museum or go out to the very spot on Bonanza Creek where the first nuggets were found. You can tour a dredge and learn how the giant machine was used to sort out the gold flecks from the dirt. And it's hard to resist buying a bucket or so of "pay dirt" and washing it yourself, right in Bonanza Creek. Gold fever aside, there is a surprising amount of fun to be had in Dawson City. The town "stretches" for only a few blocks in any direction no matter where you are, so it is easily navigated on foot. The streets are unpaved and the sidewalks are boardwalks---this gives the town a great "old time" aura---but the lack of pavement is actually due to the fact that the Klondike sits on permafrost that "moves" under the surface and would cause paved roads to be in disrepair on a regular basis. There are lots of choices for lodging in Dawson City including the modern log cabins at Klondike Kate's where their restaurant is housed in a Gold Rush-era building from 1904. Click Here The town's favorite watering hole and social gathering place, Bombay Peggy's, also offers rooms. Peggy's too is housed in a Gold Rush-era building that used to be one of the town's brothels. Staying here may mean you have to share a bathroom with the other guests but it is also the place to hang out if you want to run into "Caveman Bill," a former Toronto resident who now lives in a cave outside of town. Click Here If you are a little less adventurous and would like to stay in a more conventional place, you can find all the comforts of home at the El Dorado Hotel Click Here Once you've found a place to set up camp (yes, there are campgrounds and RV parks too) it's time to start exploring!
A particularly good time to visit Dawson City is over the second-to-last weekend in July when the Dawson City Music Festival sets the town to buzzing with all kinds of music. There are generally five stages set up at different venues around town---the historic Palace Grand Theatre, two churches, a gazebo set up along the Yukon River waterfront and the main stage in Minto Park. The main stage is set up under a tent with lots of bleacher seating and a very large dance floor so there is plenty of room to get your groove on whether you're listening to alt-rockers Cuff the Duke out of Toronto or Rhythm Nation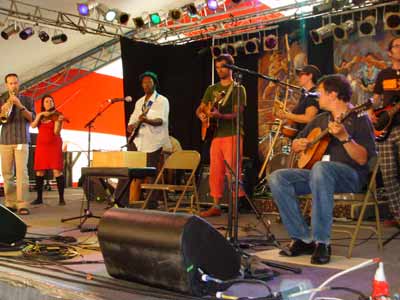 , the name given to the all-star world-beat jam featuring artists like Donne Roberts who is originally from Madagascar and Les Batinses, a group from Quebec that favors traditional sounds infused with ska, jazz, salsa and funk. The big amalgamation played a smooth set at the 2006 festival like they'd been playing together forever and then brought on singer Mihirangi for even more exotic flavor. Mihirangi is from New Zealand and she has a mesmerizing vocal style whether she's singing in Maori or running through an appropriate number for the jam like "World Citizen." Meanwhile over at the Palace Theatre a show called Get Your Freak On featured an avant garde set from Christine Fellows, Hank & Lily and others. The group played a set of songs called out by audience request, using off-beat instruments like the saw. Hank & Lily are a visually stimulating duo as Hank wears a mask and Lily sports a pair of antlers; between the two of them they can play almost any instrument. At one point the band played an oddly pleasing version of Prince's "Purple Rain" with each member intentionally playing in a different key. You never know what you'll find as you wander from stage to stage---maybe the earthy sound of the Pit Blues Band, maybe the winners of the Whitehorse Battle of the Bands (Death in Venice) or quite possibly the down home sound of Cecil the Weasel at the Fiddle Me Senseless show. Bands and musicians come from all over Canada and the U.S. to participate in the festival but this is an excellent showcase for homegrown music with Yukon-based acts like the Done Gone String Band, Fish Head Stew, Raw Element, Scotch, Hungry Hill, the Klondike Funk Association and Gramma Susie & Cash Creek Charlie all having a chance to strut their stuff. All in all an amazing amount of good music and fun is packed into the 3-day event. For info on this year's line-up visit Click Here

| | |
| --- | --- |
| New Zealand's Mihirangi | Lily Fawn of Hank & Lily plays the saw |
The whole town is "open" during the Dawson City Music Festival and there are quite a few fun things to do between visits to festival stages. You can stop at the locomotive shelter at the Dawson City Museum where a number of old locomotive engines that once served the area are on display. Literary fans will want to visit the cabin of famed poet Robert Service or the Jack London Interpretive Center where a replica of London's original Yukon cabin is available for tour. If you'd prefer to get out on the river seek out Tommy Taylor at Fishwheel Charter. Tommy explains the area's history and some First Nations' folklore as he shows you the confluence of the Klondike and Yukon Rivers, a salmon-catching fish wheel and old paddle-wheel wrecks. He'll even take you to the island he lives on where you'll meet his sled dogs and be fed a snack of tea and bannock (a tasty First Nations' pastry.) Back on shore, head for Diamond Tooth Gertie's.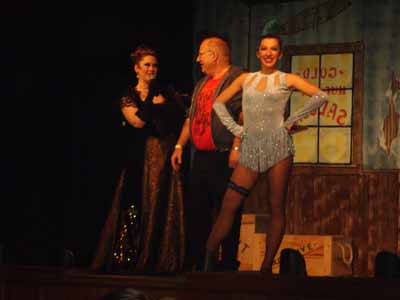 Gertie's is a casino filled with one-armed bandits and other gambling devices and games but its real claim to fame is the show put on by Diamond Tooth Gertie herself. The show replicates the entertainment that the miners might have seen during the Gold Rush, complete with can-can girls and an old-time piano player. The show has an audience participation aspect to it---you might just end up on stage with the lovely ladies! And last but not least, if you're really brave or just prone to accepting dares, you need to make a stop at the Sourdough Saloon in the Downtown Hotel. Here they serve a drink called the Sour Toe which is a cocktail of your choice with a pickled human toe dropped in it. In order to claim that you've had a Sour Toe you have to drain the whole glass until the toe touches your lips. Not for the squeamish but what a story to tell! Request free information on Dawson City at Click Here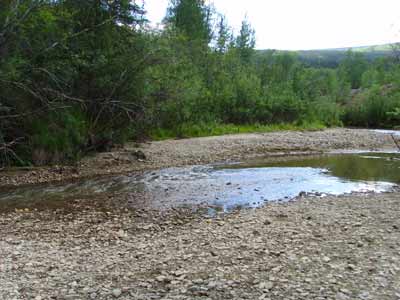 The spot where gold was first found on Bonanza Creek
As hard as it is to tear yourself away from the good times in Dawson City you'll find that completing the road trip loop back to Whitehorse is just as much fun. To get started, you'll need to take the auto ferry across the Yukon River at the edge of Dawson City. The Top of the World Highway begins on the opposite river bank as does an amazing drive that traverses some of the most ruggedly beautiful land in Canada. You are definitely out in the woods here as there is nothing but mountain and forest for as far as you can see. The photo opportunities seem to lie around every bend and since there is relatively little traffic on the Top of the World Highway you can pretty much pull over and snap away to your heart's delight. Stay in the car, though, if you should be lucky enough to spot the king of the local wildlife---the grizzly bear! The massive animals have been known to stand tall right on the side of the road so keep an eye out. When you hit the Canadian border and cross into Alaska, follow the signs to a town called Chicken. This tiny outpost is a good place to use the restroom (they're outhouses but a cut above what you might expect) and buy a cold drink and if you want a souvenir from a place called Chicken, the general store here has every kind of t-shirt and trinket you can imagine. There is a small restaurant here and they serve a decent chicken sandwich, so if you're the zany type that wants to say you've eaten chicken in Chicken, have at it. From Chicken follow the signs that point to Beaver Creek where you'll cross back into the Yukon. After a day of breathtaking scenery and chicken eating you'll probably want to make Beaver Creek your overnight stop and the best place here to land for the night is the Westmark Beaver Creek Hotel. Besides having nice rooms the hotel features the Rendezvous Dinner Theatre where you'll be fed a huge family-style meal while being entertained with song and dance and plenty of humor. I won't spoil the show for you by going into too much detail; just a couple words of advice---watch out for the Mountie! The next leg of the trip takes you to the edge of the Kluane National Park and an overnight stop at Haines Junction. To really get the feel of the area, bed down at the Dalton Trail Lodge just outside of town.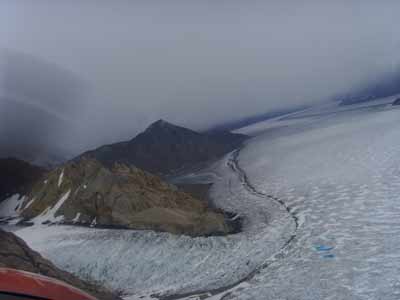 Dalton Trail Lodge is the Yukon's only road-accessible fishing lodge and you can certainly stay and indulge in that sport if you want to. Otherwise here is a nice room and a couple of hearty meals for you in a totally relaxed and rustic atmosphere. Whether you do any fishing or not, the Haines Junction area offers outdoor excursions that you should not pass up. At Paddle Wheel Adventures you can book a wide variety of activities that let you get close to nature, one of which is a raft trip down the Dezadeash River. You'll float through placid pools and whitewater alike with a trained guide who'll point out the wildlife lurking on the shore and answer any questions you may have about the unusual flora growing there, too. The trip takes a couple of hours and is really a peaceful way to enjoy the scenery without having to worry about where you're going. Paddle Wheel Adventures is also the place to book a glacier flightseeing adventure where you can fly over the area's glaciers in a small plane or even take a helicopter ride that will land right on a glacier. If you only do one thing outside of your scenic drive---this should be it. Paddle Wheel will send you over to Sifton Air where they'll send you soaring over the Kluane ice fields, the Kennedy and Hubbard massif and the Lowell Glacier. These are not places you can see unless you're in the air and the view is completely jaw-dropping. Tours start at $115 per person for a 40-minute flight based on a minimum of three people and go up in price from there to flights that last two hours. Click Here
From Haines Junction it is an easy drive back to Whitehorse and the loop is completed. The Yukon is a massive province and this week-long road trip barely scratches its surface---there's an endless amount of exploring to do and along the way you might have the thrill of seeing the famed Aurora Borealis, the Northern Lights. For sure you'll experience the "midnight sun" as during a summertime trip to the Yukon the sun never quite sets---it just sort of dims for a few hours. The Yukon always faces a rough winter where a good portion of the province becomes inaccessible so plan your visit accordingly; June through September is the best time to strike Yukon gold. Click Here
For more info visit www.dcmf.com and www.travelyukon.com

.

---
...end