The Magic of Muscle Shoals - Something in the Water?

Folklore has it that the portion of the Tennessee River that flows through Muscle Shoals, Alabama, got its nickname "The Singing River" because of a talented Native American girl. Visiting the river to swim, bathe or fetch water, the young maiden was so enthralled with the effervescent rhythm of the waterway that she couldn't help but add a melody. The girl's voice carried far down river and was heard by people who couldn't see her and mistakenly thought it was the river itself that was doing the singing. Whether or not there's any truth in this old tale, no one knows. But one thing's for sure: If the songstress did in fact exist she was the first in a long line of singers, songwriters and musicians who continue to be inspired by Muscle Shoals and the Tennessee River to this very day.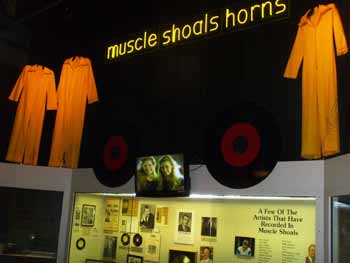 Muscle Shoals Horns stage outfits at the Alabama Music Hall of Fame
The part of Alabama that's familiarly known as The Shoals actually consists of four municipalities: Florence, Muscle Shoals, Sheffield and Tuscumbia. The quad cities sort of blend together and if you aren't paying close attention to signage you'll pass from one into another without noticing, not unlike how a common musical heritage unites the area with a blatant disregard of city limits. There was a time when it seemed like every hit record was coming out of Muscle Shoals; you couldn't pick up an album and read the liner notes without seeing a reference to The Shoals' own bevy of crack studio musicians, The Muscle Shoals Rhythm Section and their cohorts The Muscle Shoals Horns. Shoals recording studios have been cranking out chart-busters for decades with FAME Studios, still operating today, being the birthplace of #1 hits like Aretha Franklin's "Respect" and Percy Sledge's "When a Man Loves a Woman." Etta James, Clarence Carter and Arthur Alexander all recorded hits at FAME as did James and Bobby Purify ("I'm Your Puppet") and Arthur Conley ("Sweet Soul Music".) Wilson Pickett recorded one of the most-covered bar band songs of all time at FAME; that's where "Mustang Sally" began her never-ending ride. These great soul and pop artists put Muscle Shoals on the worldwide radar and the floodgates opened as everyone from Bob Dylan to the Rolling Stones booked into local studios. Duane Allman came to town as did Mac Davis and the Osmonds. Denny Cordell brought Leon Russell to town to cut some sides with The Muscle Shoals Rhythm Section and nicknamed the band "The Swampers," a handle that stuck and was immortalized in the lyrics of Lynyrd Skynyrd's (who also recorded in The Shoals) massive southern anthem "Sweet Home Alabama." No wonder The Shoals became known as The Hit Recording Capital of the World as Eric Clapton, Rod Stewart, the Allman Brothers, the Staple Singers and Paul Simon all turned out hit sides there. The amount of musical activity that's gone on in The Shoals is staggering and can't be underestimated in the annals of history. But is the Muscle Shoals scene now just a faint memory like a collection of dusty old vinyl albums? To the contrary, things are still cookin' in The Shoals and music fans will love everything that's waiting for them there!
Stay Here!
A good base of operations for a visit to The Shoals is the Marriott Shoals Hotel in Florence (800 Cox Creek Parkway South) where you can check out Shoals musical memorabilia and hear live Shoals-oriented music in Swampers Lounge. Sam Phillips, the founder of Sun Records and the "discoverer" of Elvis Presley and Johnny Cash was a native of Florence and the Marriott pays tribute to the late mogul with The Sam Phillips Suite, a plushed-out room that features a framed one-of-a-kind Gibson guitar given to Sam on the occasion of Sun's 50th anniversary and a jukebox stocked with sides cut in Muscle Shoals. There's also a commemorative marker to Phillips and his accomplishments on the hotel property. And you couldn't ask for a better place to be if you need directions or advice about area attractions---Florence Tourism has their office in a building adjacent to the hotel.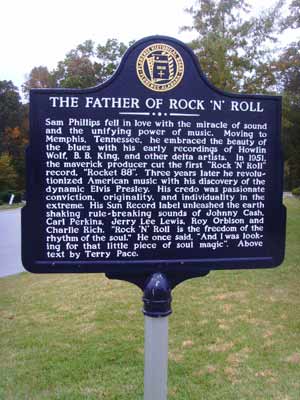 Sam Phillips historical marker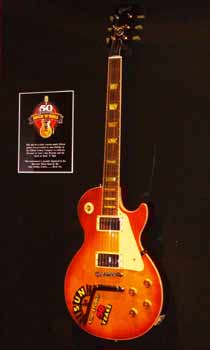 In the Marriott's Sam Phillips suite
Experience These!
The W.C. Handy Home (620 W. College St., Florence)
Musician and composer W.C. Handy, known as the Father of the Blues, is another Florence native. A tour of the W.C. Handy Home includes a visit to the log cabin he was born in and the adjacent museum where many of Handy's personal papers and mementos are on display along with his famous trumpet and one of his pianos.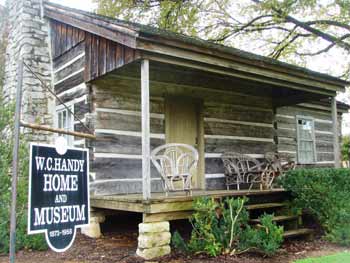 The W.C. Handy Home and Museum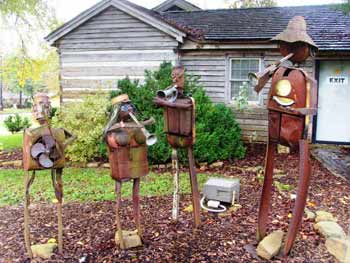 Folk sculpture at the W.C. Handy House
The Alabama Music Hall of Fame ( www.alamhof.org )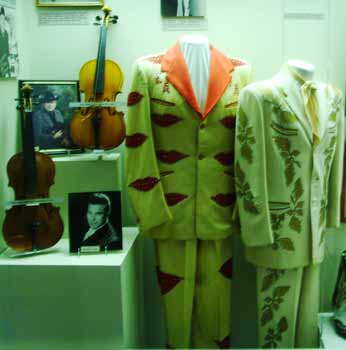 Located in Tuscumbia, the Alabama Music Hall of Fame has an extensive exhibit celebrating all of Alabama's music. See displays focusing on Alabama natives like Hank Williams, Nat "King" Cole, Lionel Richie and country legends Sonny James and Tammy Wynette. The state's namesake act, Alabama, is honored in a big way, literally, as the museum includes one of the band's tour buses that you can actually walk through from one end to the other. Of course there's a lot of Muscle Shoals memorabilia and if you fancy yourself a singer you can be a Muscle Shoals star too by cutting a song in the Hall's recording booth.
FAME (www.fame2.com), Nutthouse Studios (www.jimmynutt.com) and Cypress Moon Studios (www.cypressmoonproduction.com) are all working recording studios and surprisingly they all welcome music fans to some extent. All are filled with memorabilia and all you have to do is ask to see it---if you can be accommodated without disrupting a session, generally you'll be shown around. You may even meet some of the superstar songwriters who live in the area; guys like Gary Baker who has written hits for Lonestar and the Backstreet Boys to name just a couple. Cypress Moon sits right on the Tennessee River and it was on the riverbank here that Julian Lennon wrote his hit single "Valotte." The amount of fun that you can have and what you can learn by visiting these studios is unlimited. It's a good idea to check with Florence Tourism or at least call before heading out to these places since recording studios do not always keep regular hours.
Hear This!
Muscle Shoals to Music Row Live is a weekly music showcase featuring local and national talent that's broadcast live to a worldwide audience via the Internet. Jerry Phillips, the son of Sam Phillips, is involved in this program and you may spot the music maven as the music plays and the cameras roll. The talent is always top notch and the venue is relatively small so you can meet the musicians after the show if you want to. The show is two hours long, adult beverages are available and the venue is conveniently located in the Marriott Shoals Conference Center adjacent to the Marriott Hotel.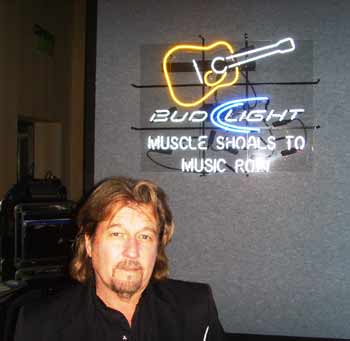 Jerry Phillips
There are lots of other ways to hear good music in Muscle Shoals too, ranging from the W.C. Handy Music Festival in July to local gigs by The Decoys, a band that contains former members of The Swampers. So you see, Muscle Shoals is not just kicking back and living on its laurels; the Muscle Shoals Sound is very much alive and going strong. Truly there must be something in the water!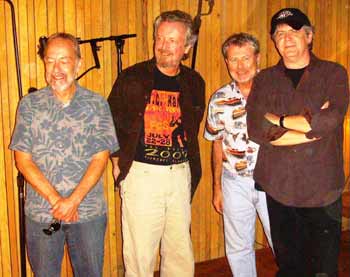 The Decoys
For more info: www.visitflorenceal.com

.

---
...end