Big Lake, Big Fun - Lake Superior's Canadian Side

You learned all about the Great Lakes in grade school and you probably know how to remember all of their names thanks to the HOMES acronym. If you live in Toronto, Chicago, Milwaukee or one of the other large cities on one of the lakes then you know exactly how "great" these bodies of water are. You could certainly spend a lifetime exploring the thousands of miles of combined coastline that the Great Lakes have to offer, and if you did there's no doubt that some of your most memorable experiences would take place in Canada on the north side of Lake Superior. The famous coast-to-coast Trans Canada Highway runs here, through Thunder Bay, Ontario on the western lakeshore all the way to Sault Ste. Marie on the Michigan border in the east. The road between the two cities---over four hundred miles of it---cuts through some of the most beautiful woodland in Canada where majestic stands of timber give way only to the occasional town, trading post or scenic Lake Superior overlook. This is truly get-away-from-it-all country, an outdoorsman's paradise where a sizable population of bears, moose and deer make their homes. No matter how you spend your time in transit there's lots of fun waiting at either end of the lake. Here's some of it!
THUNDER BAY
Founder's Museum & Pioneer Village
This is a recreation of a 1900's village that portrays the lives of area settlers in the last century. Displays are housed in and around about a dozen buildings and feature some big items like vintage autos and even a train's caboose. But mostly the artifacts are indoors, put into realistic settings like a general store, a doctors office and a train depot. One display of special interest to music fans is the room where vintage pianos, player pianos and their "rolls," old Victrolas, records and sheet music make up a sizable exhibit. There's even a small church on the grounds and if you are so inclined you can get married in the quaint setting. www.founders.ca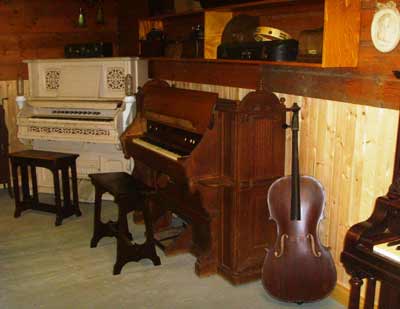 Fort William Historical Park
This giant facility is an authentic re-creation of the inland headquarters of the North West Company, famed for being top dogs during the heyday of the Canadian fur trade. All throughout the fort you'll meet colorful folks who'll explain what daily life was like back then, all the while staying in character; it's just like you stepped out of a time machine into the actual era. You can see dozens of real birch bark canoes and witness their construction, marvel at the primitive doctor's tools and jars of oddball medications in the apothecary and most excitingly you can feel all the different pelts in the fur room. Among the hundreds of furs you can touch is a real rarity; a wolverine pelt. The fort has lots of hands-on activities too including ax throwing, canoe rides and traditional singing and dancing. You can even learn to fire a musket or one of the fort's cannons! Two things not to be missed are the native encampment where you can go into wigwams and sample Ojibwa foods like fish and wild rice. Try to have the "voyageur" lunch while you're here; it's a family-style feast featuring foods that would have been commonly served at meals back during the fur trading days. Save room for dessert! www.fwhp.ca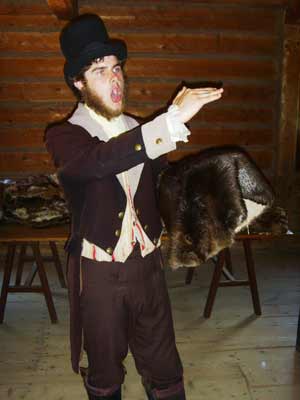 Fur trader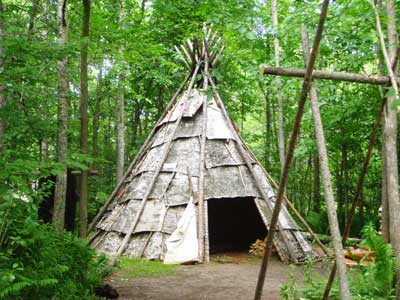 Indian Village
Kakabeka Falls Provincial Park
Known as the Niagara of the North, Kakabeka Falls is a spectacular waterfall that plunges forty meters over sheer cliffs. The viewing area here is unique in that there's a boardwalk that begins on one side that then crosses over the river near the falls' edge and ends on the opposite side. So you can really appreciate the view from every possible angle. There's a nice visitor's center here as well that can direct you to swimming, fishing and other activities nearby.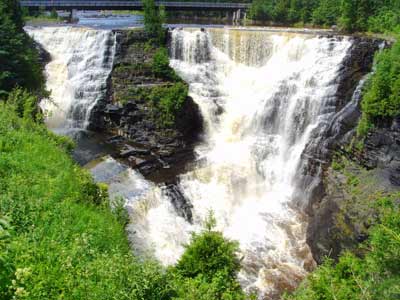 Amethyst Mine Panorama
Amethyst is Ontario's mineral emblem and Amethyst Mine Panorama is Canada's largest amethyst mine. Here you can take a guided or self-guided tour, dig for your own amethyst specimens or just browse the gift shop for nicely-polished crystals or amethyst jewelry. Lots of the amethyst taken from this mine is taken out in large chunks to be used decoratively for things like fireplaces and some of the big pieces kept on permanent display are jaw-dropping. www.amethystmine.com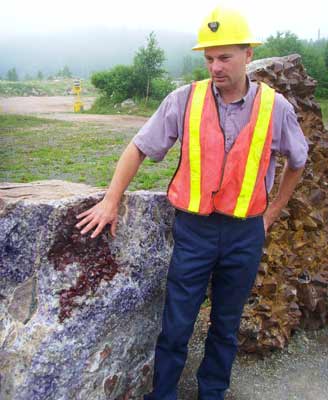 SAULT STE. MARIE
Agawa Canyon Tour Train
The "Soo," as Sault Ste. Marie is familiarly known, is the jumping-off place for the Agawa Canyon Tour Train ride. This is an all-day adventure as the train spends four hours chugging through the maple, birch and pine stands of North America's oldest mountain range, the Canadian Shield. Once you get to Agawa Canyon you have about an hour and a half to hike various trails to see four waterfalls and if you're "up" to it you can climb the 300 stairs to a scenic overlook perched 250 feet above the canyon floor. Right where the train stops there is a display of vintage railroad equipment including one of those small man-powered hand cars that you often see in Western movies. There's also a souvenir shop housed in a disused railroad car where you can purchase t-shirts and mugs and all sorts of trinkets to commemorate your visit to Agawa Canyon. The journey begins early in the morning and breakfast is available shortly after your departure from the Soo; on the way back you can return to the dining car for lunch. A variety of alcoholic beverages are available too. The ride is fully narrated as guides point out things of interest as you approach them including the places where you can see Lake Superior glistening in the distance. The four hour ride back to the depot has you back where you started by about 6:00 PM.
www.agawacanyontourtrain.com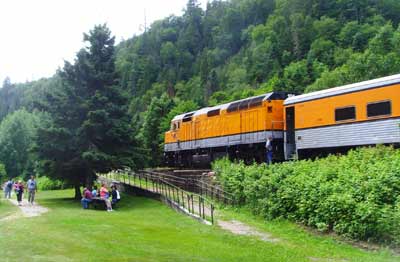 Canadian Bushplane Heritage Centre
This is the only museum in North America that's dedicated to preserving the history of bushplanes and forest fire management. The huge hangar holds twenty-four bushplanes of all sorts and sizes and you can climb right into many of them. There's also a video presentation, flight simulators, vintage cars and a display honoring Dr. Roberta Bondar, Canada's first female astronaut. There's a whole area just for kids and the fire fighting area includes a fire fighter's camp and a thirty foot-tall fire tower that can be climbed. This is a place not to be missed and you literally can't miss it---just look for the place with the bushplane in the parking lot! more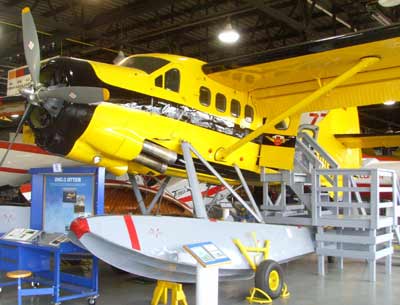 If you're not too tired from all this activity and you're looking for some action when the sun goes down there's one thing you can do in Sault Ste. Marie and Thunder Bay alike; visit the OLG Casino. Rub the brass moose for luck on the way into the casino at the Soo and maybe you'll win a few loonies (Canadian one-dollar coins.) Both casinos have really good food too and a hearty meal is always helpful when you're in "explorer" mode!

.

---
...end