Throw Me Something, Mister! - Mardi Gras in Lake Charles

When it comes to Mardi Gras, everybody has the same thing on their mind: beads! And when you spend Mardi Gras in Lake Charles, Louisiana you'll find the strands are ubiquitous, smiling back at you from everywhere you look. Stores stock hundreds of varieties for sale, businesses hand them out as promotional items, friends try to outdo each other by wearing their most outrageous and most unique strands and some folks are laden with so many bead necklaces that it looks like they could easily topple over from the weight. And when the Mardi Gras parades roll the serious beadsters go into a feeding frenzy, hoping to outdo all the other revelers lining the street by catching the most strands thrown from passing floats. No wonder the favorite catchphrase around here is "Throw me something, mister!" The pursuit of the plastic trinkets is probably the loopiest aspect of Mardi Gras but it's a big part of the fun.
Mardi Gras is celebrated all over the country and all over the world and New Orleans is especially noted for having one of the wildest Mardi Gras weeks. But all of Louisiana gets into the spirit and Lake Charles, in the southwest part of the state, hosts the state's second-biggest Mardi Gras event with the aim of showcasing local flavor and authenticity. In other words, if you spend Mardi Gras in Lake Charles your bead collecting will be spiced up with plenty of lively Cajun music and Louisiana culinary favorites like boudin, gator tail, crawfish and king cake. And maybe a little history too. Here are some ways to make your Lake Charles visit a memorable one:
Before The Big Day
Mardi Gras Museum of Imperial Calcasieu (809 Kirby Street)
Hundreds of outlandish costumes from past Mardi Gras celebrations are on display here; some of the feathery creations are absolutely jaw-dropping. The Lake Charles area is also known for celebrating Mardi Gras country-style and the quaint old-school costumes on display here are nothing short of charming. Learn about how the celebration has evolved over the years as you stroll through a seemingly endless maze of costumes of all types.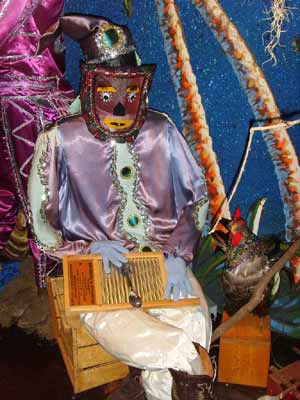 Tietje Crawfish Farm (in nearby Jennings, Louisiana)
Most of the crawfish served up as delicious meals in Lake Charles are farm-raised and Tietje is one of the area's biggest operations. Take a tour here and see where the little critters live and see the special boats and equipment used to harvest them. On certain occasions Tietje hosts crawfish boils where you can watch the cooking process and then dig into a tasty lunch while Cajun musicians play. Call for times and details (337) 370-9468.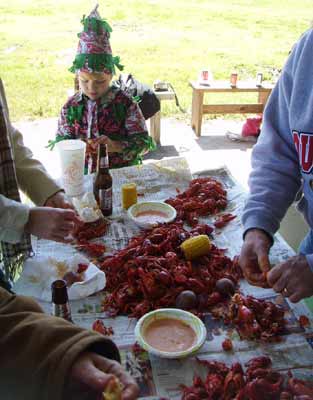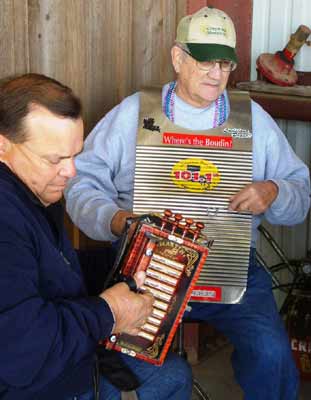 Lighted Boat Parade (Lake Charles Civic Center Seawall)
Line up along the seawall at sundown and get ready to catch beads as a flotilla of watercraft decked out in festive lighting cruise by. Bleacher seating is available and concessionaires sell all kinds of food and drink including bite size chunks of deep-fried alligator meat. The parade is also a contest and the judges announce the winners shortly after the show ends. Usually held two days before Mardi Gras; check for scheduled day and time upon your arrival.
The Royal Gala (Lake Charles Civic Center)
Always held on the Monday night before Mardi Gras, the Royal Gala is your best chance to see the year's costuming as fifty or so krewes (civic, social and family groups) with their full courts of kings, queens, royal dukes and duchesses and so on promenade through the Civic Center's main hall. Some of the costumes are so large and ornate that it's hard to believe that anybody can actually stand up while wearing the thing let alone manage to artfully strut and preen as they do. With a dazzling light show and festive music heightening the mood this event is one you will never forget.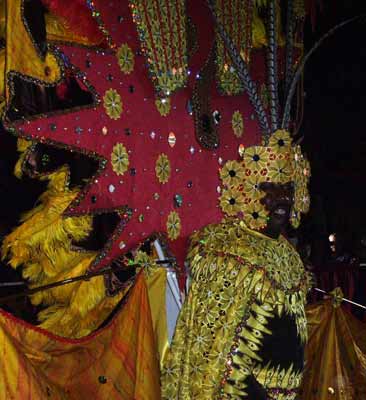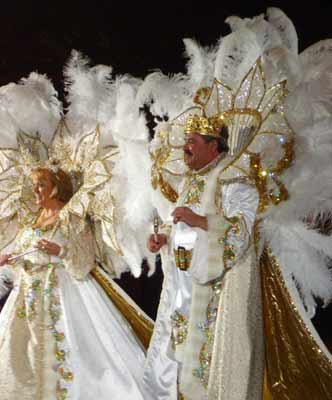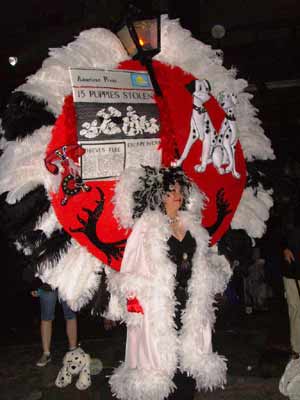 On Mardi Gras (Fat Tuesday)
Today's the day that Lake Charles takes to the streets! First, the Red Hat Parade rolls at 10:30 in the morning. This parade features smaller floats and other vehicles like vintage fire trucks and of course plenty of beads and other trinkets are tossed to the early-birders. As afternoon hits the street parties start to get cookin', literally, as food vendors set up stands to feed revelers.

Then as dinner time nears the live music starts and Cajun rhythms dance from various bandstands.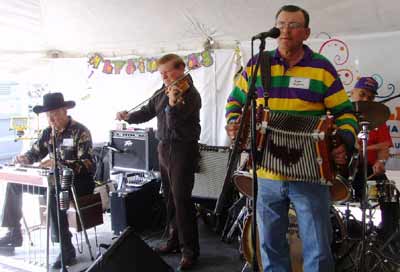 Groups like swamp-rockers Louisiana Scramble will be doing their thing too.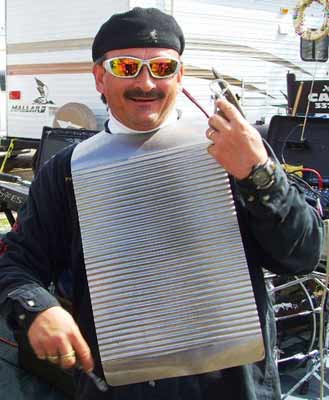 Finally at 5:30 it's time for the grand finale---the Krewe of Krewe's Parade. This is what everyone's been waiting for and look out because the beads will be flying! By the time the raucous parade ends everyone will have caught a few strands and some will go home with dozens of the things and probably a couple special collectible pieces. But everyone goes home with a smile, after more eating and drinking and dancing that is!
Before You Go…
There's plenty to do in Lake Charles between Mardi Gras parties too. If you feel like indulging in a game of chance head to L'Auberge du Lac Casino Resort (777 Avenue L'Auberge.) To find unique items representing Lake Charles and Louisiana, including lots of one-of-a-kind pieces head to the Cottage Shop District on Hodges Street. The Zigler Museum (411 Clara Street, Jennings) has a collection of American and European art from medieval and contemporary times as well as wildlife artwork and art made in Louisiana. Over the course of your visit to Lake Charles you're bound to try some of the traditional Mardi Gras dessert known as king cake and you'll probably want to take one home. Several places sell good king cakes but the best come from Delicious Donuts and Bakery (2283 Country Club Road.)
And don't forget to speak up when you want your Mardi Gras beads---"Throw me something mister!"
Mardi Gras in 2010 is February 16th.
To plan your road trip to Lake Charles: www.visitlakecharles.org

.

---
...end