Reggae Fest, Rum and Flying Fish: It's Delicious Barbados!

When was the last time your lunch leapt right into the kitchen and proclaimed itself ready to be eaten? It's not much of a stretch to imagine that happening if you're dining at the Waterfront Café, www.waterfrontcafe.com.bb, one of the most popular eateries in Bridgetown, Barbados. The café sits on the Careenage marina, an inlet of the Caribbean Sea not far from where flying fish show off their aerodynamic abilities, launching themselves out of the glistening waters and gliding up to 150-feet through the air.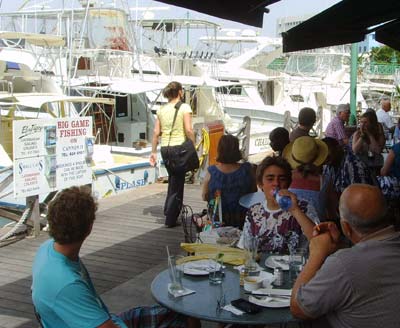 Water Front Cafe
A flying fish has never actually "flown" right into the cooking pot at the Waterfront Café but the airborne seafood makes a big splash on the restaurant's menu nevertheless. Flying fish with cou-cou, a cornmeal and okra mash, is the national dish of Barbados and a specialty at the Waterfront where it comes drenched in Caribbean fish broth and with a side of tender plantain. If you munch your lunch at one of the Waterfront's outdoor tables you might get the idea to get out on the water and try your hand at catching your dinner; that's easily arranged since an array of modern sport fishing boats are moored only steps away and available for charter. Sightseeing and snorkeling cruises can be booked here too but if you want to land a yellow fin tuna or perhaps a Wahoo this is the place to start.
Barbados is relatively large compared to most Caribbean islands and there's a lot to explore no matter what direction you head in. Many visitors roam just the southern part of the island around Bridgetown where there is a representation of all that delicious Barbados offers. This area has many affordably-priced places to stay; check into the Silver Sands Resort www.silversandsbarbados.com and you'll have all the comforts of home awaiting when you're not playing on their pristine (and yes, silver sand) beach.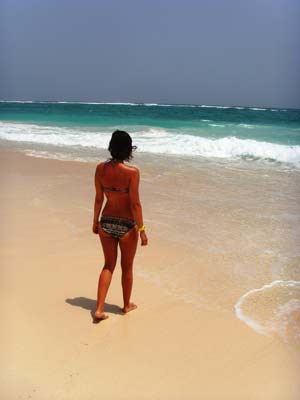 Silver Sands
The Silver Sands is a short ride away from Oistins where there are beachside parks, restaurants to sate your craving for Mahi-Mahi, lots of bars and nightclubs and plenty of stalls selling everything from fresh fruits and veggies to souvenir Barbados kites. If you never leave this area you'll have all the makings of a fun vacation at hand but you'll also miss a great deal.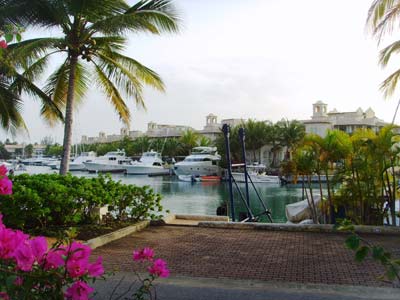 Platinum Coast
About an hour north on the coastal highway you'll find Barbados' famed Platinum Coast where tony resorts and homes hug the shoreline. There are incredible photo opportunities here; it's quite a sight to see the condos where the yachts of millionaires are lined up mere yards from their homes, bobbing patiently in the warm Caribbean until it's time to sail off to parts unknown.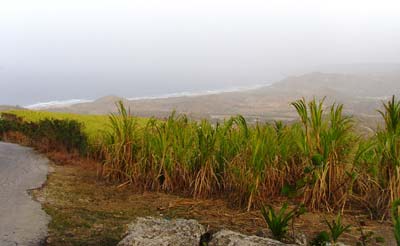 Cane Fields
From the Platinum Coast head east and you'll soon be traveling through vast expanses of sugarcane fields. Cane was once the major lifeblood of Barbados and it remains an important industry for the island even though tourism is now top dog. Besides being refined into sugar the cane is used to make molasses which in turn is transformed into rum; a spirit that originated in Barbados. Driving through the fields of cane waving in the breeze, about in the middle of the island, you'll crest Barbados' high point and a spectacular view of the east coast comes into view.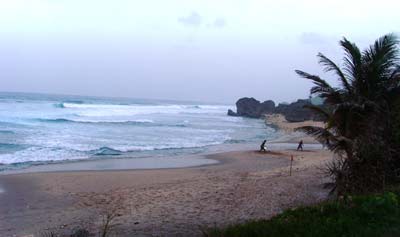 Atlantic Coast
This side of the island butts up against the Atlantic Ocean; the beaches are gorgeous and sandy here too but this is not the place to swim as there is a strong undertow present. Comb the beach or take in some sun on the Atlantic side before you head back to Bridgetown where you can find out more about how cane is turned into rum by taking the tour at the Mt. Gay Rum Distillery www.mountgayrum.com.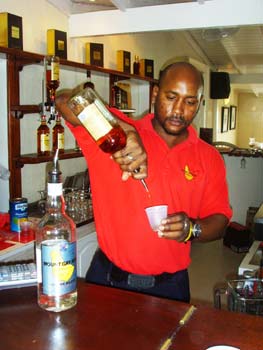 Mt Gay's Rum
Rum has been distilled in Barbados since the 1600's and Mt. Gay, having started in 1703, is the oldest purveyor of the beverage. The tour, given several times a day, offers an informative video presentation, a chance to view the equipment used to distill and package the liquor, an inspection of the raw ingredients and of course a sampling of the product. A generous tasting of four Mt. Gay blends is included with the tour and you can buy an additional rum-based cocktail afterwards if you choose. About forty percent of Mt. Gay's output is consumed in Barbados but Mt. Gay's gift shop has bottles of all sizes for sale if you'd like to export a little for personal use.
If you come to Barbados in April you can add some sonic dessert to your menu by attending any or all of the events presented at the Barbados Reggae Festival www.thebarbadosreggaefestival.com. The festival was started six years ago by local promotions man and music impresario Al Gilkes. Gilkes and two other men had for years been promoting smaller events and decided to join forces to bring Barbados a world-class festival that draws music and sun lovers from all over the world.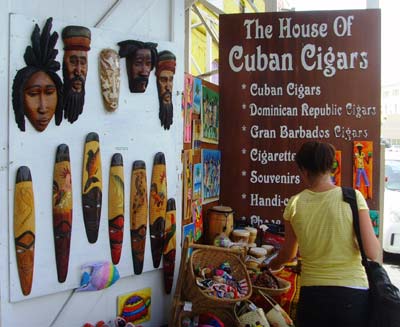 This year's Barbados Reggae Festival kicks off on April 18th with the Reggae Beach Party featuring Jamaican acts Mr. Vegas, Konshens, Ding Dong, Pumpattae and a host of Barbadian acts. The beach party is a warm-up for the following weekend when the big indoor Vintage Reggae Show & Dance takes place featuring legendary acts like Marcia Griffiths, Ken Lazarus and Biggie Irie on April 23rd. The festival closes out on the 25th with Reggae on the Hill in Farley Hill National Park which happens to be where the Harry Belafonte film Island in the Sun was shot. Richie Spice, Maxi Priest and Luciano headline the show along with more than a dozen other acts including local artists Hotta Flames, Buggy Nhakente and Supa Ruben.
American Airlines has regular flights to Barbados and many cruise ships stop there as well; I arrived in Bridgetown aboard the Fred. Olsen liner Braemar www.fredolsencruises.com.
For more information: www.visitbarbados.org

.

---
...end