Hoedown in the Hills: Exploring Ohio's Hocking Hills

The Hocking Hills area of Ohio near Columbus has long been a favorite getaway for Midwestern vacationers-in-the-know. The wooded, rolling hills are the perfect place to indulge in outdoor activities like hiking and camping, fishing and wildlife viewing or just sitting on the cabin porch and relaxing in the peace and quiet. But word has gotten out that there are a few surprises in the woods including a world-class way to put some extra "zip" in your trip! Let's take a whirlwind tour: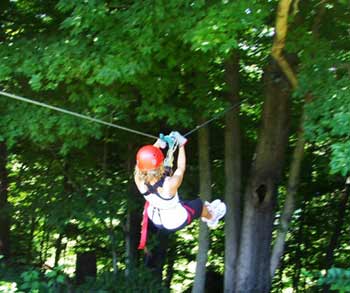 Rocking in Hocking
Few things in the Hocking Hills will get your adrenaline flowing like a some time spent with the folks at Hocking Hills Canopy Tours where they have a zipline course set up that will take your breath away, especially if you like to scream while you're "flying!" The tour begins with a safety and instructional session then you climb into your zipping harness and helmet and take a short ride to the first launching platform. There's nothing quite like the feeling of stepping off a platform high above the ground for the first time, putting your trust in a network of steel cables as you leave your solid footing. But soon even novices are hollering and hot-dogging along to the landing platform, ready to hit the next cable and fly again. There are four "sky bridges" along the way too; these give you a bit of a breather from zipping and give you a little more time to appreciate the scenery as you walk the narrow suspensions over gullies and creek beds. The course takes about three hours to complete and when you reach the final landing platform you get to rappel down to the ground where a cool drink and a snack await. Zipline fanatics will love the newest addition here, the quarter mile-long SuperZip where you launch from a seventy-five foot-tall tower. The SuperZip experience can be purchased separately or as part of the main ten-line adventure. I did the main course and it was the first time I ever zipped and I must admit I was a little nervous at first. But the guides here are great about putting you at ease and helping with your launch and landing and it didn't take long before I relaxed and enjoyed this unique thrill ride. Located in Rockbridge. www.hockinghillscanopytours.com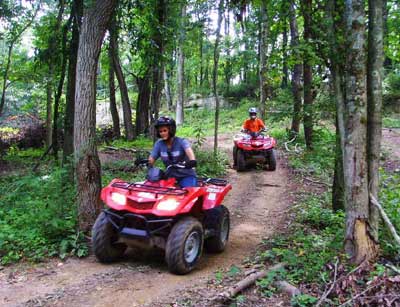 After flying through the air with the greatest of ease, how about some down-to-earth fun? See the Hocking Hills from a different perspective when you hop onto an ATV and hit the woods at Hocking Hills Nature Trails. They have a huge expanse of land here with trails to suit all tastes from easily-navigated routes for beginners (or those who want to go a little slower and maybe hope to see a deer or two) right through to a rough course where rocks, ruts and fallen branches have been left on the trail to make it more challenging. There's a big open grassy field where you can "open her up" and speed around a lot faster than you can in the woods and then there's what is for many riders the most beloved of areas---the mud hole! There's something very primal about blasting through the mud pit and sending the muck flying in every direction, knowing that your ATV is equipped with 4-wheel drive to keep you from getting stuck. Some riders come just for the pit and spend their whole session charging through the mud; they'd consider it a sin to leave the premises without a head-to-toe mud splatter. Obviously if you are going to do this you need to come dressed appropriately; that's something to consider even if you aren't hitting the mud because there can be puddles on any given trail at any time. www.hockinghillsnaturetrails.com Located in Logan.
The Hills Are Alive
Yes, with the sound of music. Musicians and music fans have a rare opportunity to enjoy an informal evening of entertainment thanks to a long-standing tradition at Studio in the Woods. Studio in the Woods is one of the many places to stay in the Hocking Hills where you can get away from it all yet still have all the comforts of home. In other words the accommodations here are not rustic cabins but they are tucked away in the forest so you have plenty of privacy. On most Friday nights Studio in the Woods hosts Bella's Café, an all-night-long jam session where everyone is welcome to come and listen or join in the picking and singing. The folks who show up to play are collectively known as the Twisted Pickers and if you show up once to play then you're a permanent member of the group.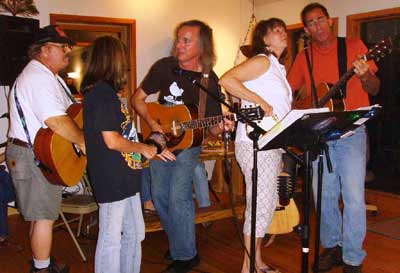 Twisted Pickers
The fun takes place in a large living room furnished with a piano and dozens of acoustic instruments of all sorts and there are comfy chairs all around. The atmosphere is completely down-homey and friendly as people pick up an instrument and play for awhile then maybe switch instruments or sit for awhile to chat and sip wine. People come and go throughout the evening and the music doesn't stop until the last player calls it a night. Again, this is very informal and you don't have to be staying at Studio in the Woods to participate. There's no cost either but you can take some food for the pot-luck dinner and some wine or beer if you like. Call for more info and directions: (740) 332-6076. www.hockinghillsstudiointhewoods.com Located in Rockbridge.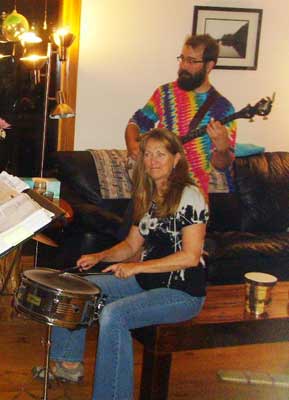 Jamming
The Quirky
It's always fun to seek out some of the things that help to give a particular area its personality and the Hocking Hills have a couple of spots not to miss. First up is Etta's Lunchbox Café and Museum located near New Plymouth. At first the place looks like a typical roadside eatery, and indeed Etta's menu of sandwiches and other lunch items keeps the café packed. But while you're waiting to fill your belly you can feast your eyes on an amazingly diverse collection of 850 lunchboxes, a display that includes everything from the first humble boxes ever made through to boxes featuring today's designs. There are lunch "pails," boxes showing cars, planes and spaceships, celebrity boxes featuring everyone from the Beatles to a goofily-grinning Cheech & Chong and of course Hello Kitty. Boxes celebrating TV shows, Popeye, cowboy Roy Rogers, Barbie, all sorts of cartoons, the Hooter's Girls and dozens of one-off designs are on display. Chances are if you carried a lunchbox in your younger days you'll see one like it at Etta's. NBC's Today Show has visited this wonderful tribute to pop culture and you can see it for free with any purchase in the café. And if Etta's general manager isn't too busy he'll personally show you around and share anecdotes about the collection with you---ask for Tim. Closed on Wednesdays; call for more info and directions: (877) 380-0739.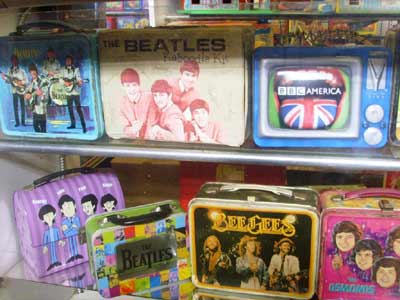 Musicians in particular will love the Columbus Washboard Company Factory. Yes, this place is exactly what it says---a factory that makes washboards, the old-fashioned clothes laundering gadgets. Folks all over the world still use washboards to clean their clothes and Columbus Washboard supplies a great deal of these, including putting them in care package-type kits to send overseas to American servicemen and women who are in combat zones and often have no other way to do laundry. But most washboards sold today are used either as decorative items or as musical instruments and here you can see and purchase a wide variety of either kind. The boards come in various sizes and with various "rub surfaces;" different metals and different styles of corrugation give the musical ones unique tones while decorative washboards can feature the traditional metal rub surface or glass, mirror, cork or even chalk board. The tour here is self-guided and you'll see row after row of different styles of washboard, some historical pieces and at certain times you'll get to see the boards being manufactured. And since the place is frequented by musicians, you might even get treated to an impromptu washboard hoedown in the hills! www.ColumbusWashboard.com Located in Logan.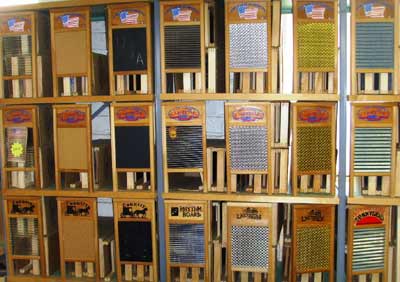 The Sublime
With all the fun and exciting things to do in the Hocking Hills it would be easy to forget that relaxation is also a top draw here. To top off your visit to the Hocking Hills with style and class you need to spend an evening at Glenlaurel Scottish Inn & Cottages. Glenlaurel is one of Select Registry's "400 most distinguished inns of North America" and indeed if you stay here in their Manor House, Carriage House or one of their cottages you will experience the ultimate in country comfort. Guests who are not lodging at Glenlaurel can visit at dinnertime for a treat not to forget---how about a six or seven course gourmet meal served in a beautifully-decorated and intimate dining room, complete with views of the equally impressive grounds? Glenlaurel always hosts a "welcome" get-together before dinner and you will certainly know when it's time to forego the appetizers and get to the table; that's when the bagpiper, dressed in full Scottish regalia, leads a procession into the dining room. Part of the reason that Glenlaurel is so amazing is the involvement of owners Greg and Kelley Leonard; the pair are "hands-on" innkeepers and all of their efforts go to keeping the inn fun and welcoming. An evening spent strolling the grounds, dining and mingling with guests (and the bagpiper!) will be something you'll be talking about for a long time. Dinner reservations are a must; call (800) 809-7378. www.glenlaurel.com Located near Rockbridge.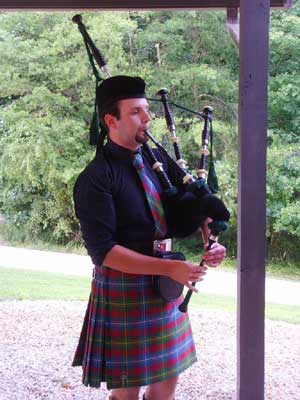 Call to dinner
The Hocking Hills area is big but no matter where you're staying you can reach most of these attractions within an hour and certainly you can squeeze several of them into one day's activity. I stayed at the Bear Run Inn, a bed & breakfast that personifies all that's desirable about lodging in the Hocking Hills. The inn sits in a clearing only yards from the forest in a setting so quiet that one night, sleeping with the window open, I was awakened in the early morning by the sound of deer having their breakfast in the inn's flower garden. Humans are fed really well here too; Marcia will serve you a filling soufflé with all the trimmings for breakfast and make sure you're comfortable in your room (or cabin for larger parties.) Husband Bud will show you around the property including the fishing pond and the fire pit where you can cook out if you choose. Music lovers will get a kick out of asking the couple about Joan Baez's recent stay---the legendary singer and her entourage spent some downtime between shows recharging at the inn and Bud will be happy to show you the pictures. www.bearrun.com. To view a map or get other information to help plan your trip, visit: www.1800hocking.com

.

---
...end