From New Orleans to Baton Rouge: The Good Times Keep Rollin'!

"I don't care if you're young or old; get together, let the good times roll!" What a perfect and concise summation of a carefree lifestyle! The advice that rhythm & blues singer Louis Jordan doled out in his 1946 hit "Let the Good Times Roll" still applies today and in Louisiana the sentiment is passionately brought to life on a daily basis in New Orleans' fun-loving French Quarter. The historic area is relatively small and easily navigated by foot and there's a thrill around every corner whether your interest runs to haunted buildings, voodoo shops or perhaps finding the best jambalaya in town. And no matter where you are in the French Quarter you're never more than a few blocks away from party central; the notorious Bourbon Street! Bourbon Street is one of the best places in the world to people-watch; there's a never-ending flow of humanity, resident and visitor alike. Telling the difference sometimes is iffy, but chances are that the people walking down the street gulping "Big-Ass Beers" are visitors while the guy dressed as a leprechaun posing for photos on the corner is a local trying to earn a few bucks. The silliness of much of the fun on Bourbon Street belies the fact that there is also world-class entertainment to be had here; just step inside any of the dozens of nightclubs lining the street to enjoy live music. But with so many options, how do you decide which one to check out? That's easy; the music being played inside is usually blasting out into the street too, so just walk by a few places and see what suits your fancy. You can pop in and out of the clubs easily too; it's legal to take your drink out of the club so long as you pour it into a "to go" cup before you leave. These are usually sitting on the bar where you can grab them any time you want but if you don't see any just ask the barkeep for a "go-cup."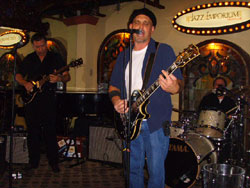 Lots of the clubs feature bands playing mass-appeal type music so if you want to spend the evening listening to Jimmy Buffett or Lynyrd Skynyrd songs you'll find that the groups on stage are proficient with their cover versions. But if you want something meatier keep walking until you come to a place like the Jazz Emporium where bands like Big Al & the Heavyweights get down and dirty with Fabulous Thunderbirds-style blues.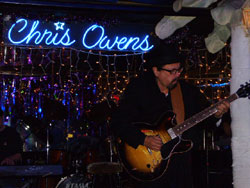 Or pull into Chris Owens' Club where acts like guitar virtuoso Jeff Chaz put the audience in a romantic mood with silky rhythm & blues songs like Bill Withers' "Use Me" and Al Green's "Let's Stay Together." The clubs are so close together that you can easily enjoy a sampler platter of five, six, seven acts a night if you choose. Take it easy on those oversized brews though if you want to be in any shape to enjoy the jazz brunch at the Court of Two Sisters restaurant the next day.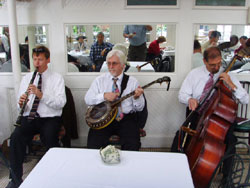 The jazz brunch at the Court of Two Sisters (613 Royal Street) is a New Orleans tradition and it happens every day from 9:00 AM till 3:00 PM. You'll hear New Orleans-style jazz while you fill up on delights like shrimp Creole omelets, andouille sausage, crawfish Louise, duck a l'orange, veal grillades and gravy and southern BBQ pork ribs. Pecan pie, bananas Foster and Mardi gras king cake are just a few of the goodies to be found on the dessert tray. With all I've mentioned being just a tiny microcosm of French Quarter fun can you see why the motto here is "Let the good times roll!?"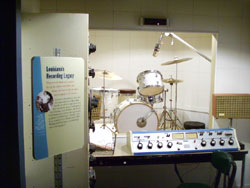 Baton Rouge is only about eighty miles from New Orleans and a day trip there will further sate the appetite of those hungry for Louisiana music and food. A must-see is the Louisiana State Museum (660 N. 4th St.) The state-of-the-art museum has four floors of displays broken into categories like "Louisiana Purchase," "The Mississippi River," "Slavery," "Civil Rights," "Mardi Gras" and "Natural Abundance." All of these displays are very well done and some of the artifacts, like vintage Mardi gras costumes, are jaw-dropping. But music fans will want to gravitate to the section called "Louisiana Dancehall" where the state's extensive music history is celebrated. The area is absolutely packed with memorabilia from Louisiana artists; one of Buddy Guy's famous polka dot guitars is here as is a jacket from Fats Domino and lots of stuff from Louis Armstrong. Amongst all the memorabilia is a "push and listen" station featuring sixteen different types of music where you can hear Zydeco, swamp pop, rockabilly, Baton Rouge blues or a dozen other styles.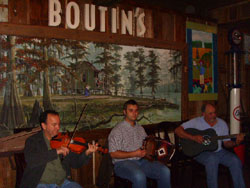 Everyone from Jelly Roll Morton to the Marsalis family is honored at the museum. Of course an afternoon of prowling the museum is going to make you hungry again but you can solve that problem by heading to Boutin's Cajun Music & Dining Experience (8322 Bluebonnet Blvd.) Boutin's is the real deal and another Louisiana tradition; they're known for having the best Cajun food and plenty of it. The menu includes specialties like crawfish etouffee and shrimp and oysters en brochette along with Cajun-style rib eye steak and some nouveau dishes like crawfish enchiladas and pepper jack shrimp. If you want to keep it a little simpler just ask for the big serving of crawfish and clear some room on your table for a giant bowl of the critters. Boutin's has live music beginning at 7:00 every evening (except Sunday) and the large dance floor quickly fills up as the distinct sound of Cajun music fills the air. To top off your authentic Louisiana experience make one more stop on your way back to New Orleans.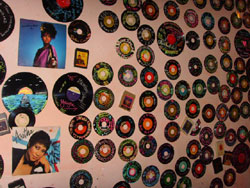 Not too far off the highway is a small town called Donaldsonville and here you'll find a little joint called Hambonz (212 ½ Railroad Ave.) Officially Hambonz is a "piano bar and lounge" but the place is usually shaking with blues, jazz, reggae or rhythm & blues music. The club is small and lively and they even encourage you to write on the walls---sort of. For a small fee you can purchase a vinyl record and use colored markers to decorate it then Hambonz will add it to their wall of infamy where it will patiently await your next visit. Hambonz opens every night at 7:00 Wednesday through Sunday.
When you're ready to let the good times roll:
www.neworleanscvb.com - www.visitbatonrouge.com

.

---
...end