Wakeman, Whales & Wonderful Food: The Delights of Quebec City & Charlevoix

Bonjour! It seems like everyone you meet in Quebec City offers you a friendly "hello." And why not? The capital of Quebec, Canada's French-speaking province is an absolute joy to visit so it must be an amazing place to live. And it's fun to say "bonjour" back to the locals, too. Visitors are bound to run into people here who speak only French but you really don't need to take your phrasebook to get around---being able to say "hello," "please" ("sil vous plait") and "thank you" ("merci") will get you a long way! And as the area's many wonderments put themselves on offer you'll find that you become a gleeful speaker of French; "oui!" Yes!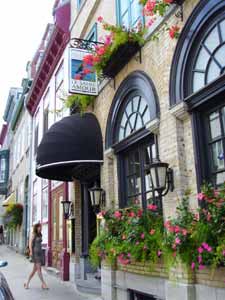 The part of Quebec City that is most alluring is Old Quebec, the historic portion of the city that lies within fortified walls. Named a World Heritage Site by UNESCO, this is one of the oldest cities in North America and the only North American city north of Mexico to have its ancient walls intact. A downtown hotel room will find you within walking distance of Old Quebec and the fortified city itself is easily navigated with foot power. This is not a place to hurry---every street, alley and hidden nook here is overflowing with eye candy. The architectural marvels that house intriguing boutiques and shops of every kind are obviously lovingly cared for, adorned with all types of artwork and pot after pot of colorful flowers. This is a shopper's paradise where you'll find everything for sale from high art to kitschy tourist souvenirs. This is also where the entire city comes to enjoy fine French cuisine and it is impossible not to be seduced by the aromas that beckon from dozens of cafes and restaurants. A favorite of locals is La Cremaillere and this is a good place to stop for lunch or dinner. Many restaurants here have their menus in French only but usually a waiter will translate for you; at La Cremaillere the menu comes with an English translation and the wait staff will happily answer any questions about the dishes. So there's no need to feel intimidated when you order the "mignon de boeuf 'Rossini' et son miroir au Porto"---that's beef tenderloin 'Rossini' with Porto wine sauce, a dish that's nicely accompanied by a glass (or a little more…) of cabernet Borgo Boschetto. And do save room for "duo de douceurs" because that's two pieces of cake! There are fast-food joints in Old Quebec too, but don't be silly! www.cremaillere.qc.ca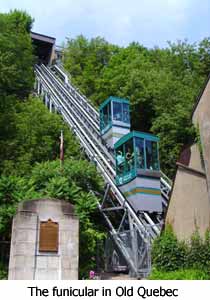 Quebec City sits along the St. Lawrence River and part of Old Quebec is along the river while part of it sits atop a nearby bluff. The area in between is a steep drop-off so to get from "upper" old town to "lower" old town it is best to take the funicular (a sort of cable car) that not only makes short work of the traverse but also offers a unique view of the area. The lower portion of Old Quebec has more shopping, more history and a dock where you can hop on board the MV Louis-Jolliet for a scenic cruise on the St. Lawrence. The ship is a large craft with multiple decks and you can hang out in the bar, eat, wander around or sit in one particular area where a guide explains the various landmarks as the ship passes them. A highlight of the cruise occurs just as the Louis-Jolliet turns around to head back to port, affording unimpeded sightlines to a wall of water tumbling into the river, Montmorency Falls. www.croisieresaml.com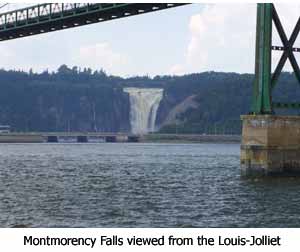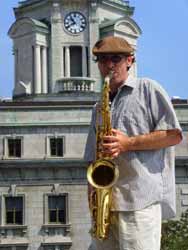 Every July Quebec City sets aside a week and a half to celebrate the arts with the Quebec City Summer Festival. Each evening Old Quebec comes alive with street performers of every imaginable kind---buskers, jugglers, mimes, clowns, stilt-walkers---you name it. The festival is family-friendly and there are lots of puppet shows and other types of entertainment for children but the big draw is the nightly music scene. Stages are set up in four or five areas and over the course of the festival there is something to suit every musical taste. Most of the stages have a theme for a particular night and in 2006 you could choose from attending an emo show with Halifax, Anberlin, Yellowcard and Story of the Year or a blues blow-out with local act Dawn Tyler Watson and the renowned Chicago Blues Reunion. A ska stage hosted MxPx and Reel Big Fish while worldbeat flowed from artists like Chile's Senor Coconut and the Congo's Konono no. 1. The stages were filled with great Canadian acts too; some like Hot Hot Heat and Galaxie 500 that are familiar to American ears while others like Robert Charlebois are huge in Quebec but mostly unknown in the U.S. Charlebois played on the main stage in the city's giant park located on the Plains of Abraham, a venue that also saw shows from Live, the Scorpions, Twisted Sister, Blue October and the California Guitar Trio. The closing show in 2006 was a gala where Rick Wakeman performed his classic work Journey to the Center of the Earth in its entirety. The show was a slick production with the lyrics sung in French and the story narrated in both French and English as Wakeman rocked away on his bank of keyboards backed by a full band, orchestra and chorus. The show was big on visuals too, with lots of lasers, projections and well timed fireworks. Before Journey was performed, Wakeman and his former Yes band mate Jon Anderson played an acoustic set of old Yes tunes like "And You and I" and "Roundabout;" even throwing in a cover of the Beatles' chestnut "Eleanor Rigby." A capacity crowd packed the park until the very last note echoed into the night and the 2006 Quebec City Summer Festival was consigned to memory. The 2007 festival, the 40th anniversary of the event, will be held from July 5th-15th and will feature about 250 performances. www.infofestival.com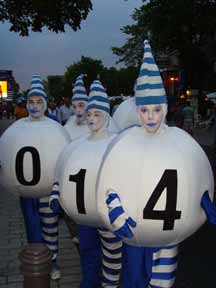 The Quebec Lotto street team
While a visit to Quebec City is itself very rewarding, if time allows a visit should be extended to include a drive north along the St. Lawrence to the Charlevoix area. This is some of the most charming countryside you'll ever see where small villages are tucked between mountain slopes to the west and the ever widening St. Lawrence to the east. The farther north you go, the wider the river gets, to where it is miles and miles wide and you can barely see the other side, an effect that makes you feel as if you're at the seaside. Along the route you'll find lots of places to taste local wines, meats, cheeses, baked goods and other delicacies and many places to view or purchase art, including the studio of painter Juan Cristobal in Saint-Irenee. A couple of hours should be allotted to wander around Baie-Saint-Paul where the main street is lined with interesting shops, boutiques and restaurants. Beer lovers will want to take a break at Microbrasserie de Charlevoix, a lunch stop that also offers up a selection of beers brewed on the premises.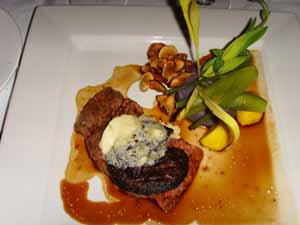 The beer is available in bottles or on draught and the best way to find out which one you like is to purchase the sampler that includes a nice sized taste of their Bootlegger (brown ale), Dominus Vobiscum Blanche (citrus and spice), Premium Lager (German style) and Vache Folle ESB (red, bitter). Take it from me, they're all good, and they all pack a punch. So take it easy on these if you're driving! www.microbrasserie.com What you find at Microbrasserie de Charlevoix is a microcosm of what this area is all about---good food and drink. A "flavor trail" has been established---grab a free brochure and follow the map where your tummy leads you---you won't be sorry. Many of the gourmet restaurants on the trail are located in "auberges," the local name given to country inns. While that might sound quaint and the settings of the auberges are bucolic, inside you'll find plush lodging and top-rate food. You can enjoy these things and a view of the St. Lawrence at the Auberge des Falaises, a quiet hotel in Malbaie.
www.aubergedesfalaises.com It is hard to go wrong with accommodations in Charlevoix but you can always be assured of quality if you stay at an inn that is, like Auberge des Falaises, affiliated with the Quebec Resorts and Country Inns Network. www.hotelleriechampetre.com/inn-hotel-quebec If you do extend your visit to this wonderful part of Quebec, you'll want to go whale watching. The same company that provides the river rides in Quebec City, Croisieres AML, will fit you out in a suit to protect you from the wind and spray and zip you out onto the St. Lawrence on a Zodiac to seek out the big mammals. Several kinds of whales can be spotted here in the summer and if one breaches the water near your boat you'll experience a thrill of a lifetime! Excursions leave from an easy to find pier in Baie-Sainte-Catherine. www.croisieresaml.com
The Quebec City area is fun to visit any time and there is also a big cold-weather celebration every year when the city holds its Winter Festival. Lots of additional special events are being planned for 2008 when the city will celebrate its 400th anniversary. Get more info and more reasons to visit by clicking here!
.

---
...end