Masai Days and Nairobi Nights: Non-Stop Fun on Kenya Safari!

I couldn't believe my eyes! It was very early in the morning on my first full day in the African bush and something---a noise in or around my tent---had startled me awake. As I slowly shook off my grogginess and glanced around the rustic room I didn't see anything out of the ordinary until I looked up, and there it was staring back at me! It was a, uh, well, it was furry! And pretty cute, too, in appearance and in antics. I found out later that it was a vervet monkey and here it was, hanging off the side of my tent, peering at me through the small daylight flap at the tent's peak. With a subtle "eek!" (and I swear he smiled at me) the little vervet took off to conduct the rest of his monkey business and I got up to do mine. I'd later have another run-in with the curious critter and a bunch of his buddies but now it was time for a game drive; time for me to be the peeper. Good morning Kenya!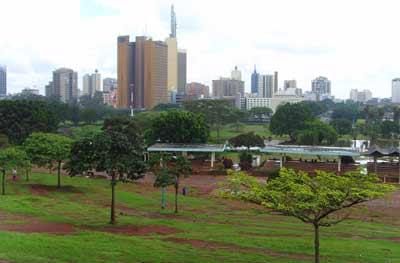 Most safaris to Kenya start off in the nation's bustling capital, Nairobi. My safari was booked through Africa Adventure Consultants, a Denver-based company. The owners of the company, Kent and Kelly Redding, lived in Africa for many years and they also happened to be personally escorting the safari that I went on. The last leg of my air travel to Kenya was from Amsterdam to Nairobi, a long flight that arrived at about 8:30 in the evening and after clearing customs I was met by a driver who took me to the Fairview Hotel to rest up for the night. The room at the Fairview was nice, but stepping outside the next morning was even more of a treat; the hotel grounds are green and lush with lots of color provided by bougainvillea plants and giant jacaranda trees. The serene scene would soon be replaced by the hectic commotion of Nairobi's morning rush hour as we piled into a Range Rover and headed for our first camp, the El Karama Ranch at Laikipia. The road out of town was nothing short of chaotic; buses, cars, motorbikes and bicycles all clamoring for the slightest advantage in traffic, hooting at each other and seeming to narrowly avoid collision. To top it all off it was the rainy season at the time of my visit and the heavens were not skimping on the rainfall this morning. None of this commotion seemed to faze our driver who safely and patiently navigated the mess until the city finally gave way to the countryside. As soon as you hit the rural area it's only natural to start watching for game, but the only animals you'll see on the way to Laikipia are domestic ones---cattle, goats, sheep, etc. The road to Laikipia crosses the Equator, the imaginary line that separates the northern and southern hemispheres. The road crosses the Equator at a village called Nanyuki and right on the line there is a rest stop where for a few bucks you can have it demonstrated that, indeed, you are on the Equator. You've probably heard (or witnessed) the fact that water swirls down the drain one way north of the Equator and the opposite way south of the line. The demonstration involves a fellow with a bucket of water and a large funnel. Standing on the north side, the water is poured into the funnel and a little twig is dropped in so you can clearly see which direction it spins. Then, a few yards away on the south side, the procedure is repeated and the twig spins the other way. Lastly, standing right on the Equator, the water merely drips straight through the funnel with no swirl at all. There are also about a dozen little shops here with a wide variety of craftworks for sale at reasonable prices (and bargaining is expected.) The shopkeepers are not persistent to the point of being irritating but they will try to get you to come into their shop by calling out "promote me!"
Before leaving Nanyuki we visited Nanyuki Spinners & Weavers, a women's self-help project. This is a place where women who have been abused come for sanctuary and to learn the craft of working with wool. Even if you already have a good idea of how wool products are made you will want to take the tour here. You'll see how the raw wool is combed and spun into yarn, how it is colored using dyes made from locally-grown plants and finally how it's woven into everything from huge tapestries to place mats, all done completely by hand. They have a wide variety of items for sale and they take credit cards and also offer a shipping service so you don't have to lug your purchase around on safari with you. The shipping service is reliable---I took advantage of it and my purchase made it back to the States before I did.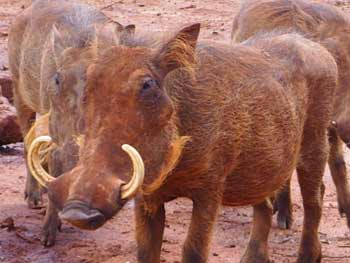 The El Karama Ranch is an actual working cattle ranch. You'll drive through the part of the ranch where some of the animals are grazing on your way to the game camp and you might be surprised to see a corral full of camels. Camels do not live in the wild in this part of Africa but they are quite at home here and El Karama can arrange for you to ride one if you'd like (they also offer horseback riding.) Since El Karama is on private property you can participate in game walks (you can't do that inside the game reserves) and this is a good way to get up close to a lot of the smaller animals and learn about their habitats from your guide. The ranch boasts a count of over 70 species of mammals and nearly 400 species of bird. I was only here for an evening and one full day but I saw plenty on several game drives---elephants, giraffes, zebras, wildebeest, impalas and lots of smaller creatures. The camp is on the bank of a fairly good-sized river and warthogs could be seen rooting around on the opposite bank. This camp was a lot of fun but it was only a warm-up for our next stop, the Leleshwa Camp adjacent to the Masai Mara Game Reserve!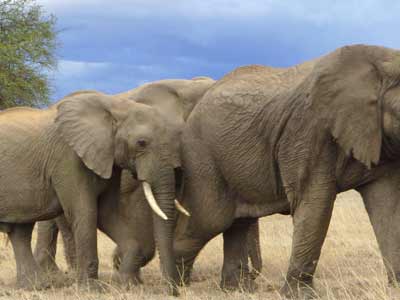 The Masai Mara Game Reserve (sometimes spelled Maasai Mara) is Kenya's largest and most famous game park. It is actually part of the huge chunk of land that also includes the renowned Serengeti Game Reserve---in Kenya it is called Masai Mara while across the border in Tanzania it is called Serengeti. To get to the park we took an Air Kenya flight from the airstrip at Nanyuki to the strip nearest the park at Siana Springs. This is an adventure in and of itself; the plane doesn't fly that high so you get amazing views of the scenery below. Inside the plane is a different experience too; the pilot flies the small plane with the door to the cockpit open and says you can ask him all the questions you want, but not while he's flying! A humorous moment comes just before take-off when he turns around and says, "Okay, here's our in-flight service" as he passes back a bowl of breath mints. These small planes fly under strict weight limitations so it's best to travel light---excess baggage may need to be left behind (Africa Adventure Consultants will provide the details on this before you leave the U.S.) It's a short ride from the airstrip to Leleshwa Camp; it might seem a little longer than it actually is because some of the road is very rough and slow going---the rainy season often washes out the preferred route and calls for a little improvisation. But once you get to the camp you'll be pampered as much as you possibly could be when you're out in the African bush. And of course now is the time to start enjoying what you mainly came to Kenya for in the first place---the amazing animals! During a three or four day stay at Leleshwa Camp you will normally have one full-day game drive into the Masai Mara and on the other days you'll take two or three separate drives. Your schedule might call for any mixture of early morning, afternoon or evening game drives and this assortment of times gives you a chance to see the widest variety of game as different animals are on the move at different times. It seems like almost everyone is up early though; an after-breakfast drive finds elephants slowly trudging across the plains, huge herds of zebras having their morning graze and curious giraffes taking time from their stretching exercises to pose for a picture or two. You can't really go very far here without coming across something; just when you think there's nothing around an ostrich will burst out of the thicket and run like heck down the road in front of you or a couple of jackals will trot by paying you no mind. While no one can guarantee what you'll see, chances are you'll spot the famed "Big Five"---lion, leopard, elephant, buffalo and rhino. Over the course of several days our group saw them all, the rhino being the most elusive of the lot. Afternoon seems to be a good time to see a lion as this is when they like to take a nap. There is nothing quite like watching the whole family at sleepy time, a good time to get up close. Mama lion will probably be asleep and dad wants to doze, too, but he has to keep an eye on his restless little folk. The cubs seem to know not to wander too far away from their parents but at the same time dad doesn't seem to mind if one circles the Range Rover for a good look of his own. A bit later in the day is a good time to see the other big cats; a cheetah taking a leisurely stroll through the grass or a leopard hanging out in a tree, maybe munching on fresh kill. The safari drivers stay in touch by two-way radio and give each other tips on where specific animals are at any given time. And of course there are certain animals you're not going to see just anywhere---your guide will take you to a river view to see hippos half submerged in the water and crocodiles sunning themselves on the river bank. The evening game drive is especially entertaining. This is when you go out a couple of hours before sundown and drive around for about an hour then stop to have a "sundowner"---a Coke, a glass of wine or a Tusker beer to ease your thirst and get you in the mood for the fun to come. Then when the sun has set the drive back to camp begins, this time with a spotlight hooked up. One person is chosen or volunteers to work the light, moving the beam in a sweeping motion across the plain, looking for eyes that glow in the dark. Amazingly, the drivers can usually tell what kind of animal the eyes belong to by their color! He'll then decide whether or not to try and get closer to the game. Even with the spotlight on them they're hard to see because they're so small but this is when you'll encounter the lovable little bush babies. Overall during the course of a day you'll see far more animals than I can list here and after a couple of days you'll be a pro at identifying them. Hey, a hartebeest! The Leleshwa Camp has everything you need for a pleasant stay. The lodging itself is a series of large tents, each one set up with two beds, bedside tables and a few small electric lights. Each tent has its own toilet that's connected to a small water tank holding enough water for a conservative amount of flushes per day. For washing-up you have a small sink and a pitcher of water that is replenished once a day or more often if requested. The tents also contain a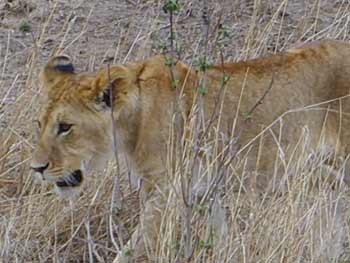 "bush shower;" this is the type of shower that has a small holding tank in place directly above the shower nozzle, on the outside of the tent. When you're ready to shower, you request that the tank be filled and water heated over a campfire will be brought. Then you have to turn the shower on briefly, just enough to get wet, and turn it off, lather up, then turn it on again to rinse, and so on---that's the only way to make the limited amount of water actually last through a shower. This is actually easier than it sounds and is kind of fun too. The men who carry the water and do many of the other chores around the camp are tall, strong Masai who also guard the camp against animals at night, patrolling the grounds armed with spears. Meals at Leleshwa Camp are very good, usually basic breakfasts and lunches but always an exciting dish for dinner, and there is always plenty to go around. Our little friends the vervets know when supper is ready, too! They are extremely cute but they can also be pests---about a dozen of them staged a raid while our evening meal was being prepared, getting into our drinks and snacks when no one was looking. By the time we saw the miniature bandits and chased them off they had sent a few teacups flying and absconded with handfuls of sugar cubes. After peeking out of the nearby trees for awhile they moved on, probably plotting how they were going to dance on my tent-top the next morning. After dinner every evening the camp starts a roaring fire and everyone gathers to compare notes on the day's sightings and drink a little more Tusker. One evening the Masai performed a traditional dance for us. They sang and chanted while doing a sort of shuffling dance punctuated with leaps straight up in the air. The springing in the air part is essentially a show of superiority---whoever jumps the highest gets the most respect, and often, the girl. After the show, back in the tent, another song began in the distance. Have you ever been lulled to sleep by the roaring of lions and the grunt of hyenas? One other thing we did before we left the Leleshwa Camp area was visit an elementary school. The schoolhouse is nothing but bare necessities but packed with happy children anxious to learn and anxious to pose for photographs. The setting may be primitive but the children are being well educated in the local dialect and Swahili and eventually will also learn English.
My last day of safari was spent in Nairobi apart from the group, just myself and my driver. I mostly wanted to find out what the music scene was like and I discovered that it is thriving. There are many recording studios in Nairobi as well as facilities to manufacture CDs and a wide variety of musicians keep these venues busy. The places to buy CDs in Nairobi are called "media stores" and when I was there these shops were featuring new releases from soulful singer Didge, Afro-fusion artist Chizi and pop rocker Wyre who was also celebrating his nomination for a Channel O Music Award, the big prize handed out by the Kenyan equivalent of MTV. These artists are all big stars and they get as much press in the east African entertainment magazine Drum as do big acts from overseas. I was particularly taken with three acts and I brought home their CDs---Hasira by reggae singer Jah Key Malle, some very soulful smooth jazz in Zamar by sax player Hellon and Down the Road from alt-rockers Fret Wire. Fret Wire's lead singer, Su Kahumbu, has a voice perfectly suited to radio play, sounding like a cross between Melissa Etheridge and Stevie Nicks. I also picked up a 14-cut compilation CD called Spotlight on Kenyan Music, a collection of artists melding contemporary sounds with traditional African rhythms and melodies. Choosing these titles wasn't easy---there's a staggering selection to pick from! It wasn't easy for me to settle on where to go to hear some live music either, but I took the advice of a clerk at the media store and went to the Garage Pub in an area of the city called Jesustown.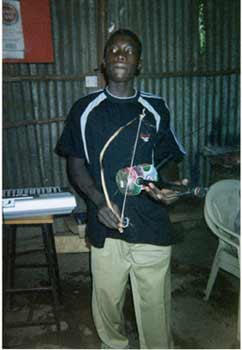 The Garage Pub is a fairly large venue with lots of seating but it is also a study in contrasts. The floor is hard earth yet hanging on the wall is a television pulling in a soccer game via satellite. The Tusker beer comes nice and cold in about a 25-ounce bottle but only costs the equivalent of about $1.25 (it's around $5.00 a bottle elsewhere.) And the biggest contrast at all was provided by the nameless house band, an aggregate of characters that came and went by the song, working with traditional African instruments and inexpensive keyboards but sounding like a million bucks. This was no tourist show; I think I was the only non-local in the packed house. I wanted to stay here all night but my driver reminded me that I had a flight home to catch in a few hours. After enjoying a few Tuskers and plenty of quality world beat I left between songs so I could shake the hands of the band members. My entire stay in Kenya was a treat and this just sort of put the icing on the cake. A few other memorable things I did in Nairobi included a trip to the Giraffe Center, a sanctuary where you can stand on a specially-built platform and feed giraffes and even pat them on the head and a visit to a similar sanctuary for elephants where if you get in the right spot at the right time you can pet a baby elephant. I also had dinner at the Pampa Churrascaria restaurant, a Brazilian-style eatery where you can feast on meats you're accustomed to along with cuts of ostrich, guinea fowl, crocodile and camel (I had a couple helpings of camel!)
Watching wild game on safari is something you really can't get enough of but as you can see there is plenty to do otherwise. A safari offers endless opportunities to experience all sorts of local culture and this is the specialty of Africa Adventure Consultants---tell them your special interests and if it is at all possible they will arrange it for you. Besides Kenya, Africa Adventure Consultants offer safaris in Botswana, Namibia, Malawi, Rwanda, South Africa, Uganda, Tanzania, and to Victoria Falls. www.adventuresinafrica.com
.

---
...end