One Second Thought.. Have you ever thought you have nailed down an artists and dismissed them only to discover that your original perception was wrong? That's what this series is all about, a second look at artists that may have been written off in the past but upon closer examination are worthy of attention!


Shakira – Latin Diva Needs No Translator
January 18, 2003 United Center, Chicago
By Adam Bielawski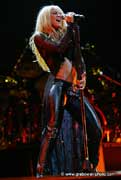 Lights go out and the stage curtains remain closed as Chicagoans fill the United Center screaming for Shakira to hit the stage. Two silhouettes are visible playing guitar, one on the right, and one on the left from behind red-lit curtains that stretch from the top of the United Center. A sold out, Chicago show! Every available seated fan, male and female, already on their feet as the music starts. The curtains open slowly, glowing red lights shine, then a figure of a snake with sapphire eyes rises in the form of a Cobra dead center on the stage. As this silver or golden metallic serpent comes to full stance, the young singer/song writer of twenty-five (25) emerges from underneath walkway or as if from the belly of the snake to the front of the stage, as fans scream louder and louder fortunate to have a ticket for Shakira on this cold Saturday night in Chicago. Not bad for this Columbian Latin Diva in her first United States stadium tour set to conquer the world in support of her English hit disc, "Laundry Service" by Sony Music.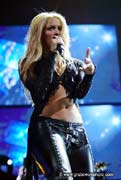 Mixture of Latin and Middle-Eastern influences was a taste to the introduction of the concert that was about to last for 120 minutes. The first few minutes on stage by Shakira were pure seduction as she played a belly dancer. Shaking her hips in a dance seen by most in movies of Middle Eastern settings. Exposing her belly in a teardrop-looking outfit to cover her top and black leather pants. Fan or not, ones eyes were glued and targeted to the long haired blond walking from end to end on the stage welcoming and greeting her fans here in Chicago in the majority of Spanish sung songs such as opener "Eyes Like Yours (Ojos Asi)".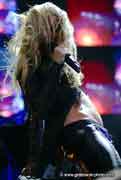 Much of the 2 hours show was a mixture of Spanish and English verse to a diverse ethnic background in Chicago. Theatrics such as canons firing confetti, explosions, disco balls, wardroom changes and huge screens so know one can miss one moment of Shakira presence to all of Chicago. Shakira held the crowd and even showed off her musical talents by playing many of the instruments that make up Shakira's background in the art as a singer and songwriter. You can feel yourself mesmerizes by her charismatic voice and the stage extravaganza that was presented. Every role-played was taken in and held for remembrance of this night.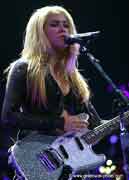 To get some hard rock and roll into the fans hearts, Shakira performed classics of AC/DC's "Black and Black" and Aerosmiths rendition of "Dude, Looks Like A Lady", chaos of lights paced on and off from white strobes lighting up the stadium. Although much of the set was devoted to her Spanish songs, a mix of English based pleased all. Her own songs, which matched the harder edge performed were "Inevitable" which were very much welcomed.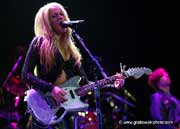 Between song sets Shakira preached to everyone "love one another" and even asked everyone to "take each others hands and tell them you love them". These were the words spoken between ballads such as, "Rules" and "The One". Expressing her concerns on global politics that "leaders are lacking love". Believing that "LOVE" is the way and can conquer all the evils of our days and wars can be avoided. Several love ballads played and everyone fully adored such as "Underneath Your clothes" that took you into her so called endless story.
Shakira showed the lighter side of a party girl in song as the old school Disco based such as "Ready for the Good Times" from her new CD, that were complimented by the shining colors of the disco ball. Bringing a very hearty party atmosphere for all this night that music is for all to enjoy and have fun. This is one of those songs that got everyone swinging back and forth and dancing with Shakira herself.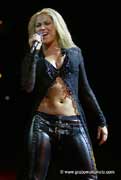 I walked away knowing more of Shakira and her talents then all this past year of seeing her on every media outlet of television and print. The past months you could not miss Shakira on a cover of some fashion or music magazine on the stands. Now I know why, this pop icon is on the top. She has taken me and turned me into a fan. Shakira gave a superior performance this night ending her explosive stage presence with "Objection [Tango]|" the first track of her English Release "Laundry Service".
Check out the full Photo Gallery


Want More



Adam Bielawski is an iconoFAN Contributor.
Photos by Rob Grabowski
Copyright 2003 Rob Grabowski
All Rights Reserved