.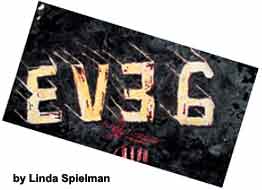 .
Welcome to the rock 'n roll military. You have just put in almost 10 years of active duty, toured the U.S. and world relentlessly, voluntarily given up what you've known as "normal life" and in a matter of a few short weeks will release your third album. This, however isn't a two, four, or six year enlistment...this is your life.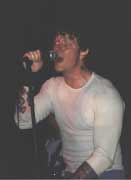 The guys in Eve 6 have done, seen and played it all through their tour of duty in the music world and aren't even the ripe old age of 25. In most cases, bands make the conscience effort and blood oath to become a successfully signed artist. With Eve 6, the decision to become a band in the mid 90s happened in the midst of casual conversation during high school gym class. With Max Collins' writing, Jon Siebels on guitar and Tony Fagenson on drums, the band brought to the table a pop punk sound which inked them a record deal with RCA in 1996 at the mere ages of 17. Long before the Simple Plans and Good Charlottes of today's musical popularity, Eve 6 introduced an infectious sound which MTV and radio quickly embraced with such songs as "Inside Out", "Promise" and "Here's To The Night" off their first two albums, "Eve 6" & "Horrorscope". By late 2001, the band had been touring nonstop for about a year and half in support of their second album. Touring and making music was considered a normal life to the group. Living out your dreams, ambitions and achieving success all before reaching the legal drinking age proved to be a bit overwhelming, and the band was in need of a change and a "new beginning". That new beginning was the everyday life that the rest of the world was leading; eating breakfast in your own home, dealing with personal relationships, and being in the same city not to mention your own bed day after day. "We were in a whirlwind; we just needed time to live normal lives—and we didn't even know what normal was," as the band recalls. Jon Siebels elaborates, "I'm glad you brought up the normalcy question and missing everyday things. I missed being able to blast my car radio and play my own CDs while driving my own car. Little things like that you take for granted."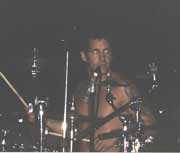 After gaining some stability and sanity back into their lives, the guys in Eve 6 started writing and conceptualizing their third release entitled "It's All In Your Head" due out July 22nd. The band penned between 15-25 songs as possible tracks for the CD and enlisted the help of producer Gregg Wattenberg to help create a fresh yet Eve 6 signature sound to the new release. The band was confident in the choices of tracks, but still needed the guidance of a good producer to help achieve their final product. The one major thing that Siebels notes Wattenberg brought to the production was enthusiasm. "We were working on the tracks for the record for so long, we needed that spark that Gregg brought to us as a type of validation that it was going to be a good product in the end. We knew from our first phone conversation Gregg was the guy, and he spoke our language. We immediately gelled."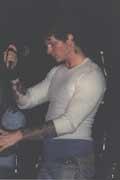 The first release "Think Twice" has been added to most major playlists on alternative stations across the United States. However, the album's content boasts many catchy pop/punk staples of Eve 6, along with a very folk sounding track entitled "Hey Montana." Through everything that the band has seen and done in the last seven years a few tracks seem to reflect the sum of the experiences according to Siebels. "'Good Lives' & 'At Least We're Dreaming' pretty much tell the story of what the band has gone through over the years.
They're Classic Eve 6 songs." Fagenson is also quick to add, "I think it's the struggle that's inherent in the music. We know we're different people now, yet still hold onto the fire, hope and passion we had when we first started the band. I think that's the dichotomy & dilemma on this record."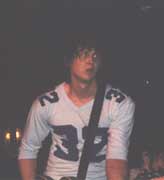 Siebels and his bandmates are quite happy with the success of this headlining tour thus far. Although he said he wasn't sure if the kids would come out seeing the record hasn't been released yet. In the past, being a fan of touring on the festival circuit Eve 6 is now able to see exactly just how strong their fan base is with the headlining, club tour. The shows have either been sell outs or near capacity crowds, drawing in a diverse collection of fans of all ages. The band has decided to only incorporate 3-4 new songs off the new album into their nightly set. "Being a fan of music, I like going out and hearing stuff I know. That's what we wanted to do with this tour. We're still playing our hits off the first two albums, although many fans have already downloaded the new songs and already know all the words," Siebels notes.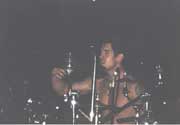 Having brought up the downloading of music, I felt that someone who is in music, who's age is the primary targeted demographic of the record buying public could give me his thoughts on the whole debated issue. According to Siebels, Eve 6 was always a pro Napster band, even being listed on their site. However he does feel there needs to be a happy medium between complete, free file sharing and what the labels want by selling records for sometimes unreasonable amounts of money. "I would much rather have kids listening and learning our songs. If they have a non-copywritten version of the album, who cares how they got it because we don't get paid enough in royalties anyway. If they're listening to the songs, enjoying them, coming out to the shows, buying the T-shirts, that's where the impact is." Although the debate is very strong on both ends, Siebels sees a new fascination with music in general that the whole file sharing controversy has stirred up since its inception circa 1999.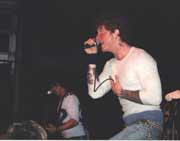 He hopes the file sharing situation may force people to care about music again in terms of quality in the content included on albums in general. "It's cut the industry and the artists down to size in many ways. For the last 15 years artists have been writing one hit song and the remainder of their album is filler tracks you don't want to listen to, then charge you $25. As a music fan and someone who buys records I feel cheated. If nothing else, I think all this is going to force artists and labels to make every song on an album a good song, so the people will not have a problem spending their money on the purchase."
Eve 6 is quite content on where they are in their personal and professional lives at present time. The overall freedom the band now enjoys was hard won, but the trio is grateful for the experience. "Opportunities are fleeting, your gotta take 'em when they come," Collins believes. "You change, grow, deal with death and money, but you learn from that and try to keep hold of your innocence at the same time."
More
Visit the official site for more info on the band
Listen To/Purchase Music From the Eve 6

Photos by Linda Spielman
All Rights Reserved