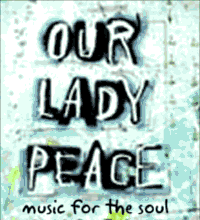 .by antiGUY
Grunge was all the rage, everywhere you looked it was Nirvana this, Pearl Jam that. Under this backdrop an exceptional new band was formed that would give Canada it's own modern rock superstars. Instead of relying on pure power chords and lyrics of discontent, Our Lady Peace created a post-grunge pop infused alt-rock sound that would appeal to fans of the Seattle sound, but also differentiate itself from that scene. This is the story of an unlikely band of melody makers that took their college dreams to multi-platinum glory.
Taking their name from a poem by American Poet and Columbia University professor Mark Van Doren, Our Lady Peace was formed by two University of Toronto students in 1992. Vocalist Raine Maida met guitarist Mike Turner on campus. Eventually, bassist Duncan Coutts and drummer Jeremy Taggart would complete the group's lineup. From the beginning Our Lady Peace stood out from their contemporaries, not only with their unusual name but with the artful and intellectual undercurrent to their lyrics and style.
It all started modestly for the band, they put together a 3-song demo within a year of forming and set out to market themselves to record labels. With the demo in hand they headed to the states and passed out copies to label reps at the New York CMJ Music Conference. A buzz developed around the band and they sorted through various offers before settling on Sony Music Canada. From there, they went into the studio to record their debut album, Naveed, which landed in Canadian record stores in 1994.
With Naveed garnishing attention for the band in their homeland with its eclectic modern rock mix, the band still had yet to grab a foot hold in the coveted music market to their south. As luck would have it Our Lady Peace found an American home for Naveed with Relatively Records.
Naveed found it's way into the ears, hearts and minds of North American music fans. The music seemed to find the perfect balance between power and melody and many became enchanted with Raine Maida's nasal vocal style. Critics were duly impressed with the post grunge style of the group. To promote Naveed the band took to the road for an exhausting two years supporting artists like Bush, Alanis Morissette and the Ramones. The single "Starseed" made inroads for the band, landing them on Billboard's Modern Rock chart and when it was all said and done Our Lady Peace had found multi-platinum success in their native Canada with their first effort out of the gate.
To prove that they were more than a one trick pony, the band wrote new material and returned to the studio to produce their sophomore album, Clumsy. When the album was released in 1997, Clumsy proved to be a critical and commercial success, selling well in Canada and earning the band a gold disc in the US.
In 1999 the band was able to prove that they had staying power and could consistently churn out new and compelling music with the release of their third album, Happiness...Is Not A Fish That You Can Catch.
It was while on the road supporting this album that a fateful event happened, Mike discovered a book that would not only inspire the title of their next album but would provide the underlying concept as well. When Mike Turner stumbled across Ray Kurzweil's book, 'The Age of Spiritual Machines – When Computers Exceed Human Intelligence.' His imagination was fueled by the concept of computers developing to the point beyond independent intelligence; into a world where they have a soul and would become true companions for mankind.
Mike's enthusiasm for the book caught Raine's attention and he soon found himself turning the pages as the band traveled from town to town. Because of Mike and Raine's interest, Jeremy and Duncan also became entranced by the concepts of Kurzweil writing. When it came time to start work on a follow up to Happiness...Is Not A Fish That You Can Catch the band decided that Ray Kurzweil's book, provided more than ample inspiration for a concept album and gave the project a name, "Spiritual Machines".
In the official record label bio for the album Raine explains, "Lyrically, this album is about finding the spirituality within ourselves. …the lyrics for the track 'In Repair' focus upon how people tend to treat each other as machines in our day-to-day life. We really need to take stock and focus our energy towards those in our lives that matter. Sometimes it seems as if we need an oil change."
Concept albums are more often than not, a hard sell to a public that thrives on hit singles to compel them to purchase albums. Yet, through the years some of the greatest albums in rock have followed the concept album formula. It's a daunting task to develop a series of songs that weave together to tell a cohesive story and at the same time can stand on their own. Our Lady Peace approached that hurdle with vigor and their natural talent for going beyond the surface. Spiritual Machines not only cements Our Lady Peace's place in rock history, it proves that if the passions of musicians are fired, than anything is possible.
If you are looking for music that has substance and lights the imagination, you don't have to look far… just stop at your local record store and look for the section labeled "Our Lady Peace".


The Band
Raine Maida – Vocals, guitar
Mike Turner – Guitars
Jeremy Taggart – Drums
Duncan Coutts – Bass
More Our Lady Peace
Visit the official site for lots more Our Lady of Peace
Listen to samples and purchase Our Lady of Peace CD's online
antiGUY is editor in doubt of antiMUSIC.com.
Photos, logo and album art Copyright Sony Music/Our Lady of Peace. All Rights Reserved by Copyright holders.