JIMI HENDRIX
Spirit of an American Legend
m
A Tribute by Goth Brooks

m

It's an honor to bring this article to all the Jimi Hendrix fans out there. I'm at a loss for words and overwhelmed by the thrill of presenting to readers of the iconoFAN sites an article dedicated to an artist the magnitude of Jimi Hendrix. When people who aren't as enthusiastic about Jimi Hendrix as I am talk amongst themselves about Jimi in the past tense, saying things like "Jimi Hendrix was the greatest guitar player who ever lived," or "Jimi was the man," I automatically feel it's my duty or my God given right to interrupt their conversation without fear of being accused of eavesdropping in order to let them know exactly how I feel. How exactly do I feel about Hendrix you might ask? Here's a brief example. 1. Jimi Hendrix IS the greatest, most innovative, creative, and influential Rock guitarist of all time. 2. Jimi IS the man. So, it gives me great pleasure to hereby declare November 27th (Jimi's and yours trulys' birthday) "Jimi Hendrix Day" at The iconoFAN Network, and to remember Jimi for his incredible talent, influence, and contributions to the world of music.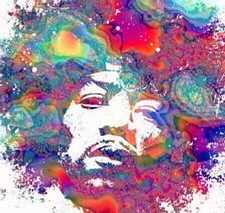 The first thing I'd like to do is to clear up some of the myths and misconceptions about Jimi. In opposition to things widely reported and believed about Jimi Hendrix by people unknowing of the facts, Jimi was NOT a drug addict. Very rarely did Jimi use hard drugs. Jimi smoked marijuana, drank alcohol, smoked cigarettes, and only used LSD on an experimental level, and only a handful of times. Jimi never put those fifty hits of acid into his headband and let them soak into his brain so he could come into contact with his creativity on a higher, more psychedelic level like the thirty-year-old rumor maintains. His German girlfriend at the time of his physical death, Monika Danneman said it best when she said, "If Jimi is to be called a drug addict, then everyone who drinks alcohol is an alcoholic." Truth is, Jimi's drug use was perfectly appropriate for the time in which he was living and for the medium that he worked in.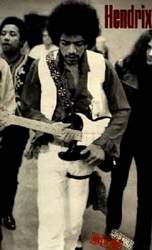 Purple haze was NOT written about, or under the influence of purple microdot (a plentiful type of acid in the 60's and 70's). The song was written about a dream Jimi had. He was walking under the sea, surrounded by a purple haze. He became lost and Jesus saved him. The song was originally titled "Purple Haze-Jesus saves." Jimi did NOT die of a heroin overdose. Jimi died of suffocation due to inhalation of vomit. He had no needle marks on his body at the time of his physical death, or the "ditches" from collapsed veins that come from a lengthy addiction to heroin and intravenous drug use. Jimi took nine vesperax pills (a barbiturate) that slowed his gag reflex so greatly that he vomited, and the vomit became lodged in his throat causing him to suffocate when his body was unable to discharge the vomit due to the slowed reflex.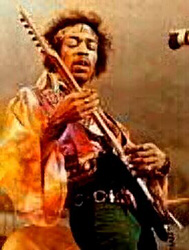 Jimi was born Johnny Allen Hendrix on November 27th, 1942 in Seattle, Washington. His father later changed his son's name to James Marshall Hendrix. Jimi's father Al noticed Jimi's early interest in the guitar and recalls "I used to have Jimi clean up the bedroom all the time while I was gone, and when I would come home I would find a lot of broom straws around the foot of the bed. I'd say to him, 'Well didn't you sweep up the floor?' and he'd say, 'Oh yeah,' he did. But I'd find out later that he used to be strumming the broom like he was playing a guitar." Al found an old one string ukulele and gave it to Jimi to play with, which was better than playing that old broom. By the time Jimi was 15, Al gave him a second-hand acoustic guitar that he bought from one of his friends for five dollars. Jimi joined his first real band The Velvetones shortly after, and quit the group after three months to pursue his own interest. In the summer of 1959 Al purchased Jimmy his first electric guitar, and Jimi played that guitar in the Rocking Kings.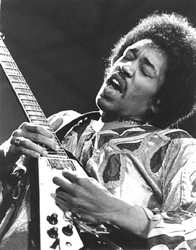 In 1961 Jimi enlisted in the U.S. Army and served as a paratrooper. It was while stationed at Fort Campbell, Kentucky that Jimmy formed the King Casuals with future Band of Gypsys bassist Billy Cox. After serving two years in the Army Jimmy was discharged due to a back injury resulting from a parachute jump. Upon his discharge Jimi began working as a session guitarist on the "Chitlin Circuit" under the name Jimmy James, and at other times calling himself Maurice James. He played with Ike and Tina Turner, The Isley brothers, and Little Richard. Jimi left Little Richard to form his own band and step into the lead guitar spot with Jimmy James and the Blue Flames. In 1966 The Animals bass player Chas Chandler saw Jimi playing at a Greenwich Village club called "Café Wha?" and was so impressed with Jimi's performance that he returned later that year to sign Jimi to a contract that would move Jimi to London to form a new band. It was Chandler who changed the spelling of Jimi's name from Jimmy, to Jimi.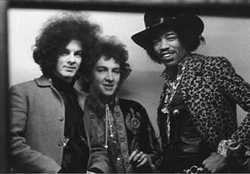 Jimi's career was on the move, and the Jimi Hendrix Experience featuring Mitch Mitchell on drums and Noel Redding on bass was the talk of London by the fall of 1966. The singles "Hey Joe", "Purple Haze", and "The Wind Cries Mary" were big hits in London before American audiences were ever exposed to The Experience. Jimi's homecoming was when the Experience played the Monterey Pop festival in 1967. Jimi's performance at the festival was the beginning of Rock and Roll theatrics and pyrotechnics, literally. In a friendly rivalry with Pete Townshend of the Who over who would go on first in order to beat the other to the punch of ending their set with more hi-drama than the other could follow with, Jimi lost the toss of the coin and would have to follow the devastation the Who left behind with the destroying of their equipment. Not one to be upstaged at his homecoming, Jimi brought the festival to a historic closing with the on-fire sacrifice of his guitar at the end of Wild Thing.
Hendrix never made the sacrificing of the guitar into a regular part of the bands live performances though because it was too distracting and too expensive. Jimi disbanded the Experience in 1968 and moved to New York where he built Electric Ladyland Studio to record new music. Jimi recorded new ideas and experimental music in his new studio, while also teaching himself production techniques. He organized The Gypsy Sons and Rainbows band to play Woodstock in 1969. Gypsy Sons and Rainbows consisted of Jimi, Mitch Mitchell, Billy Cox, Larry Lee on rhythm guitar, and percussionists Juma Sultan and Jerry Velez. After Woodstock Jimi formed Band of Gypsys with Billy Cox on bass and Buddy Miles on drums and released the incredible Band of Gypsys album in mid-1970. As the year progressed Jimi brought Mitch Mitchell back into the fold and entered the studio with Mitch and Billy to record tracks for the tentatively titled First Rays of the New Rising Sun. Sadly Jimi was unable to see the completion of the album through due to his hectic touring schedule and tragic and untimely death on September 18th, 1970. With the support of Jimi's family and original studio engineer Eddie Kramer First Rays of the New Rising Sun was released in 1997.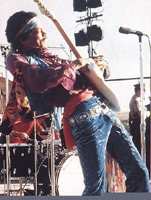 The body of Hendrix work in the span of his short career from 1967 to 1970 is absolutely mind blowing. In addition to the three incredible studio albums he gave us, there are demos, finished masters, and complete songs without working titles. As new Hendrix releases keep coming thirty years after his physical death, it stands as proof to just how influential an artist Jimi is. Even today the percentage of younger people being turned on to Jimi's music is phenomenal. When somebody shells out their fifteen bucks for a Hendrix CD you can bet they're not buying it for a gimmick or novelty. They're buying great music that's stood the test of time, by a musical legend that will live with us in spirit until the end of time.


Check out the official Jimi Hendrix site
Buy Jimi Hendrix music and merch at the iconoSTORE (over 40 items!)
photos 1-3 from the Crazy Fingers Web site