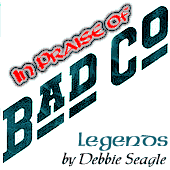 Brothers and sisters, raise your hands and sing with me! Aleluuuuuuya! Yay, though I walk through the valley of the shadow of boy bands, no vile formulaic music do I fear. For there is always a classic rock band that we can count on. A band that has stood the test of time. A band who's riffs and compelling lyrics still light fires in the hearts of our partying brethren. That band . . . I say that band . . . is the incomparable Bad Company.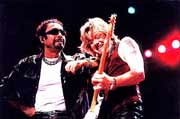 Brothers and sisters, can I get an amen for Bad Company? Can I get an amen for the British brothers who brought our "Rock & Roll Fantasies" to life? And when life is hard, and teen refuse is all around, look up and take heart. See our classic rock saviors come back from the land of disbandment and into the light. Back into our homes and our cities. Bigger, badder, and better than ever! Aleluuuuuuuya!
Why am I mounting this pulpit to bring you the news? Because it was a truly religious experience to see Bad Company in the summer of 2001. This is a band that defined the rock of the 70s and in the year 2001, they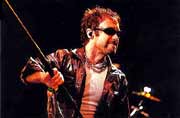 are still a lean, mean, rockin machine. They are survivors of the decades of excess, clean, and as tight as any band I have ever seen. Paul Rogers can still wail, and hold a sell out audience in his grasp with his powerful voice.
Don't tell me you aren't interested in what musicians from the 70s have to offer. Musicians don't think that way. They respect the pure foundations that have been laid for them by the musicians of past decades. Sometimes I get to feeling like the state of music today is a vast waste land of discordant tones and primal screams. I long for the days when big guitar sounds, British rock and discernible lyrics ruled the airwaves, and the world. That is the classic rock realm. The land of epic power chords that made you uncontrollably want to play air guitar! It is the land from which I write.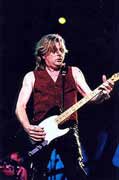 Its nice sometimes to go back there and try to remember where you were or what you were doing when you first heard the song "Running With The Pack," "Ready For Love," or "Can't Get Enough." I, for one, learned to play guitar while listening to the title track "Bad Company." That simple riff, so powerful and forceful, was the embodiment of rock to me. Each power chord placed in just the right spot to create an anthem for generations.
So where did it all begin? The band, Bad Company (named after a Robert Benton western), was formed in 1973 in London, England by Paul Rogers and drummer Simon Kirke. They were joined by Mick Ralphs of Mott The Hoople and Boz Burrell of King Crimson rounded things out on bass. They were a band that shared the same record label and manager as Led Zeppelin, and with their radio-ready songs and an eye towards the charts, they set out to make a dent in the British and American music scenes.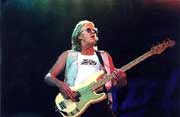 The group debuted in 1974 at the Newcastle Town Hall and put out their first album "Bad Company," which went platinum (eventually five times over) in the States with their debut single, "Can't Get Enough." It made the US Top 10 and the UK Top 20. Bad Company followed up their initial success with the 1975 release of the triple-platinum album Straight Shooter, which contained the Top Ten smash ballad "Feel Like Makin' Love" which also won a Grammy Award.
The wildly successful "Run With The Pack" in 1976 was the band's third consecutive platinum seller, fueled by the infectious Top 20 single success of the Coasters' classic "Youngblood." Upon its release, it soared to number five in both the US and the UK. With three albums under their belt, the explanation for the group's success was their steady stream of first rate original material, and Rogers and Ralphs were the band's writers. "I always thought it was important for the group to have more than one writer," states Rodgers. "If there was any competition between us, it was always friendly."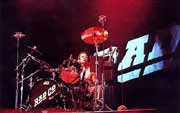 "Burnin' Sky" reached gold status in 1977, followed by the double-platinum "Desolation Angels" in March 1979. After that, Bad Company gathered at Ridge Farm Studios in Dorking, Surrey to record "Desolation Angels." "Rock 'n' Roll Fantasy" was the first track on the album and set the stage, going on to become a gold selling classic. Another highlight of the album was "Oh Atlanta." "That was Bad Company meets Little Feat," laughs Kirke. "We always had a great time in Atlanta and I think you can hear a bit of the country influence in that song."
The band, having played for nearly a decade, that included relentless touring and recording, reached a personal saturation level and a life altering decision was imminent. According to Rodgers, "at this same time there came a point when I felt the band and its commitments had completely overtaken my life. I needed to get my feet on solid ground and spend some time watching my children grow. I never left music, I left the band." After the release of the Top 30 album "Rough Diamonds" in 1982, Rodgers left the band to take time off and to eventually pursue a solo career. "Looking back, we stopped at the right time," recalls Ralphs. "Paul wanted a break and truthfully we all needed to stop. Bad Company had become bigger than us all and to continue would have destroyed someone or something. From a business standpoint, it was the wrong thing to do, but Paul's instinct was absolutely right."
In 1986, Kirke and Ralphs resurrected the Bad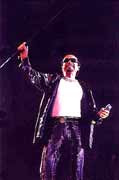 Company name. Over a six year span, from 1986 to 1992, this version of the band released four albums including Fame and Fortune, Dangerous Age, the platinum selling Holy Water and Here Comes Trouble. the band released two more albums, 1995's Company of Strangers and Stories Told and Untold in 1996. While the music was always consistently well played and tours well attended, nothing could replace the writing, stage presence and, of course, those one-of-a-kind vocals that Rodgers brought to the equation. Fans and critics alike began to clamor for a reunion of the original band and finally, it happened when Rodgers got together with Kirke, Ralphs and Burrell in England to hang out and record.
The long awaited reunion came together in 1999 and saw the band not only complete a 30-date U.S. tour that drew sellout crowds, but also oversee the release of the acclaimed "Original Bad Company Anthology" that year as well, a dynamic two-CD, 33-song overview of the band's career released on Elektra Records. The compilation received significant radio and chart action, exemplifying just how timeless Bad Company's music is.

Genre: Classic/British Blues Rock
2001 Touring Band:
Paul Rogers - Vocals
David "Bucket" Colwell- Guitar
Rick Wills - Bass
Simon Kirk - Drums
Original Band Members:
Paul Rogers - Guitar, vocals
Mick Ralphs - Guitar
Boz Burrell - Bass
Simon Kirke - Drums

Career Album Discography:
Career Turning Point:
The long awaited reunion came together in 1999 and saw the band not only completed a 30-date US tour that drew sellout crowds and much critical acclaim, but also the release of the Original Bad Company Anthology that year as well. It was a dynamic two-CD, 33-song overview of the band's career released on Elektra Records. It featured six B-sides and out takes including "Easy On My Soul" and "Whiskey Bottle" that were recorded during the Straight Shooter sessions along with an alternate recording of "Do Right Woman."
Another previously unreleased track is the Boz Burrell-composed "Smokin' 45"that was recorded during the "Burnin' Sky" sessions. The Anthology also contains four new tracks including the Anthology's two singles, new songs "Hey Hey" and "Hammer of Love," which received significant radio and chart action exemplifying just how timeless Bad Company's music is.
Quotable Quote:
"We were influenced by people like Jimi Hendrix, Cream, and, to a certain extent, the Beatles," explains Rodgers. "I don't think that Bad Company was particularly blues influenced as a band, although I probably brought that in as I'm such a huge blues fan. We were just trying to play what felt good and natural. I think that is what gave us our identity as a band."

Get more information on the band
Photos by Debbie Seagle Copyright 2001 Groove Quest Productions - All Rights Reserved - Debbie Seagle is the Special Features Editor for the iconoFAN Network.