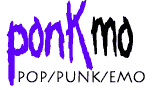 Pillar - The Reckoning (Special Edition) Review
by Kevin Wierzbicki

.
This Okie quartet has been cranking out Christian emo for about seven years now and they are highly polished. Just what the, uh, heck, does that label mean, anyway? Well, if you drop off the "Christian" part and deal with just the music, you know the style---the melodies are modern but the emotions are ancient---love, loss, hope, despair, etc. The Christian part is really a personal thing for Pillar, coming across in their music in the form of spiritual maturity as opposed to bible beating. The band likes a bit of a harder edge to their music, often crossing the border into nu-metal territory. Singer Rob Beckley can slip into screamo mode easily and guitarist Noah Henson and bassist Kalel have their axes tuned to drop-C, a technique that adds guts to their sound (System of a Down uses drop-C for lots of their stuff.) And while the band rocks fervently on most of The Reckoning, they do mellow out for "Angel in Disguise," a tune that shows that Beckley can really sing. This special edition of The Reckoning comes with a bonus disc, a concert DVD taped last year at the Cornerstone Festival. The band previewed three songs from the CD at that time, "Everything," "Tragedy" and "Crossfire." Otherwise everything on the film is from the band's significant archive, starting with "Fireproof," an oldie from 2002. The show is a no-nonsense rock-out---who needs pyrotechnics and gimmicks when Beckley gets the huge crowd moshing on the first song while Henson takes aim at anyone near him with his wildly flying dreadlocks. The film is shot with the same care evident on the studio recording. An interesting special feature of the DVD has each member taking a few minutes to show their gear and explain just how they put it to use; not quite tablature but a good start for those who want to play along at home.


CD Info and Links


Pillar - The Reckoning (Special Edition)
Label:Flicker
Rating:



Preview and Purchase This CD Online
.

---
...end