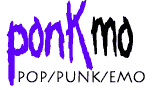 Punk Goes '90s Review
by Kevin Wierzbicki

.
They've done pop, metal, acoustic and the '80s and now the latest themed compilation from Fearless Records covers the '90s. About half of the bands play it safe with their cover versions and don't change the original arrangements in any noticeable way. That results in some good stuff anyway, like the Plain White T's powerful (complete with "woo-hoo's") take on Blur's "Song 2" and Bedlight For Blue Eyes' emotional reading of Third Eye Blind's "Jumper." But the best comes from those who, as the American Idol judges might say, really make the song their own. Gym Class Heroes infuse the Red Hot Chili Peppers' "Under the Bridge" with a hip-hop vibe that moves the song's subtle funk cross-country from L.A. to New York City while Hit the Lights kick up the tempo on the Gin Blossoms' hit "Hey Jealousy," turning the former laid back jangle into an urgent slice of power-punk. Not a lot of big names represented here, but that's the idea---give these up-and-comers a chance to perform some proven material. Cartel, Copeland, Mae, Emery, So They Say and the Killing Moon are some of the others re-working familiar tunes from the '90s.


CD Info and Links


Punk Goes '90s
Label:Fearless Records
Rating:



Preview and Purchase This CD Online
.

---
...end
. .