Professional Murder Music
By antiGUY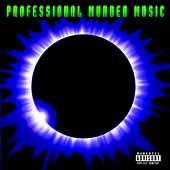 Suspend your disbelief for a second and imagine an explosively sinister wall of sound echoing elements of nu-metal heroes Korn bridged with post Rob Zombie Industrial only to meet in a dark alley with goth legends the Cure. The seemingly unrelated sounds and styles come together into one elegantly cohesive package with Professional Murder Music and their self-titled debut album from Geffen Records.
When promoting the album, Geffen promises the listener a soundtrack for the dark side of the distraught human psyche. That contention rings true as the listener is enveloped in a collection of dark moody songs that are rapt with power and melody.
Fans of Finger Eleven, Korn or Godhead will all find familiar elements to cling to, yet PMM takes Goth/Industrial music to the next level with a precise attention to detail not found with their contemporaries. This CD provides a delicate melding of electronic resonance with the heavy riffs of nu-metal that creates a modern sound that has the driving beats as well as unwavering melodies.
Producer Josh Abraham (Orgy, Powerman 5000) helped vocalist Roman Marisak, guitarist Brian Harrah, bassist Jeff Schartoff and drummer Justin Bennett form their sonic vision and create this indispensable debut album.
PMM frontman Roman Marisak manages to project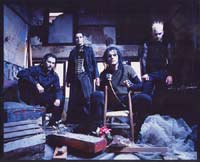 strong emotions without resorting to the primal screams that so many vocalists utilize these days to get their point across. While Marisak can scream with the best of them, he appears secure enough with his vocal ability that he doesn't go overboard with the technique and the songs don't suffer for intensity in the process. If anything his vocals carry a hint of desperation that give the songs far more emotion than a simple scream would.
Guitarist Brian Harrah further helps the band distinguish themselves. While applying powerchord riffage to give the songs structure Harrah further showcases his skills with understated leads that carry the melody of the songs in much the same way that Billy Duffy's unforgettable leads provide the magic element to the music of The Cult.
Often overlooked, a rhythm section can make or break a band. PMM's co-founder and bassist Jeff Schartoff earned his rock and roll credentials as part of the Human Waste Project, now with Professional Murder Music he joins with drummer Justin Bennett to create a vital musical canvas for the rest of the band to apply their unique colors to. There is no taking the easy road with this band, Justin Bennett ignores the tendency of other goth/industrial groups and goes far beyond simple driving beats, he provides the extra sonic tapestry that helps give the songs their intense power with fills at every possible turn.
The result of these individuals joining their separate talents together is one of the best releases of 2001. From the melodic hard rockin sound of the first single "Slow" to the modern interpretation of the Cure classic "A Night Like This", PMM provide a catalyst for the Goth/Industrial sound for the 21st Century. Don't delude your eardrums with impostors; PMM is the real deal as their debut album surely shows.
.
The Bio
Courtesy of Geffen Records.
Professional Murder Music's vibe is at once foreboding and vital--and as intense as the band name suggests. The quartet's dozen-song Geffen debut provides a penetrating soundtrack to the psyche, yet within the potent sounds lies an "unerring sense of melody and structure," as one journalist raved. On PMM's self-titled bow, produced by Josh Abraham (Orgy, Powerman 5000), songs like the hypnotically upbeat first single, "Slow," to the futuristic melodicism of "Fall Again," to a cool take on the Cure's "A Night Like This," showcase the band's wide range of organic and electronic stylings. It's a distinct, signature PMM approach, based in the memorable songs, not a mere collection of striking sounds. "We wanted the album to be as multi-dimensional as the band is live: to have mellow moments, ambient sounds, plus the real aggressive, faster, heavier songs," explains singer/band co-founder Roman Marisak.
Formed by Marisak and bassist Jeff Schartoff, Professional Murder Music was a dream that took several years to perfect and realize. Schartoff was in the band Human Waste Project, touring the world as part of Ozzfest, and with bands including Tura Satana, which featured future PMM guitarist Brian Harrah. Marisak, who, at several points, was also briefly a member of Human Waste Project, worked constantly in his home studio, honing PMM's music and approach, and whenever Schartoff was off the road, the duo conspired on Professional Murder Music.
And it paid off. Completing the lineup with drummer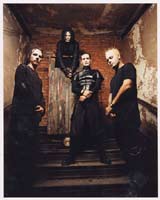 Justin Bennett, the Los Angeles-based PMM signed with Geffen. Yet much national and international awareness of Professional Murder Music preceded their record deal. Shows with everyone from Orgy to Static-X to Fear Factory and strong press reviews piqued industry interest, though Professional Murder Music were more concerned with making music than landing a deal. In fact, in 1998, the band recorded their own EP at Marisak's Plan A Studio and sold it via the Internet, where several PMM fan sites existed. Clearly, the band couldn't stay a secret for long, and by late 1999, PMM's "Slow," a version produced by Toby Wright (Alice In Chains, Metallica), appeared on the star-studded "End of Days" soundtrack next to the likes of Korn, Guns N' Roses, Limp Bizkit and Rob Zombie. PMM's track was a standout, garnering airplay and finding its way into the bed/background music of several syndicated radio shows as well as being utilized by MTV and sports shows.

Prior to recording Professional Murder Music, the lineup landed a tour with Kid Rock and Powerman 5000. Since Schartoff had been spreading the PMM name and lore while on tour with his previous band, "a lot of people knew who we were," the bassist relates. "And we were playing 5,000-seater gigs where kids were into us even though we hadn't even recorded our major-label debut yet! Plus, musically, we were going onstage like this big dark cloud, so it was a great contrast to Kid Rock." After that tour, in March, 2000, the band's debut record was cut in L.A. with producer Josh Abraham. After its completion, PMM once again hit the road, landing a slot on the cutting-edge Tattoo the Earth tour, where they earned a strong response from the aggro masses.

The tunes on Professional Murder Music enjoyed the benefit of live playing to hone and intensify the sounds that often began with band-created loops. The songs, explains Marisak, are very visual, and in fact, Schartoff wanted to have a screen and project movies like "The Shining" and "Apocalypse Now," during the recording process. Although that didn't come to fruition, many of the tunes have an epic, soundtracky feel to them. "Some of the sounds in "Of Unknown Origin" and "Sleep Deprivation" were inspired by movies like '12 Monkeys,' though it's not obvious. It's more like, 'how do I make this guitar part, or bass part, sound like the way I felt when I saw that particular scene in that movie?' Like the tension in one of my favorite scenes in 'Reservoir Dogs'... we are about capturing that musically."

And they did. The dozen songs were tracked first at the band's own Plan A Studio, before going to L.A.-area studios NRG and Westlake with Abraham at the helm. Subsequent mixing was from the revered Tom Lord Alge (Oasis, Peter Gabriel), and several cuts were also mixed by Skinny Puppy's Dave Ogilvie (Marilyn Manson, NIN). Musical guests, too, helped flesh out the PMM fantasy. A Perfect Circle (and former Failure) guitarist Troy Van Leeuwen is on "Fall Again," a song, Marisak says, that "demanded his particular signature style." Knox from Siouxsie and Banshees contributes cello to "Sleep Deprivation" and "Darker," while ex-Motley Crue drummer/current Methods of Mayhem member joined for a track called "Disconnect," which is not on the album, but will likely appear on a soundtrack or future album. Finally, Schartoff's former singer in Human Waste Project, Aimee Echo, contributes background harmonies to "Does It Dream," and DJ Lethal is on the CD's last cut, "Painkiller Intro." An "intro" at the end of the record? "It's the start of the next phase, maybe," Marisak hints. "It's a look into the future, though not necessarily the next direction. We leave the doors very open for that."

Doors are also open as to interpretations of the band's name. Like much of PMM's approach, it's not what it might seem. The band name and their music have nothing to do with serial killers or homicide. Rather, the band moniker is more a reflection of PMM's dead-on intensity as well as a statement of musical intent. "I mean, really, would you ask Korn if they like it on the cob or creamed?" queries Schartoff. "Likewise, it's silly to assume we dig serial killers. Our name isn't contradictory, but it's more a statement of how we feel that much of pop music is contrived crap. I mean, we're pretty sarcastic about that stuff, but on the other hand, we don't care about musical battles or competition. We do our own thing."

And always have. In fact, it's the D.I.Y punk ethic that fueled Schartoff growing up in Huntington Beach, California, and that drove Marisak, at 18, to move from Florida to Los Angeles. The two actually met old-school style, via an ad in a music mag. While Schartoff dug everything from the Doors and Sabbath to hardcore punk like Discharge, Crass and Rudimentary Peni, Marisak was working on taking programming to a new level. Marisak's ad that caught Schartoff's attention? "He listed influences as Public Enemy, Jane's Addiction and Slayer," recalls Schartoff, "and I thought, 'this f***ing guy is for real!'" Plus, Schartoff adds, "I was always into sound effects, movie sound effects, and stuff like Bauhaus, more cinematic and atmospheric, and Roman and I are on the same page where that's concerned, and utilized those vibes in PMM." At first, Marisak was guitarist and programmer, and the duo, when Schartoff wasn't on the road, were auditioning singers. About a year and 200 failed tryouts later, it became clear that Marisak was the one to give voice to PMM's music. Indeed, England's Kerrang! called the band a "razor-sharp blast of industrial noise shot through with rock guitars and Marisak's frenzied vocals." And those vocals have something to say. Though the CD doesn't have a set theme, much of Marisak's musical musings are "the emotions of career and success; trying to free your mind and life and art and from frustrations and people who try to hold you back. I was always focused on what I wanted to do," furthers Marisak. "And although my lyrics are not always specific incidents or stories, like the music, there are twists, turns and individual interpretations."

With the early 2001 release of Professional Murder Music, fans will find their own meanings in PMM's debut outing. The band's mesmerizing live show, too, will enhance PMM's fierce aural soundscape, creating a cohesive and memorable melding of music and performance. "However," assures the band, "nothing will detract from the intensity of the music." As if anything could.

.

Want more?

.
Visit the official web site for news, media clips and tour dates!
---
Listen to sound clips and Purchase the CD online
---
Check out the Professional Murder Music "Slow" digital postcard!
Mac Users click here
Album Art and Bio courtesy of PMM and Geffen Records. All Rights Reserved by Copyright holder.