benjamins
By Keavin Wiggins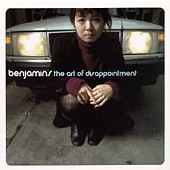 Poppy alt-Punk has some new heroes in the form of the Benjamins. This Milwaukee quartet delivers an entertaining debut album, "The Art of Disappointment" that does not live up to its name. Stradling the fence between Emo and Punk-pop The Benjamins find a happy middle grand that's melodic but still rocks and delivers fun contemplative lyrics with songs like "Couch", "Wonderful" and "Little Tin Heart". Sure we've heard similar stuff from Weezer - but hey this stuff is cool, fun and a nice break from the mall-core stuff that we can't seem to escape from.

Live the Benjamins take the energy up a notch and easily catch the attention of concertgoers as I witnessed at a recent show where they opened up for label mates – FenixTX. About 30 seconds into the first song the standing room only crowd went straight to their feet and started swaying to music as the Benjamin's held them captivated with their poppy alt rock sound and energized live presentation. It was hard to transverse the sea of young fans to get a close look at the group so from my vantage point toward the back of the hall I was able to witness them win over the hearts and ears of the crowd and for an L.A. area club that is no easy task. It was disappointing when the band finished their set but at least I had the CD to listen to on the way home.

"The Art of Disappointment" is a fine first effort and a nice diversion from all of these groups that seem to take life and themselves way too seriously. Seeing them perform live only solidifies the fact that these guys know what the hell they are doing and can easily win over a crowd with their music. So hats off to the Benjamins on a great debut CD that helps make the world of rock a little richer.

.

The Bio

.
"A stack of mix-tapes brought me closer /And I know that it's a modest melody / That sent you out to find the perfect guy / But found you crashing into me"

That's the halfway point of "Sophia on the Stereo", one insanely hooky chorus disguised as a three-minute pop song and the perfect encapsulation of what The Benjamins are: They're the Cars filtered through Built To Spill and Weezer, cut with just a dash of snotty, pop-punk for flavor. They've studied the history of great melodic rock- from the Beatles and the Beach Boys to Blur and Radiohead - and let it soak in, then promptly forgot everything but the basics.

The Art of Disappointment is the Milwaukee band's first full-length, and its sound and songs belie the youth of the quartet (barely a toddler at three years old) and its members (let's say "college-age.") On the other hand, maybe it sounds just like what it is - four twenty-somethings (singer Jay, drummer Jon, guitarist Dan, and bassist Ben) already missing their late teens, and realizing that maybe things don't really change that much as you get older.

The Benjamins may be the only band in the history of rock to be discovered by their bass player: Ben saw the band (then featuring a different drummer) playing in a Milwaukee dive and decided then and there that it was, indeed, all about the Benjamins (sorry). By force of sheer will, he was soon their four-stringer, and his best friend Jon was recruited to play drums not long after. With this foursome solidly in place, things began to happen quickly.

Sometimes I think of you, but it's cool to be alone. It's nice to not have to fight for my blanket.

You're not supposed to work on Labor Day, but that's exactly when The Benjamins recorded their first CD in 1999, the magnificent Bordering On Boredom EP. These six songs of broken-hearted bliss garnered them favorable regional attention after they were released in February of 2000, almost one year to the day before the release of, The Art of Disappointment, their Drive-Thru records debut. How that happened is interesting, too. An action-packed live show (this band hasn't a hint of that "we're so bored to be playing for you"-attitude) won The Benjamins fans throughout the Midwest. One such fan (who also happened to be a street team rep for Drive-Thru) interviewed the band for a punk zine after a particularly fine night of rocking in lovely Green Bay, WI.
Continue