b
by antiGUY
.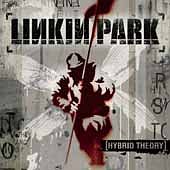 The CD

.
Hybrid Theory - Linkin Park
Warner Brothers Records
CD Rating




I first heard about Linkin Park a couple months ago when the buzz was going on around music circles about their debut CD. Typically, a red warning light goes off in my head when I hear so much rambling going on before anyone had heard a single note. Vision of Christina Aguilara flashed through my mind. Remember her face plastered everywhere weeks before her "music" was heard. So it was with great skepticism that I approached this CD. The bar was high; my thinking going in was this CD had better blow my mind!

The verdict?

This is the rare case where the hype lives up to the reality. Hybrid Theory's 12 tracks fulfill the prophecy. Linkin Park has exploded into the forefront of the music world for good reason; the music is there!

Taking one part Deftones, one part Godsmack and another part Nine Inch Nails, Linkin Park creates a modern day hard rock, rapcore/hip-hop, and industrial hybrid much in the vain of Finger Eleven. They take the best parts of each of these genres and create an explosive mix of music that leaves the listener craving more.

Hybrid Theory is a textbook example of great production. Don Gilmore's magic hand blended the guitars, rhythm section and vocals perfectly, showcasing each without sacrificing the overall solidarity of the band.

Dueling vocalist Chester Bennington and Mike Shinoda are this band's secret weapon. Powerful yet melodic, they show the Fred Durst' of the world how it really should be done. Brad Delson proves that powerchords can be used to good effect. And DJ Joseph Hahn doesn't over do it, providing a hip-hop undercurrent that shouldn't annoy traditional hard rock fan.

The bottom line here: Linkin Park takes the current hard rock movement to the next level. They should open doors to new fans, who had previously turned their back on the modern hard rock and it's offspring: rapcore, nu metal and post grunge industrial. You can ignore the hype all you want, but you can't ignore this band! Don't just take my word for it; listen to Linkin Park for yourself.
.

The Bio

. Ask Linkin Park guitarist Brad Delson for a wish-list of bands he'd like to tour with, and he's ready with a response. "We told our manager, 'Pick a band and we can tour with them.' Our music reaches out in so many directions that there's pretty much an unlimited amount of cool bands with which we could play.."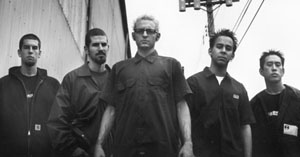 Delson is understandably proud of the diversity and uniqueness apparent on the band's debut album, Hybrid Theory (the band's original name). Built on an aggressive hard rock foundation, flavored with hip-hop vocal stylings and electronic flourishes, Linkin Park's sound is utterly their own, an accomplishment strengthened by the band's remarkably powerful and unforced songwriting. But almost everything about Linkin Park has been unforced, including their Southern California origins.
Delson and emcee/vocalist Mike Shinoda attended the same high school together, where Delson also met the band's drummer, Rob Bourdon. Shinoda then hooked up with DJ Joseph Hahn while studying painting at the Pasadena Art Center. The final piece in the puzzle was singer Chester Bennington, a transplanted Arizona native who started making records when he was sixteen.
"Since I learned how to talk I've been telling everybody I was gonna grow up to be a singer," laughs Bennington. "When I was two, I used to run around singing Foreigner songs – there's tapes of me doing that."
The combination of Bennington's rich, mammoth vocal style clicked immediately with Shinoda's streetwise emceeing. "I think one of Chester and Mike's goals is to be as integrated as possible," offers Delson. "We want our sound to come across so that people go, 'oh, that's Linkin Park,' not 'I heard this hip-hop part, and now they're hitting me over the head with this rock chorus.' We want everything to have dynamics, but also a continuous cohesive flavor, so that you know what band you're listening to."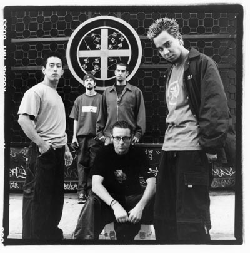 It was that cohesive style and instantly memorable songs that attracted immediate attention, starting with a publishing offer after the band's very first show at L.A.'s famed Whisky. After showcasing around town and eventually inking with Warner Bros., the band began work on their first album with producer Don Gilmore (Eve 6, Lit, Pearl Jam). "We met with a lot of people and had a very difficult time deciding," says Shinoda. "But Don, aside from making things sound good, stood out as someone who could really push us further as songwriters.

The end result is an album that's as well-crafted and melodic as it is confrontational, with a strong lyrical message.

"We try to push real things through in our lyrics; whether it's feeling insignificant or questioning your own thoughts or discovering the dark side of yourself."

Weaving influences as diverse as Deftones, Nine Inch Nails, Aphex Twin, and The Roots into a single unified whole, Linkin Park and Hybrid Theory are living proof that a fresh combination of talent, an unwavering dedication to craft, and a pure artistic vision can result in a powerful musical statement.

"I've wanted to do this my whole life, and I feel really blessed to be here," says Bennington. "A lot of hard work and dedication and faith can get you through anything and make it happen."



The Band

Chester Bennington – vocals
Rob Bourdon – drums
Brad Delson – guitar
Joseph Hahn – DJ/samples
Mike Shinoda - vocals
.

Want more?

.
Visit the official web site news, media clips and tour dates!
---
Listen to sound clips and Purchase the CD online

Photos courtesy of Linkin Park and Warner Brothers Records . All Rights Reserved by Copyright holder.