Maroon 5


by Linda Spielman
Being hand-picked as one of the two opening acts (Sugar Ray being the second) for the current Matchbox Twenty Tour, Maroon 5 is now being given the opportunity to reach huge crowds with their colorful name and even more colorful sound.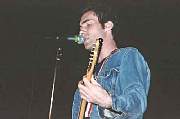 If you come early enough and with an open musical mind to see Maroon 5 play their 35 minute set, you may bit confused as to where this band fits in terms of musical categories. However, you may possibly come away pleasantly surprised at their sound. The Maroon 5 of today is a far different band than what they originally started out to be. Based out of Los Angeles, they first emerged on the scene as Kara's Flowers in 1995. Their previous sound was that of a hybrid of rock, punk and pop influences. With mediocre success on Reprise Records circa 1999, the band decided to experiment with a new direction in their existence and sound. Lead vocalist and guitarist Adam Levine moved to New York City between bands and record deals. There he was exposed to a much more urban music scene than what LA had offered. With the new found musical muse and influence, Maroon 5's current infusion of R & B, jazz, funk, alternative rock evolved into their CD "Songs About Jane".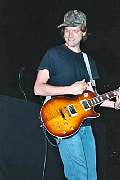 New songs on Maroon 5's release "Songs About Jane" such as with the first single, "This Love," as well as "Sunday Morning," "Secret," and "Not Coming Home" reflect a sound evocative of the band's deep interest in soul music. "During the time between our record deals," Adam recalls, "I spent a lot of time in New York where I was exposed to an urban and hip-hop culture in a way that had never happened to me in LA It turned me on to an entirely new genre of music which has had a profound impact on my songwriting."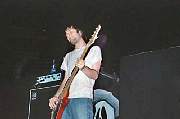 It is very hard to pinpoint what Levine, James Valentine (guitar), Jesse Carmichaels (keyboards), Mickey Madden (bass) and Ryan Dusick (drums) want you to come away with in terms of their music. As I sat, listened and thought I had finally nailed down where their sound fit in, they would surprise me with a new song and a new vibe. The set was inclusive of much of their album, but a song like "Harder To Breathe" has elements reminiscent of The Red Hot Chili Peppers funk, a bit of jazz, Levine's energetic and raw vocals, with all the elements of an alternative band. Their performance left my musical mind in a bit of a tailspin, but a good tailspin.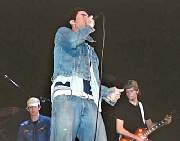 Maroon 5 has been touring on festival circuits like the 2002 Jeep Outside Tour with Sheryl Crow and playing many club dates. It appears from friends and people I talk to online, that the band has almost an underground cult following. Although they may have not worked their way into Pittsburgh radio airplay, there were quite a few people in the audience who knew every word to every song Maroon 5 played. At first listen, I would have thought this is an NYC based band who's sound and energy can only be found in one place, Greenwich Village. Never would I have believed this band was originally from LA with their sound.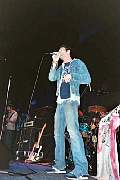 Although the energy and music of Maroon 5 was a refreshing change of pace from many past opening acts I've seen, I feel that a lot of what they bring to the table may get lost in the shuffle of a large arena tour like the Matchbox Twenty tour. Although it is the best way to reach the masses & showcase their talent, I truly feel the best way to enjoy this band is in a good club. If the underground buzz and fan base of Maroon 5 continues, it is only a matter of time before they too will be headlining their own shows.


More Maroon 5





Past Articles on Maroon 5

Photos by Linda Spielman