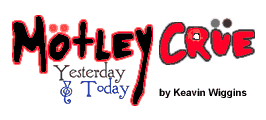 Generation Swine and Methods of Mayhem.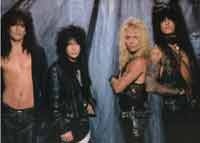 When the band went into the studio to record the follow up to their self titled album, there was a lot of tension. An inexperienced co-producer and friction between the members were creating squabbles as the Crüe tried to find their direction. Corabi was frustrated with Nikki and Tommy would couldn't make up their mind what kind of album they wanted to make and after a tense day in the studio he told Tommy he didn't want to be a singer, he just wanted to play guitar.
Unbeknownst to the band, their manager was working behind the scenes to bring Vince and the band back together after Vince's solo efforts had petered out. Taking Corabi's angry outburst as an excuse, the original members of the Crüe were reunited and John was out of a job.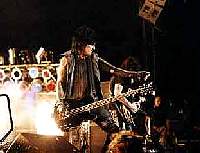 The reunion album, "Generation Swine," was a return to the classic Crue formula and the fans loved it, placing it at number 4 on the charts. But the momentum didn't hold long and sales fell off. Meanwhile the lack of support from Elektra forced the band to leave the label and sign to Beyond Records.
Then Tommy split and formed his own band Methods of Mayhem and the Crüe hired on their friend and former Ozzy Osbourne drummer Randy Castillo to replace Tommy. Armed with a new drummer, the band went back into the studio to record and emerged with the "New Tattoo" album. But tragedy struck once again as the band prepared to hit the road with Megadeth and Anthrax, Randy was diagnosed with cancer.
But the show must go on. While Randy stayed at home, getting treatement and trying to get better, tThe band recruited former Hole drummer Samantha Maloney, to fill in for him and they embarked on their successful "Maximum Rock" tour to promote the new album.
The Dirt.
In May of 2001, Mötley Crüe became best sellers once again. This time it wasn't an album but a tell-all book called "The Dirt". The book was written in true Mötley form and told their decadent story, which became a big hit with readers.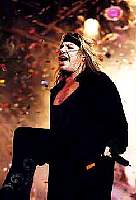 New music wasn't forthcoming as Vince decided to hit the road for a couple of solo tours. On March 26, 2002 Nikki announced on the Mötley Crüe website that they had lost their friend and bandmate Randy Castillo to cancer.
The success of The Dirt reinvigorated the band and when Beyond Record folded, Universal's Hip-O record inked a deal to carry the Mötley Records catalog.
This spring (2003) Universal/Hip-O/Motley reissued all of the Mötley Crüe albums complete with bonus tracks. A new generation will now be able to discover the decadent magic of the most notorious band in rock n roll.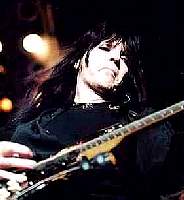 At this point there are rumors of a potential Mötley reunion with Tommy returning to the band. But Nikki isn't holding his breath waiting, he's keeping busy penning songs for other artists, launching his own clothing line and he has even written a new book. He spends the rest of his time working with the new side band he formed with Tracii Guns, Brides of Destruction (which for a short time featured John Corabi).
Vince is continuing to tour with his solo band while Mötley Crüe awaits the beginning the next chapter of their colorful history. While their music may not be for everyone, Mötley Crüe have earned themselves a prominent place in the rock n roll history books with their antics on stage and off. And to those who wrote them off in the beginning the guys in the band can look back at 20 wild years and laugh. Lesser bands, would be dead but Mötley still solders on, living up their name.


Mötley's Musical Testiment
Click on the underlined album title to hear samples and purchase the new reissues with bonus tracks online.
Too Fast For Love - 1981
Shout At The Devil - 1983
Theater of Pain - 1985
Girls, Girls, Girls -1987
Dr. Feelgood - 1989
Decade of Decadence - 1991
Mötley Crüe - 1994
Generation Swine - 1997
Greatest Hits - 1998
Live: Entertainment or Death - 1999
New Tattoo - 2000
Want More Mötley?
Check out the official Mötley Crüe Site for more.
Join the Mötley Crüe Street Team
Check out the video for "Afraid"
Hi - Low
Check out the video for "Home Sweet Home"
Hi - Low
..and yes dude, Nikki really did die, dude! But that hasn't stopped him, obviously.
Live 2000 Photos By Debbie Seagle
Historic photos from Myuseless-info.com
All Rights Reserved by Copyright Holders.