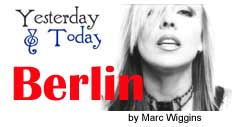 .
After sixteen years since their last studio album, Berlin is back! And they're back with a vengeance.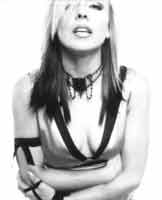 Berlin was a major force in shaping the sound and identity of music during of the eighties while at the same time remaining true to their own voice and not catering to mainstream pop. There was that one exception with the run away hit, "Take My Breath Away." However, if I remember right, the band made it known that they were not happy with the song and practically disowned it. But with songs like "Metro," "Masquerade," "Sex. I'm A...," "All Tomorrow's Lies" and many others, that one offense was easily forgiven. Their subject matter was in direct contrast with the fluff that littered much of the eighties. Many of their songs dealt with betrayal and a disdainful contempt of societal appearances and facades. One song in particular, "It's A Matter Of Time," was a haunting warning of how you can't waste your time because you can't get it back. To many, their music was about grabbing life for everything it offered and throwing away all pretenses. It ranged from explosive in-your-face techno-rock to lamenting ballads.
The band's lead singer, Terri Nunn, whose voice is the definition of sex, challenged the ear of a conservative and arguably innocent era and for the fans their music was a refuge from the overhyped hit driven music with mindless lyrics that dominated the radio waves and MTV.
Originally formed in Los Angeles in 1979 by bassist John Crawford and keyboard player David Diamond, vocalist Terri Nunn joined the group after their original lead vocalist quit. It didn't take long for the group to make their presence known on the LA music scene with the seductive sexual innuendo and catchy synth-pop sound. In 1982 the group entered the studio with drummer Rod Learned and guitarists Chris Ruiz-Velasco and Rick Olsen to record the EP, "Pleasure Victim" which spawned the national hit single, "Sex (I'm A... )". With plenty of sexual over tones from the suggestive title and nude photo of Terri Nunn on the EP's inner sleeve the EP caught the attention of the public and quickly went gold. By the time the entered the studio to record their full-length debut, keyboard player Matt Reid, and drummer Rob Brill had joined their ranks. The resulting album, "Love Life" was an instant hit when it was released in 1984, the single "No More Words" got plenty of airplay and helped give the band a second gold record to add to their collection.
Berlin struck a chord with fans, sonically they fit in nicely with the New Wave crowd that all but owned radio and MTV at that point but they also stuck out with their pensive lyrics and the seductive vocals of Terri Nunn.
Some personnel shake-ups occurred in 1986 and the band was scaled down to a trio that included Crawford, Nunn, and Brill. For their sophomore album, "Count Three and Pray," they recruited legendary producer Bob Ezrin (Pink Floyd "The Wall" & KISS "Destroyer") and the disc even included a guest appearance from the most unlikely of musicians, Ted Nugent. Unfortunately, the music on "Count Three and Pray" was too big of a departure for Berlin's core fan base and sales failed to reach the level of their debut album.
By 1987, Berlin was having internal problems and lead vocalist Terri Nunn decided to leave the group to try her luck as a solo artist. Crawford and Brill moved on to their next project, "The Big F" with guitarist Mark Christian. The Big F took a markedly different musical direction from the New Wave of Berlin, the trio's hard rockin sound was most often compared to The Cult. Despite signing to a major label, Elektra records, the music never really caught on. Their self-titled debut was greeted with mixed reviews from critics and the fan base never really appeared. Their second album, "Is" released in 1993, suffered a similar fate.
Terri Nunn's stab at a solo career failed as well, shortly after her solo debut, "Moment of Truth," was released in 1992 she decided to take a break from the music business. In 1998 Terri decided to resurrect Berlin and in 2000 recorded the critically acclaimed live album, "Berlin Live: Sacred and Profane." The live tracks captured the magic of Berlin's music and surprisingly in step with modern music, not a retro New Wave throwback to the 80's. This was further demonstrated with the three new studio tracks that were included on the album. The new tracks were engineered by Guns N' Roses' Gilby Clarke and gave us a glimpse of the 21st century Berlin. The seeds were sown for the full force return of Berlin that we are now witnessing with the release of "Voyeur".
After a decade and a half without a full-length release of new material, Berlin is alive and well with the same spirit, though tempered with the wisdom and insight that came from their long absence. Their new CD, "Voyeur," is much more personal in tone than past albums. Terri Nunn is credited with writing the lyrics of all but one song and listening to it feels like reading this chapter of her point in her life. "Voyeur" is a little less wild than their past work and some of the songs, like "Blink of an Eye," are more geared as dance club tunes while others are more steady and melodious. But this CD is not without edge with songs like "Drug" and "Stranger on the Bus" which blurs fantasy and rape.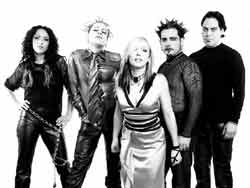 The lyrics in "Voyeur" is much more introspective and the music remains true to their roots and translates well to the musical tastes of 2002. I've listened to "Voyeur" too many times to count and find myself skipping over only one song (I usually skip over a handful of songs from most CDs). It is now definitely a favorite in my collection.

The first track, "Blink of an Eye" is a fun dance song and interestingly the only song not written by Nunn. But is serves as an energetic opener to this great CD. The next track, "Shiny," is another pleasant dance song. It then moves on to a more introspective, "Lost My Mind," which laments the loss of a relationship and reintroduces the fantastic turns in Nunn's vocal range. Next, the bittersweet "World is Waiting," speaks of the unnecessary choice of loneliness and is softly reminiscent of their classic, "Matter Of Time." The pace again picks up with "Drug." Anyone whose been strung out on a relationship like a drug can relate this song and listen to it over and over to get their fix. The next song, "Sacred And Profane," happens to be the only track I usually skip over. Co-written by Billy Corgan, tt describes Nunn's lust and fascination with Michael Hutchence when she first heard him in concert. Though I didn't care too much for this one, it does really capture the image of a woman in a crowd whose entranced by the artist on the stage and oblivious to everything else around her. Moving on, we have, "All I Ever Need," which indicts the absurdity of materialism with a nice melody. "With A Touch" is yet another entrancing dance song that helps keep the roots of Berlin firmly in the forefront.

Following this is "To A King," which is probably the best song of the collection. It has a haunting sound and is in the voice of a woman in love with a man who is in a relationship with a bitch that contemptuously dismisses him. The listener is then challenged with a tale about attraction and rape in "Stranger on the Bus." The lyrics will stick with you.

"Voyeur" then closes with "Stronger Than Steel" and describes Nunn's standing by her mother who was suffering from cancer. But hold on, that's not all. Wait through a minute of silence and your treated to a live version of "Pleasure Victim."

"Voyeur" will not disappoint if you don't try to compare it with classics such as "Metro" and "Masquerade." Nunn's voice is inviting and sexy as ever and the range of songs and lyrics in this collection seem to be more layered in thought and emotion than earlier albums. I'd give it a solid A.



Do you want more?

Purchase Berlin music online and hear samples!

Visit BerlinPage.com for all the latest




.