.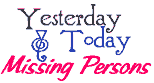 An Interview with
Warren Cuccurullo.
.
If you are child of the 80's I'm sure you have heard about the reunion of Duran Duran. What you might not have heard is that the Duran Duran reunion sparked the return of yet another 80's hit topping group, Missing Persons.
Missing Persons were staple on MTV during the early years of the music network with their unforgettable image and new wave hits like "Words" and "Walking in LA". Hailed by critics as one of the best of the pioneering band of the new wave sound, they climbed the charts and won over fans from around the world. Sadly, the band broke up in 1986. Lead vocalist, Dale Bozzio went on to a solo career, releasing an album through Prince's Paisley Park label. Terry Bozzio played on a long list of projects including studio work with Duran Duran and he won a Grammy in 1990 for Jeff Beck's Guitar Shop. Warren Cuccurullo joined Duran Duran in 1986, co-wrote two of their top 5 singles, "Ordinary World" and "Come Undone". Now it's 2001 and Missing Persons have decided to regroup so they can bring their unique image and sound to a new generation.
The plan was to interview Warren and Dale at the House of Blues in Anaheim before their sold out performance that night. Like most things in Rock n Roll, things don't always go as planned. I managed to track down Warren but Dale was indeed a missing person as I sat down with Warren to discuss the reunion and the future of the band.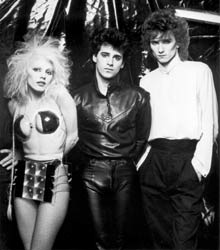 Keavin for RNW: So what brought about the Reunion?
Warren: Having spent 15 years in Duran Duran, I had a sit down with my partners, Simon and Nick and Simon says "I think this is as far as we can go, we want to get the original five back together". So I said "What about the original five plus one?" (laughs) he said "No I don't think that is going to work out." So I said, "Great, lets work something out where we can all walk away from it happily, this phase of Duran Duran" and we did. My first musical instinct was I should get back together with the guys, Terry and Dale and play that music because we're all still alive and it's great music and there's an interest in 80's music. We were one of the hottest f***ing bands there were in the early 80's. So here we are!
RNW: Any chance of you guys touring with Duran Duran
Warren: Yeah, it could happen. I'm sure there will be, you know, I will make the phone calls I'm sure we'll talk about it and I have already mentioned it. I think [in] America it might be interesting. I'm sure if the Duran Duran tour comes to fruition I will be right in there saying "Come on guys, I'll come out and play Ordinary World with you guys, If we can do this Missing Persons thing." That would be a very interesting package; we're the only band that spawned a duel reunion.
RNW: Yeah I thought that was interesting.
Warren: There was kind of this incestuous thing happening, how I even got into Duran in the first place, being on the same label having the same agent, and you know there was all this, we probably slept with a lot of the same women. (Laughs)
RNW: Did you know them before joining the group?
Warren: No.
RNW: What's it like playing together again?
Warren: It's unbelievable, it's absolutely… like Terry said it's surreal, I almost compare it to the closest thing we'll ever get to playing with Frank [Zappa] again. We never did get to do that, but it is that special. This is something we built ourselves; we were the ultimate DIY band. And here we are once again and as soon as we plugged in and played it was just like I had imagined it and how I explained it to Terry is we're just gonna laugh and have a great time playing all the good songs. One of the rules was we ain't gonna play the crap, let's play the good ones, you know. The other night, the show we played at the Roxy was my favorite show I ever played in my life.
RNW: Lots of energy, being back together?
Warren: Incredible, the most fun I ever had.
RNW: How has the crowd reaction to the shows been?
Warren: They seemed pretty blown away. We only had two days of rehearsal.
RNW: Really?
Warren: Yeah and it was just like we have been playing together for a year on tour.
RNW: You just jumped in there with both feet, very cool! This is the last night in a string of southern California dates…
Warren: It's the last night of a basic announcement. This is just an announcement like [spoken in a mock announcer's voice] "May we have your attention please! Yes all three of us can really get back together on stage and play this music. We kick f***ing ass! See you soon!" (laughs) That's all this is, an announcement.
RNW: So a National tour is coming up?
Warren: We're looking into various things right now to see what is the correct step to take. We're not 19 years old, everybody has got lives and families and things but playing this music is very special. I think there is an audience there for it. We're looking into different ways to go and we have songs! That's another thing that is pretty funny, we've got about 11 or 12 songs from 1979-80 that we never recorded, that kick ass-we're doing two of them in the set tonight. I had some friends from the label come the other night and they said "You wrote those 21 years ago?" I said, "No 22!" (laughs) They couldn't believe it.
RNW: Any chance of those going out on a new album?
Warren: Yeah, that's what I mean we got all of these songs, we wrote our reunion album before we even made our first album! We were that f***ing brilliant! So I have plans of doing that, love to get somebody to pay for it but if all else fails I'll make it myself and you know deal with it then. But I'm looking to do the right thing. I've been in the business for a long time and I understand most aspects of it. I've met some good people and I've met some f***ing nightmares. And I'd like to hook up with some good people who know how to market a project like this and would be willing to get it to radio and spend some money because that's really were it all is right now.
RNW: That's the problem with labels, you can't succeed unless you get the right kind of support behind it.
Warren: There is no use making that record then. You can take the advance but what kind of advance do you get for a band that's, you know, late 40's.


Continue