.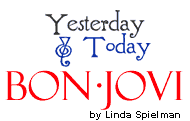 .
Let's take a trip back in time, shall we? Once upon a time, in a galaxy far away (New Jersey) there were five young guys who formed a rock band. The namesake, that of their lead singer, Jon Bon Jovi.
When Bon Jovi first appeared on the music scene in 1984, they were your typical 80's rock band. Still new to the industry and only one album to their credit, the band opened for such big name acts as 38 Special, the
Scorpions and Ratt. Come 1986, with the release of their third album entitled "Slippery When Wet", Bon Jovi sky rocketed to the top of the music and video charts and were now headlining a sell out tour of arenas & stadiums worldwide. The crown princes of "pop metal" were frowned upon by some of the heavier metal veterans. They were scoffed at for their well coiffed hair, flashy stage attire and good looks. Terms such as "happy metal" were uttered by such rockers as Dee Snyder at one point in time for the emergence of the new wave of metal music. As the popularity of the group was reaching super star status, Bon Jovi was adding awards & breaking attendances records to their resume. Their music, like a majority of it at that time was about good times, girls, partying and being young. And young was exactly was what boys of Bon Jovi were and enjoying every minute of it. The whirlwind of frenzy that the band had caused was showing no signs of slowing down, along with their relentless touring.
With the release of "New Jersey" in the late 80's, the band was all over MTV, trade papers, and probably on the bedroom walls of most teenage girls. They made video director Wayne Isham a household name, which to this day still stands having worked with artists like Ricky Martin, Nsync and Backstreet Boys to name a few. To those of us on the outside, it appeared that the members of Bon Jovi had it all. But in true rock star fashion, the turbulence within the group was reaching its breaking point. The guys who once stood by each other, were now barely on speaking terms. After organizing and accomplishing the first concert festival in the Soviet Union along with their long time manager Doc McGhee, the band and their manager parted ways. The rock star lifestyle of excess in a variety of forms was starting to show signs of wear on the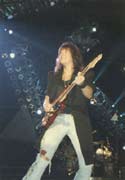 members. Failed relationships, erupting animosity between Sambora and Jon, inflated egos, the elopement of Jon, four years of constant touring and the inevitable vocal collapse of Jon's voice started to send the world's most popular band into a downward spiral.
By the end of the "New Jersey" world tour in the summer of 1989, the members of Bon Jovi decided to take a break from the music and each other. The term "break" for all involved in the music industry from the CEO's of labels to the fans equates to "breaking up", which is usually followed by panic from the same people. The group all went their separate ways to explore new outlets for their energy and normal life again. Sambora embarked on his first solo album and tour, and was producing other artists. Jon moved his family to the west coast (but eventually moved back to New Jersey). Alec John Such, Tico Torres and David Bryan all managed to stay very low key and out of the public eye.
Fast forward a few years to 1992. The Jersey boys finding new respect for one another, well rested and fiercely creative regrouped to record the "Keep the Faith" album. A more introspective but still fun album, showed the world that the Jersey boys had grown up into the Jersey men. Of course, a tour to support the new album followed. Powered now by Bon Jovi management, Bon Jovi was in complete control of their lives. The fans weathered the 80's and still came out for the shows. Some a bit older, some younger, but all of them ready to have a good time, which is guaranteed in very very small print on every Bon Jovi concert ticket. They proved everyone in the music community wrong, by showing they really were just taking a "break" all along.

Over the years we've witnessed marriages, births and departures of the members of the band. But what is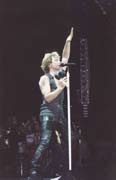 more important is that we've gotten a chance to see the individual accomplishments of its members. Jon scored the soundtrack for the "Young Guns II" movie and topped the charts with the movie's theme "Blaze of Glory", along with his own solo album. We've also seen him explore his thespian side with a number of movie roles and an upcoming series of guest spots on Ally Mcbeal. Sambora has two solo albums under his belt, is married to one of Hollywood's sweethearts Heather Locklear and has his own guest role in the current move "On the Line". David Bryan, along with being one of music's most energetic keyboardists, is also a renowned Broadway having produced, conceived, wrote and brought to fruition his first Broadway musical. Tico Torres has shown the softer side of his aggressive drumming persona. Torres is an acclaimed artist and sculpture. Yet, through all these solo endeavours Bon Jovi was still making and consistently selling albums over the years.
Our journey back in time has almost brought us full circle to present day 2001. Are you tired yet? Didn't think so, because the ride isn't over yet campers.

So how did this happen…a "happy metal" band with substance and endurance? Who would have thought? Bon Jovi has accomplished what many in their genre failed to; they evolved with the times and maintained popularity. Yes, their music has and always will be fun,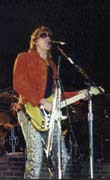 but has always been real. One could compare them as a collective unit to that of their New Jersey neighbour Bruce Springsteen. Springsteen's music & lyrics have always been something every person can relate to. He sings about everyday people, life, troubles, and joys. The same is true for Bon Jovi songs. We all try to search for reasons, want to find something to believe in, and want to go out on Saturday night with our friends and have a good time. Maybe that is part of the reason the band has maintained and continues to gain fans. When some "hair bands" (the few that are still together) are managing to sell out arenas and stadiums, but can't fill a club stateside, Bon Jovi is still continuing to break attendance records around the world and at home. When Bon Jovi aired their 2001 summer tour from their home state, many Tokyo fans flew in for the show. One devoted from London named Julia managed to attend all of the World Tour 2001 shows except for six. And when people bring up the trauma of some music of the 80's, they have no problems admitting they are still Bon Jovi fans. Today you can only see bands like Warrant and Winger of VH-1's "Where are they now". However, in 2001 we got to see Bon Jovi perform live on VH-1 before a soldout audience at Giants Stadium and watch their albums still go platinum and riding high on the Billboard Hot 100 charts.
The times they do change. As Americans we have learned this lesson the hard way on Sept.11, 2001. One of the first appearances by a celebrity was that of Jon and Ritchie urging the people of America to support the Red Cross relief efforts. With a combination of patriotism, community pride and support in response to the tragedies that took place in their own back yard, the Jersey boys were a visible means of support to the music fans, relief workers, affected families and the nation from the start. They were a driving forces in local New Jersey benefits to aid relief, along with the televised broadcast of the concert for New York City hosted by Paul McCartney. Through the tragic events of that day many have found comfort in music. When the economy immediately died, album sales increased in the days that followed. Many will find comfort and healing through music and the music inspired by that day. The world again can see just how Bon Jovi can evolve. Sambora and Jon found their own solace and comfort in penning 20 plus songs in the weeks that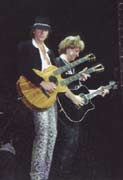 followed Sept. 11th. Again, the songs will strike a chord with the average person dealing with everyday life, questions, sorrows and joys. The album, which has been tentatively entitled "Bounce", will symbolize how we as individuals and a country are trying to bounce back, and how people everywhere have the ability and resolve to rise above any tragedy and obstacle that life throws or way.
Our journey has now ended. We have seen the rise, fall, and rise again of one of most popular rock bands of the past twenty years. In the years to come, Bon Jovi will probably continue to prove the critics wrong by continuing to make music for themselves and for masses.


Do you want more?
Purchase Bon Jovi music online and hear samples!
Visit the official Bon Jovi site for all the latest
Photos by Linda Spielman - Copyright 1993 - 2001
All Rights Reserved
Your Turn
Fan Speak.