.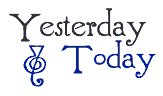 .
Yesterday & Today - a series that looks at artists who buck the odds and outlast the usual fifteen minutes of fame. These artists found success in the past but avoided the one hit wonder syndrome and continue to deliver world class music today.
Here is a closer look at some of these artists who buck the odds and continue to be vital members of the music community.


David J - Former Love and Rockets & Bauhaus frontman finds a new muse with his solo career.
Killing Joke- Biting wit meets masterful music and songwriting. Killing Joke is legendary in hard rock circles for their moving music and the thought provoking and eccentric lyrical styling of Jaz Coleman. Coleman is a textbook study of an enigmatic frontman. Convention be damned; Jaz has always done things his own way and always will. That fact is evident on every single piece of music Killing Joke has produced over their twenty-plus year career.
Motley Crue- A band that that has spent 20 years living up their name and taking sex, drugs an rock n roll to heart.
Hall & Oats- For over 30 years, Hall and Oats have been a hit making machine--melding the worlds of blue-eyed soul and pop music to platinum success. Take a look at the group's bumpy journey through stardom from the very beginning to their brand new studio album.
Berlin - The sexually charged chart topping new wave band from the 80's is back with their first new studio CD in 16 years! Learn more about their history and the new CD.
Billy Idol - Punk pioneer turned chart topping solo artists. Debbie checks in with Billy Idol to see what the rebel rocker is up to in 2002. With exclusive live photos!
L.A. Guns - From the mean streets of the Hollywood in the 80's that were responsible for more than a fair share of hair bands came L.A. Guns a band that stuck to their guns and did their own thing and still are to this day. Formed by Tracii Guns (The Guns in Guns 'N' Roses) L.A. Guns was a band more in tune with punk and classic rock than glam, they burst onto the national scene in 1988 and haven't looked back. Click here to find out the history of the band and what's next. Complete with exclusive live photos and a video interview with Tracii.
Bon Jovi - As the undisputed champions of "happy metal", Bon Jovi emerged on the 80's rock scene like a monster. They captured the attention of millions of fans around the globe with the poppy rock sounds and poster perfect looks. Unlike most bands from the era, Bon Jovi carried on through good times and bad always evolving and remaining one of the biggest selling bands in rock even today. Take a trip from the past to the present as Rocknworld.com's Linda Spielman gives you the History of Bon Jovi 101!
Brian Setzer - When the definitive history of Rock -n- Roll is written, Brain Setzer will go down as the ultimate revivalist. Setzer was the man at the forefront of not one but two resurgences of past popular music forms. In the early 80's Brian helped bring Rockabilly back into vogue as the frontman of the Stray Cats. Then in the 90's Brian realized his dream of fronting a Big Band with his Brain Setzer Orchestra; a project that placed Swing music once more into the mainstream of popular music. Now Brian has returned to his rockabilly roots with the '68 Comeback Special.
Missing Persons In our first edition of Yesterday & Today we speak with Warren Cuccurullo a man who got his start playing guitar with Frank Zappa. Then he went on to be a founding member of Missing Persons with Terry and Dale Bozzio. In 1986 he joined Duran Duran and remained with them until recently, now Warren has reteamed with Terry and Dale and Missing Persons have returned. Learn more about the past, present and future of Missing Persons as Warren tells us the full story!