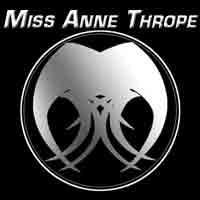 by Mark Hensch

Miss Anne Thrope - The First Taste of Temptation
A "misanthrope" is defined (directly by Webster's Dictionary) as being "one who hates all of mankind." Portland, Oregon local band Miss Anne Thrope (with their tongue-in-cheek spelling of the word) is defined by me as being one of the most surprising local bands I have heard in quite a long time.
Miss Anne Thrope plays a strange concoction of Tool-like alternative rock, with strange moments of punk breakdowns, nu-metal thrash, and subtle guitar pieces that are scattered like the snowflakes of a Michigan blizzard. This obviously is a credit to other influences that Miss Anne Thrope has, but the biggest factor in the music this band plays is that hard to define Tool sound.
First track "Melange" is a mini-epic of sorts. It rolls in with some Tool riffs/rhythms and from there goes into a radio friendly (yet dark) tune that breaks down into some stomping start/stop nu-metals riffs and ends with a picture perfect punk breakdown that totally caught me off guard the first time. This song reels you in with an end rather then a start; it relies solely on progression and patience to entice listeners back for more listens (it is almost 7 minutes long, which is no small feat for an intro track by a debuting unsigned band album) and maybe that is the band's message.
"Price of Truth" is a short, grungy song with subtle guitar notes and underlying chords scattered all over the place. The band takes a strange step back by going from heavy to light, and "softening down" with a mellow yet strangely sinister passage with sound bites of public speeches that are a bit hard to decipher. The band weaves this all back into the intro which closes the song over an anguished scream from vocalist Drew.
"Then and Now" is the best song on the album, mixing fast clean guitars into (dare I say it?) bouncy and catchy grunge alternative rock. It ends with a flawless System of a Down styled breakdown, and with the listener again caught off guard.
"Kissing Leaf" is a mellow to heavy track that falters a little but saves itself with a nice solo sandwiched somewhere in the song. "The Lust" is a short filler track that is just a quiet guitar and piano; it's sadly nothing special, but it allows the band to experiment a bit and might lead to even stranger things on future albums.
"Shrink" has some nice intro thrash riffs and screams, followed by full throttle rock that both simmers and slams. "Adam" is a quiet song that some good heavy parts too and more strange guitar pieces thrown over-shoulder here and there. "Untitlted" ends things with an awesome drum piece and some weird guitars.
At first listen, I will admit to being frankly under whelmed by this band. It sounded like grungy Tool, and where I live, it's nothing I haven't already heard a million times before. Yet as I continued to listen for this review, I was frequently surprised by random guitar pieces, solos, thrash breakdowns, pianos, and even punk riffs. Combined with that Tool sound, it makes for interesting stuff. After even more listens, I found that Miss Anne Thrope weaves all these things without making it sound out of place or foreign, at least usually. It might be hard to find, but if you surf the internet and you want something that might grow on you, try Miss Anne Thrope and The First Taste of Temptation.
Chances are the first taste might not be the most fulfilling, but it surely won't be your last.
Check out http://www.missannethrope.com/ for tour dates, CDs, band news, ect.