by Keavin Wiggins

We're starting 2003 off on the right foot with a profile of one of the stars of the first antiFEST, Solarcade! I was first introduced to this band through their publicist. Since she had a track record of representing great artists (she was the one who turned me on to Bird and Twelvehourmary, two artists who have been covered here in the recent past) I was enthusiastic. She invited me to see their Halloween concert up in LA and since I didn't have any other pressing plans I said sure I'll check them out! Lucky I did because they delivered.
Since my personal music tastes runs the gambit from hard rock to story tellers and classic rock, I have a lot I can draw from when checking out new artists. I'm always on the look out for great new bands to feature here. Solarcade more than fit the bill with their melodic yet rockin' sound. So for those of you who were not able to attend the antiFEST, here is your second chance to discover Solarcade as we discuss the band with lead guitarist Pomilla. Enjoy!





RNW: The standard opening question, how did Solarcade come together? And where has the journey taken you so far?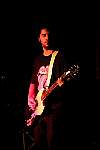 Pomilla: Solarcade was formed when the drummer Heath called me and we started jamming with bass player Jonathan and preparing tunes for when we found the right guy. About 87 auditions later the right guy walked thru the door, his name is Paul Van. We quickly started getting songs down and less than 90 days we were in the studio recording our most momentous track "When She Comes" which has gotten critical acclaim. We began to ease our way into playing in LA and OC and the journey has opened doors like Borders Music Tour, and calls from Dennis Rodman to play for him. The Fans have recognized Solarcade as a Los Angeles staple of a true rock band that can only be summed up in one word: songs. But like Steven Tyler sings, "Life's a journey, not a destination, and we just cant tell just what tomorrow brings...."
RNW: Where did the name Solarcade come from?
Pomilla: Solarcade was derived from an initial idea from Heath of Soul Arcade and we wanted one word so it got smushed together and dropped the letter "u". Solarcade is the revolution and relationship of the earth around the sun. I like to think our music is doing that with our fans...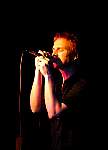 RNW: Personally, I hear a lot of different influences in your music. Vocally Paul reminds me a lot of Bono or Depeche Mode or even David Bowie at times and the guitars remind me of Billy Duffy (The Cult), a little bit of The Edge and even Slash at times. Where would you place your sound in the musical spectrum?
Pomilla: First let me say that this is a huge compliment because singers like Bono and Bowie have set the STANDARD and anything else is just settling. Slash is my favorite since I first saw GNR way back when and The Edge is an absolutely timeless guitarist/songwriter. We tell people that we are combo of U2, Train, Radiohead, and Coldplay. If potential Solarcade fans can relate to these great artists then they will really get what we are doing. Solarcade is in the music spectrum of Modern Pop Rock like some current artists like Remy Zero, The Doves, and Ours.
RNW: In other words, how do you describe yourselves to those haven't heard you?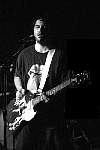 Pomilla: It is simple. If you love artists like U2, Radiohead, Stone Temple Pilots, and Depeche then you will enjoy the sounds of Solarcade. If you are into Korn and Linkin Park then you may not get it but we have proven otherwise with our live show.
RNW: Since I mentioned those other artists, who are your biggest influences?
Pomilla: Drummer Heath notes Jimmy Chamberlain (Smashing Pumpkins) as a key player to his development while bassist Jonathan really digs Jimmy Eat World.
Vocalist Paul really pulls from Depeche Mode for their style and songwriting.
Being from Houston, TX I am heavily influenced by the greatest guitar who ever lived: Stevie Ray Vaughn. I love Dean DeLeo (Stone Temple Pilots), and of course Slash and The Edge are staples of my guitar playing.
RNW: If you only had one chance to win a fan over with one song. Which song would you use, that you think best represents what you are all about?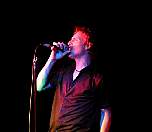 Pomilla: Hands down we would have to go with "Song For Staes". It is such an anthem that I believe will never go out of our set list. Solarcade fans demand this tune electric or acoustically. You cant argue when your fans have spoken. I guess we will be like Metallica one day going, "Damn, we have to play 'For Whom the Bell Tolls' again tonight?"
RNW: What first inspired you to become a musician?
Pomilla: Easy question. One Word. Slash. By the way, he is the coolest dude I have ever met. Don't get me started on his playing....ok, too late!! This guy is the one person that I can honestly say changed my life. When I was younger and I saw him play I was completely blown away. I thought it was so refreshing that in a time when hot rod guitars were the thing here comes a guy with a Les Paul that would later on revitalize its popularity. Slash did to the lead guitar what Michael Jordan did to basketball in the late 80's. He changed it from the screeching solos to ballads like "November Rain". I told you don't get me started....
RNW: What is your songwriting process like? Does one person come up with the songs and the rest of the band add their parts to it or is it a full group effort?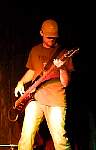 Pomilla: Our songwriting process is quite similar to Led Zeppelin. I first work on a catchy riff, pitch it to Paul where he then creates some hook and then we all get together to formulate and construct the verse and chorus into a song. Hook is the key, if you can't write hook, then f@ck off...
RNW: You guys have been getting a lot of attention with your Borders Books tour. For those who don't know what that is can you describe what it's all about and also how you got hooked up with it?
Pomilla: The Borders Books Tour kinda fell into our laps with one performance at Borders in Santa Monica and the Area Marketing Manager Lita Weisman caught wind of it and proposed we play all the Borders. It has been very successful in the fact that we are getting new fans that we would have never gotten at regular shows in LA. Solarcade performs acoustical shows that is basically like MTV Unplugged format with the drums and bass so we can do everything like our electric shows. People love the acoustic versions of "Song For Staes" and "Midnight Mile"
RNW: You guys have been making waves on the LA scene, apart from playing the antiFEST what do you make of the state of live music in LA right now?
Pomilla: With the decline of true music due to "American Idol" I think people are looking for true musicians and songwriters, not some fabricated teen idol just because a TV show says so. Fortunately Solarcade has been invited to perform in Circle of Songs which depicts emphasis on songwriting and is currently being piloted as a TV show. The LA music scene seems to be saturated with tons of bands with lack of hook. Solarcade will change that...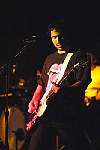 RNW: Some people may have heard Paul's creation and not known it since he is credited with the theme song to the Showtime Sci-fi series Jeremiah, how did that come about?
Pomilla: Well, a good friend of the band Tim Truman wrote the theme song "Looking at Forever" for the TV series starring Luke Perry and was looking for the right blend of vocals and called up Paul and he really fit Tim's vision on the piece. It really is a cool show set in the future and the song was beautifully written and we are glad to be part of that.
RNW: Speaking of Paul, he started out in his native South Africa and even toured with Depeche Mode there, what was the deciding factor in making the move to the US and also do you think down the line we might hear a little more South African musical influence thrown into the Solarcade sound for extra flavor, so to speak?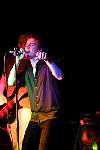 Paul Van: The deciding factor to move to the US was prompted on by Depeche Mode's tour manager. He had seen my band at the time 'The Outsiders' play several shows during the tour and wasted no time in telling us he was impressed, and that we should take the show abroad. We had already been to England so we thought 'Hey, lets go to the US' Needless to say, The Outsiders split. Our credit was up!
RE: African musical influence: Finding your own bands true identity is one of the hardest things to solidify. To incorporate an African musical influence into Solarcade is something I would love to do in time, but to jump onto that boat right now would be mayhem for us. We'd have to many toys to play with...in a manner of speaking. When we do get to that writing point, I would wish for us to travel and actually be in the heart of Africa so my band mates can hear, feel, and see the African tribal culture. I grew up listening to tribal sounds so it is certainly in my blood. More so rhythmically than melodically.
RNW: I noticed live the guitars have a very unique tone, the bass and drums hit a bit harder and overall the sound has a harder edged than the recordings you have made so far. Is that from just the way you recorded, different heads or guitars or do you intentionally kick things up a few notches live or approach things differently?
Pomilla: I think when we recorded the initial track "When She Comes" it came out very smooth and safe sounding. As time has went by we have become more aggressive in our live show than in our previous recordings. Some tunes show our aggression in the instrumentation of "She."
RNW: What do you think of the current state of rock? Any bands that do it for you?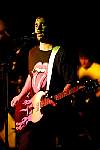 Pomilla: If there weren't bands that didn't do it for us then we would have nothing to look forward to. The current state of rock is going away from the tired rap rock sound that was been cornered in the market by Kid Rock and Korn. I think it is on the way out. Songwriting and real singers are back in the drivers seats like Dave Mathews, Remy Zero, Ours, and The Doves, and Coldplay. These bands are timeless and we will be listening to them one day like how we still listen to old Zep and Doors.
RNW: What would be your dream tour, the band you would most like to go out on the road with?
Pomilla: Stone Temple Pilots, Dave Mathews, Coldplay, and of course U2. Their fans would definitely get what Solarcade is all about. We may connect to the Ozzfest fans in that setting but I think they would still dig it. Ozzy's last tune "Just a Dreamer" really grabbed me and made me think, "this guy really knows what is going on in the current state of music."
RNW: We talked about the Borders Books shows. Are those unplugged? If so are you guys booking a lot of other shows where people in LA can come down and check out your full electric live show (note from Keavin— definitely check these guys out live if you can, they put on an amazing show—ok plug done)
Pomilla: Well if you want a great unplugged show then check our calendar for a Borders Show near you. If you want to see a full on electric show arena style then mark down your calendars for Sun March 16 to see Solarcade live at The Arrowhead Pond!!!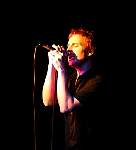 RNW: What do you think is the biggest obstacle for new bands there days to making it in this crazy business?
Pomilla: Guidance. You want and need guidance and must be disciplined to get out there and make a list of how you will market yourself, sell yourself, and expose yourself.
RNW: You've been together a few years now so far what has been your proudest moment as a band?
Pomilla: Solarcade does a lot of charity work for causes we believe in and we did a private concert for terminally ill children at Childrens Hospital in Hollywood and it will remain the most memorable due to the fact that we made kids faces light up with our music. No money or anything else materialistic can take that away form the band. It was cool because KABC News came out and did a piece on us and aired it to 12 million viewers and the emails and phone calls came pouring in.
Solarcade wants to give all that we can give and use our power to help causes we believe in.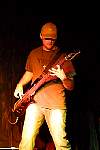 RNW: On the other side of the coin, what has been worst experience?
Pomilla: We get to this place another band so called "booked" and it was a disaster. The times were messed up, and too many bands showed up to play. As a favor we just backed out of the show and gave our "slot" to another band and stuck around to watch the band who helped us get on. They were downright horrible. We were just glad we weren't associated with this band or show. Quality is more important than quantity wouldn't you agree...
RNW: Has the Internet helped you reach new fans? Do you think like some that the net will eventually open up the music business or will the major labels still dominate things?
Pomilla: The Internet has been a huge factor in the success of Solarcade. We are a mailing CDs to fans over in Russia, Italy, England, Finland, Spain, and Australia. Mp3 has been a great tool in globally marketing Solarcade. The Internet will never dominate the major labels and vice versa. It has enabled a new market to open to up and coming artists like ourselves. The Internet may hurt major artists like Metallica but it also can enhance the careers of others like The Offspring.
It really depends on how you look at it and decide to use it for you or not at all. Like music in general you must be wise and change with the times even if it means technological.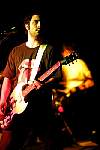 RNW: What's next for Solarcade?
Pomilla: Play, play, play, and play more. We are about to release our new EP entitled "From the Deep End" and tour to support it. We plan to make 2003 a prosperous year in our musical growth as well as in our personal inside the world of Solarcade. We hope everyone out there will choose to be part of it.
RNW: Where do you hope to be five years from now?
Pomilla: In five years I see Solarcade still going strong and redefining the music scene like our predecessors have done. We plan to do a lot of work for RADD and spread the good word. I want to go out and help up and coming bands like others have done so for us. Give the people a good product and they will come back for another. That is the key to being a successful band.
RNW: Finally, what do you want people to take away from your music?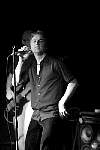 Pomilla: I want people to walk away from Solarcade and think about the songwriting, the thought and intellect we put into our craft like we do when we listen to Radiohead. If you get a feeling when you listen to songs like "When She Comes" or "All My Demons" then we have accomplished what we set out to do. If you are looking for thoughtless lyrics and 3 chord strumming then look elsewhere. Solarcade does not want to push the envelope, we want to shove it over the edge. Our music is free at Solarcade.Com and you can email for a free Solarcade single mailed to your door. Any further questions you can call the Solarcade hotline at 310.521.8768.





Check out the antiFEST photo gallery for Solarcade!
Ok now that you know a little about Solarcade it is time to go to their website and learn more, listen to some of their songs, buy their CD, check for concert dates and just generally find out why they are cool!

Know of a great unsigned artist or band? Let us know.
Photo By Keavin Wiggins
Copyright Iconoclast Entertainment Group
All Rights Reserved
Unauthorized Use Strictly prohibited