by Keavin Wiggins

This time we venture to Canada and check in with Pangea, a promising group offer up a cool melodic rock sound and is ready to take the world by storm. We recently had the opportunity to speak with Pangeaís drummer Courtney Weidelich to get a feel for what the band is all about. The interview is below.

RNW: The standard opening question, how did the band come together? And where has the journey taken you so far?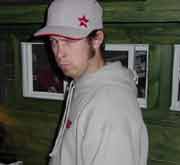 Courtney: We story of Pangea is a bit of a long one. Pangea originally started as just 3 members. Taylor Knox (guitar) Aaron Carothers (bass) and Chris McLeod (drums). They started as just the 3 of them playing instrumental songs. After a while of that, Pangea decided that they wanted to add a singer. Introducing Mark Corporon. Pangea remained this way for about a year. Pangea decided then that good friend Courtney Weidelich would be added as a percussionist. After a while of this drummer Chris McLeod decided that Pangea wasnít the thing he wanted to be doing at this point in
time. He stepped away from his drumming duties and Courtney took his spot...to form Pangea (the supergroup) the way it is today.
RNW: Where did the name come Pangea from?
Courtney: The word Pangea is the name of the super continent back millions of years ago before they spit up and formed the world we know it now. Basically we just thought that it was a cool name.
RNW: Where would you place your sound in the musical spectrum? In other words, how do you describe yourselves to those havenít heard you?
Courtney: well...we donít really like to say that we are this kind of band or that kind of band cause i donít think that any band likes to be branded. but since you asked I guess we are an Alternative funk rock band.
RNW: If you only had one chance to win a fan over with one song. Which song would you use, that you think best represents what you are all about?
Courtney: I think right now that our song In The Light would be the song for us. I think that that song is going to do things for us....once we find the right person to play it for.
RNW: I only have the three 30 seconds on your site to go by, but you guys seem to cover a lot of different bases with your music but it still seems to fall into the same general direction. Who are some of your biggest influences?
Courtney: the 4 of us can agree on a couple of bands. 311, incubus, Dave Matthews Band, Red Hot Chili Peppers just to name a few...but we all have our own tastes....and they are really ranging....from blink 182, to the Beatles, to Bob Marley to Led Zeppelin we all have different tastes and I think it really helps make our sound the way it is.
RNW: You wouldnít know it from listening to the music, but you guys are pretty young. How long have you playing music?
Courtney: yeah. your right we are pretty young...I (Courtney) am 21 and the oldest member of Pangea. Aaron is 20, Mark is 19, and Taylor is 18. but we have been playing music and playing our instruments for a long time...me personally I have been playing the drums for about 11 years now.
RNW: What first inspired you to become a musician?
Courtney: I think just seeing and hearing all the amazing music out there and just wanting to be just like those rock stars...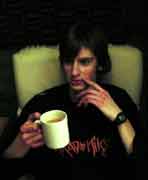 RNW: What is your songwriting process like? Does one person come up with the songs and the rest of the band add their parts to it or is it a full group effort?
Courtney: well...most of our songs are a group effort. Usually someone will come to practice with a new riff or an idea or something....very rarely does someone come to practice with a totally finished song...but it does happen from time to time.
RNW: Any plans in the works to release a CD or at least an EP?
Courtney: actually....we have 2 full albums out...."A Suitable Escape" and "Peace and Sounds"....and just this summer we released an 8 song EP Entitled "Between the Lines"...and it is our best stuff yet. you can get it at our shows or by emailing us at contact@pangeaplace.com
RNW: You have a pretty polished sound on the clips I heard, how different is your live sound from your studio sound?
Courtney: obviously live it isnít quite as heavy as in the studio...but thatís just cause you cant have 6 guitarists on stage with you....but I would say that we sound very close to our studio sound....Mark plays guitar in some songs as well as singing so that really helps fill out our live sound.
RNW: You guys are from Ontario, Whatís the music scene like there?
Courtney: We are from Aurora Ontario just north of the big T. Dot, and the scene is pretty good. except it is really tough, especially for a band that is a as young as us. most of the bars in Toronto wont let you play unless you can guarantee X number of dollars at the door or at the bar....so sometimes its tough for a band like us...cause friends donít always want to go down to the city on a weeknight.....but there are lots of places to play....so it is nice.
RNW: Do you think that the bands that have broken internationally from Canada over the past few years represent the Canadian rock scene as a whole?
Courtney: yeah I do. I think bands like Sum 41, Nickelback, Our Lady Peace, and the Barenaked Ladies show that there is a lot of different stuff going on here
in Canada.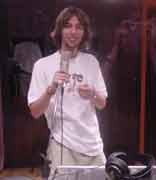 RNW: Going beyond the Canadian scene, what do you think of the current state of rock? Any bands that do it for you?
Courtney: Personally i think that rock on a whole isnít really moving anywhere right now. and i think that too many of the bands out there are just too negative all the time. a lot of swearing, and stuff like that. I think there needs to be some more positive messages out there. 311 are one of those bands....not huge, but they have been around for a long long time....they are recording their 7th album right now....and they are a really positive
band..
RNW: What would be your dream tour, the band you would most like to go out on the road with?
Courtney: Personally, for me, a Pangea, 311, Incubus tour would be amazing!...but the answer to that question would get a different answer from every member of Pangea.
RNW: What do you think is the biggest obstacle for new bands there days to making it in this crazy business?
Courtney: I think the hardest obstacle is that a lot of clubs make it hard for bands and are out there just to make money and not to promote local talent. Unless you can pack out the place they wont let you play. so its a bit of an obstacle because you end up playing in front of the same people all the time cause the clubs donít promote for you.
RNW: Youíve been together a pretty short time but so far what has been your proudest moment as a band?
Courtney: Well we have actually been together as the 4 we are now for almost 2 years now...our proudest moments have been winning some battles of the bands in Toronto, and our biggest moment was making it to the 4th and final round of the CNE Rising Star Talent Competition. We were the first band to make it to the finals in 5 or 6 years...so that was something...we didnít end up winning....but it was great.
RNW: On the other side of the coin, what has been worst experience?
Courtney: Worst experiences have been being asked to play at shows by other bands and not having anyone there to play for...just girlfriends and the other bands....stuff like that.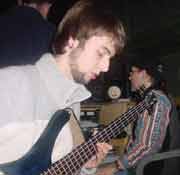 RNW: Has the Internet helped you reach new fans? Do you think like some that the net will eventually open up the music business or will the major labels still dominate things?
Courtney: yes...I definitely think that the Internet is going to help bands. right now though it is hurting bigger bands but helping small bands. For us it helps cause it exposes us to lots more people...but on the other hand bands have to make money some how....and selling their albums is the main way. I think that the Major labels are never going to go away...they are going to be the ones doing the controlling of the online stuff....
RNW: Whatís next for Pangea?
Courtney: Next for Pangea is more recording with a friend of ours...re-recording some songs and making a real fully blown album. and playing as many shows as we possibly can.
RNW: Where do you hope to be five years from now?
Courtney: five years is a long time for anything, bands, relationships, whatever. Right now we arenít really looking that far ahead....we are just looking at whatís goin on right now, this week, this month.
RNW: Finally, what do you want people to take away from your music?
Courtney: just to have fun and enjoy and be positive.
Courtney concludesÖ ď thanks a lot for all of this.... be sure to visit our website at www.pangeaplace.comĒ


Ok now that you know a little about Pangea it is time to go to their website and learn more, listen to some of their songs, buy their CD, check for concert dates and just generally find out why they are cool!