by Keavin Wiggins

Don't let the name fool you; American Jesus isn't a band out trying to preach the gospel. Unless of course you are talking about the gospel of rock n roll, converting souls to the sounds of rock mixed with classic R&B and soul or as we call it here at Rocknworld, Rock – N – Soul. Think Grand Funk meets "Cloud Nine" era Temptations with a little James Brown and Lenny Kravitz thrown into the mix. All the good stuff, you know the stuff that gets your feet tappin' and your body swaying.
While their name has already sparked controversy with at least one southern preacher, the band has been out converting souls with their music. Considering they used to go by the name "Jive Turkey" you can't take their new name American Jesus without your tongue firmly planted in your cheek.
I've known frontman Ronnie Kustes for a few years through mutual friends but it wasn't until recently that I first got to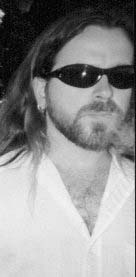 hear his music. From the first song I knew that I had to do a story on this band. Being a big fan of classic R&B and not such an admirer of the stuff that purports to be R&B these days it was refreshing to hear a band that was keeping it real, sticking to the real roots of the music while not sounding dated. If anything American Jesus' music brings that age-old marriage of rock and soul into the 21st century. Forget the lame drum machine beats and mindless lyrics that are oversung in today's R&B sound, American Jesus takes us back to the days when soul had soul and rock really rolled.
I sat down with Ronnie recently to get his take on the music biz and where American Jesus fits into the grand scheme of things and where things are going.
RNW: Ok I know the story behind the name American Jesus but can you tell our readers how you came up with it?
Ronnie: If you look up the words satire and irony in the dictionary you will get what I was trying to say. It just means that nothing is what it seems, that everything is an illusion, that maybe everything you were taught in life might be a lie. It's about exposing the psychotic taboos of our tribe.
RNW: Can you give us a little history of the band?
Ronnie: Well I have a really really good band right now, there's a magic that I have never felt before, and that's very important to me, more than anything else. Most of the band is made up of very good friends of mine that I have played with over the years, my brother, and a few new friends that I met out of the paper. It's amazing really, no egos and no psychos, just good vibes, and that really comes across when we play live.
RNW: What first inspired you to pick up the guitar and starting singing?
Ronnie: Elton John, The Bee Gee's, Foreigner, and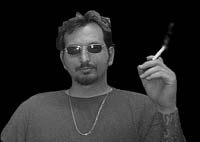 Kiss. I use to sing to Elton John records all the time when I was like 10. I really connected to him, and his music, it made me feel like I was not alone, and that I could fly. All I wanted to do after that is try and make the same kind of music, something people connect to, something that makes them feel so deeply that they forget that they are on planet earth.
RNW: What made you decide to go the rock n soul route instead of the nu-metal or punk pop that seems to be popular these days?
Ronnie: That's the only way I could go, anything else would be a lie. I have never been one to follow the trend, and I am not about to now. All the best bands in the world always blazed a new trail, never sounding like anyone else, and playing from the heart. If you write something that turns you on, there will be someone else out there that digs it too. I just want to be one of the newest colors on the great historical rock n roll tapestry.
RNW: On the same note as the last question, which artists have had the biggest influence over you as a musician?
Ronnie: At first it was the musicians I mentioned above, in my early teen years it was Zep, Sabbath, The Beatles, The Stones, and then when I hit about 16 or 17 I was finally exposed to black music; soul, funk, Motown and r&b. It was like discovering a whole new world and I was mesmerized. The artists that really turned me on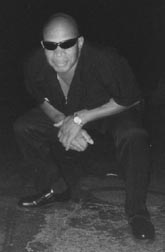 were Prince, Marvin Gaye, Al Green and Curtis Mayfield. So I guess you can see how the rock n soul thing happened now.
RNW: What is your song writing process like? Do you take an idea to the rest of the band and work together to create a full song or do you take an almost complete song to the band and have them add their own little flavor to it?
Ronnie: Usually I take a complete song and have them add their flavor to it. Mostly I write the music and the vocal melody first, and the lyrics are always last. I like to try and make the lyrics match the melody. Sometimes I will hear a song inside of someone elses song, and then create one. And my main tools for writing are a beat up old acoustic guitar named Winifred Jackson and a 10 year old ghetto blaster.
RNW: Do you find it alarming that so many people misunderstand your name? That some people think you are a Christian band and then some fundamentalist Christians thinks you playing "devil music"?
Ronnie: Yes it is very alarming. I have nothing against Christian bands, but I don't want us to be thought of in that way. I had no idea this name would be this controversial. It's crazy! It's just a name. And devils music??? What a crock! Music is art, an expression of ones inner self, and sometimes that self comes in many different forms, dark, sexual, angry, happy, twisted, whatever, it's all good. If I decide to sing about any of that it doesn't mean I work for the devil.
RNW: You guys are basically a Do it Yourself kind of band. Your debut album, "Spiritual Prozac" was self produced, self marketed and self distributed. Do you find it difficult to have to cover all the bases yourself with a label behind you with the resources to promote and distribute your music?
Ronnie: It's very difficult. We all basically work 4 jobs each right now, 3 to put food on the table, and then working on getting the band out there is the biggest job of all. It's all for the good though, and worth every bead of sweat that runs down our wittle foreheads.
RNW: there is a definite buzz around you guys lately, I hear that some major labels have expressed interest in the band. Would you rather go the major label route and have the possibility of reaching the widest audience possible or keeping it smaller and signing with an indy label that gives you more creative control?
Ronnie: I want my cake and eat it too! I want the major label and creative control at the same time. Is it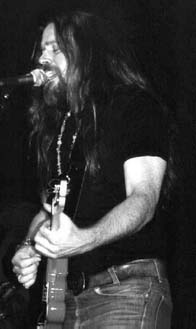 possible? I have seen a few people do it, and I am hoping we will get to do the same. The bigger we get the more we can do creatively, and I have some big ideas, so let's make it happen!!
RNW: I understand you have some new songs like "star f***er" which you have written since you released "Spiritual Prozac" any plans to self release a new album or are you waiting to land a deal with a record company before you record again?
Ronnie: Yeah Starf***er is a funny little song, it always seems to grab peoples attention, and usually offends a few in the audience, which is always fun. We'll probably just do some demos of the new songs for now, and see if we land that deal. If not we will release them at the end of the year.
RNW: For someone who has never heard American Jesus, which song do you think they should listen to first to get a feel for what you are all about?
Ronnie: Get Together. That one is rock funk and soul, totally.
RNW: What do you make of the current music scene? Is there any artists that are out big today that do it for you?
Ronnie: Right now there are at least 20 bands that sound exactly alike and I am not sure which one is which, they all seem to tune down to D, and all the singers sound like Jim Morrison wannabees. What's up with that? There are a few artist out there I really admire right now, one is Lenny Kravitz, the only real rock star out there right now, he never follows the trends and I love that about him. I also like D'Angelo, Alicia Keys, Linkin Park, Sade, all kinds of stuff.
RNW: Along the lines of the last question do you think it will be harder or easier for American Jesus to gain exposure because your music is so different than the current trends in rock?
Ronnie: I think it will be hard at first, just because we will have to find someone in the record industry that is ready to blaze a new trail with us, someone that is a visionary and loves to take chances. I know we'll be worth the risk though, this music is from the heart and blessed by the great fantastic musical muse.
RNW: Where do you hope to be five years from now?
Ronnie: I want this band to be the biggest thing out there, I want to have toured the world a few times, open a record company with our own artist on it, collaborate with some of the artist I admire the most, and own a chain of fast food restaurants called Mc Veggies, where all the food looks like real authentic junk food but it's really healthy for you.
RNW: Finally, what do you want people to take away from your music?
Ronnie: If someone feels as connected to my music as I felt when I first started listening to Elton John records my job is done. If it makes you forget your troubles for just 4 minutes while the song is playing I will be eternally happy. Hopefully it will make your freak flag fly.




Check out the official website for American Jesus to learn more about the band, listen to their music, get their latest tour dates and more!